"Computer says no."
We have all had those moments clicking on a link or a bookmarked page and seen something like this, right?
It's a common sight and unsurprising when you consider the estimated lifespan of a webpage is less than 100 days – 44 days if Brewster Kale, founder of the Internet Archive, is to be believed. The music industry is a particularly fickle beast and its representation online has often been fleeting.
But what if the beloved website, that long-lost friend who was always just a click away, still existed online somewhere, in an alternative universe, frozen in time and reanimated for future generations to interact with?
There's a virtual treasure trove of recovered and preserved websites representing popular New Zealand bands and musicians, labels, gig guides, forums, online magazines and festival pages that have been archived by the National Library of New Zealand and are now living out their days in the New Zealand Web Archive.
Sure, that old friend may not be quite as dynamic as they used to be and certain parts may not work as they once did. They may simply tell you the same old stories over and over. But that's just part of the charm of an old friend, right? Their sights, sounds and stories provide windows into the online life of musicians, venues and scenes, the web architecture and styles of a bygone era, captured in all their online glory.
I've been spending some time perusing through what is affectionately known as the "Dead URL Spreadsheet", an ever-expanding list of retired websites from days gone by. It's an addictive pastime. Here is a selection of archived websites that helped shape New Zealand music culture online over the last decade. This is not a definitive list by any means, just a taste of what's available. Should this whet your appetite, there are over a 1000 more examples available through the National Library Catalogue.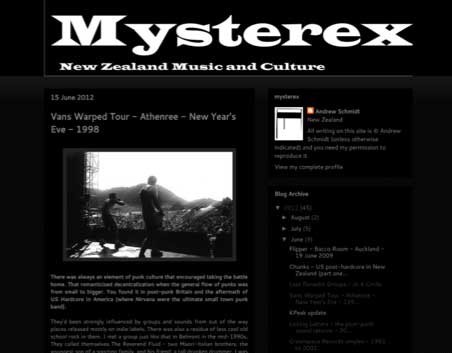 Mysterex
Archive Link: http://natlib.govt.nz/records/21223276
An offspring of New Zealand's first punk rock history magazine, Mysterex, produced by Simon Kay and AudioCulture's own Andrew Schmidt between 2000 and 2007, the Mysterex blog was first published online by Schmidt in January 2008. As with its print predecessor, the blog primarily focused on New Zealand punk rock history and featured reviews, band histories, label discographies and feature articles.
Mysterex helped to document an important part of local music history and remained online for five years until 2013. It remains essential reading for budding New Zealand punk aficionados and is regularly referenced by contemporary websites such as The Axemen's Y2K Blog, Dub dot dash and Up The Punks.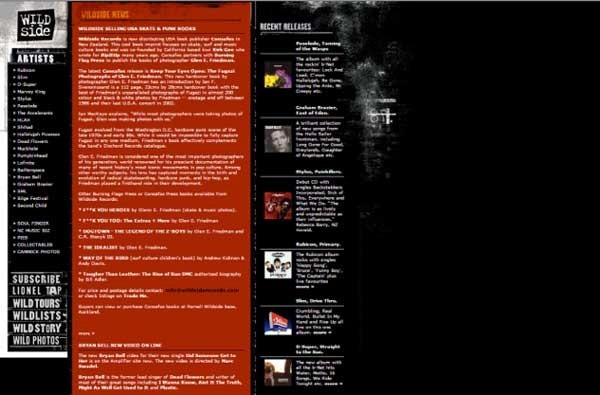 Wildside Records
Archive Link: http://natlib.govt.nz/records/21907196
Iconic independent record label Wildside was owned and run by Murray Cammick, founder of RipitUp magazine and all round New Zealand music guru. The label roster included a who's who of local indie musicians and bands, Head Like A Hole, Bailterspace, Graham Brazier and Shihad to name just a few. The website, last seen online in 2010, was harvested by the National Library in 2007 and 2009 and includes a wealth of information: artist biographies, tour stories, photos and an extensive discography.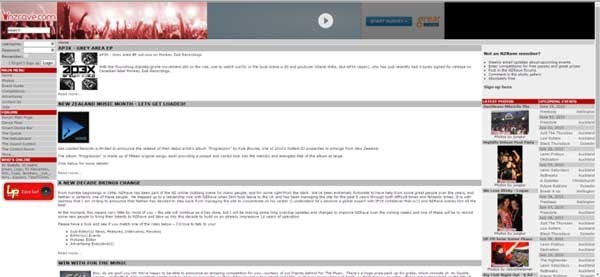 NZRave
Archive Link: http://natlib.govt.nz/records/21241742
NZRave documented rave culture in New Zealand from about 2005 until it went offline in 2011. This rich resource features hundreds of pages of news, articles, interviews, and of course photos – including some that aren't so flattering! It's a great insight into a specific music subculture, and also includes a range of forums and user generated content.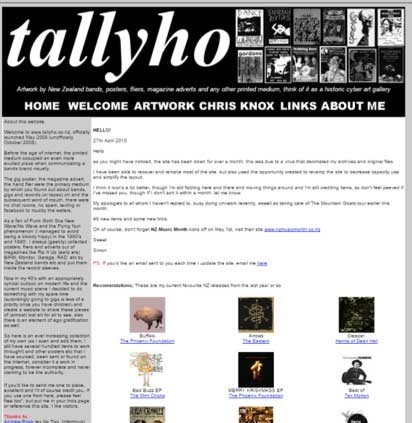 Tallyho
Archive Link: http://natlib.govt.nz/records/21809243
Tallyho was created and maintained by Simon Coffey, former DJ and host of the Hard Fast & Heavy Show on 95bFM for over a decade.
The majority of the material on the site came from Coffey's personal collection of posters, fliers and adverts taken from magazines like Rip It Up, BiFiM, Monitor, Garage, RAD, etc., through the 80s and 90s, meticulously scanned and uploaded as a labour of love. It also operated as a platform for (in his words) a very small record/tape label: Onslaught Records.
Coffey's dedication was such that when a virus decimated the archives and original files in 2010 he was able to re-cover and remake most of the site. Interestingly the National Library has several archived versions of Tallyho (2009 - 2012 inclusive) so you can view the archive both before and after the site rebuild.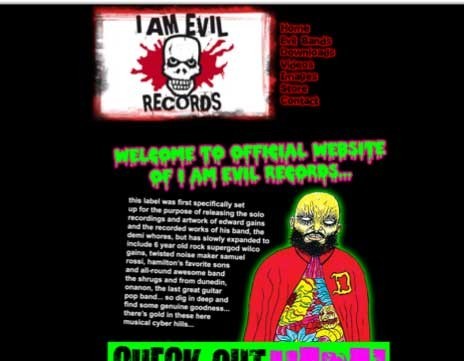 I Am Evil Records
Archive Link: http://natlib.govt.nz/records/21812475
I Am Evil Records was initially set up by Edward Gains as a means to release his solo recordings and artwork, along with that of his band The Demi Whores. The roster eventually expanded to other bands and artists, including Wilco Gains, Samuel Rossi, The Shrugs and Onanon.
The website featured detailed profiles of all the bands and artists, free music downloads, videos and a large amount of photographic images and artwork.
The archived version is a good example of certain limitations around web harvesting, plus the importance of collecting and archiving a range of mediums. For instance, Flash video content hasn't been captured and, while all the thumb images are displaying, there is no ability to click through to a larger version. Nonetheless, valuable content was still preserved, including detailed notes, lyrics and background information on all the releases. And while the tracks themselves can't be accessed, album artwork can still be downloaded.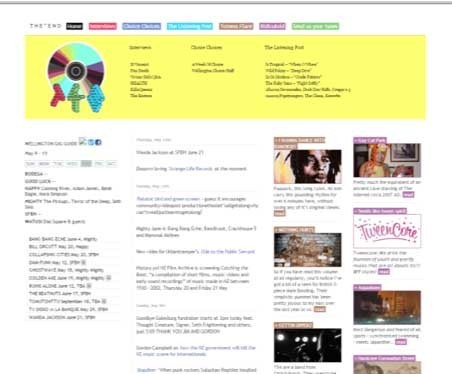 The Kitchen Sink
Archive Link: http://natlib.govt.nz/records/21737920
Similar to the Under The Radar website, The Kitchen Sink offered a similar magazine-style blend of music-related interviews, stories, reviews and touring information.
As far as the archived site reveals, The Kitchen Sink was actively maintained between 2007 and 2010. It underwent many transformations over this period with the original version of the site and the last harvest taken in 2013 barely resembling one another. There are numerous interviews with up-and-coming and more established New Zealand bands which are well worth rediscovering.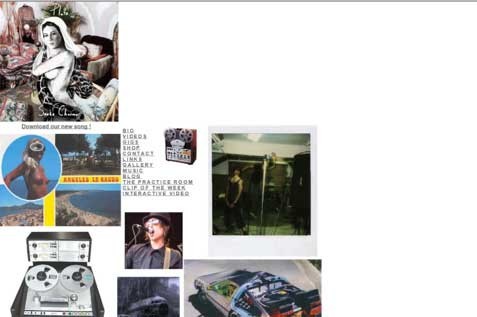 Pluto
Archive Link: http://natlib.govt.nz/records/30141007
This quirky website from rock band Pluto is a great example of a DIY website created by the band themselves without conforming to any particular design conventions.
Nowadays, many bands use website platforms such as squarespace and weebly which are easy to create and manage, and look great. The downside is that they tend to have a similar formula and aesthetic.
There are some great DIY websites in the archive, encompassing the period between 2008, when bands stopped using Myspace as their default online presence, and 2012, when user-friendly platforms and hosts made website building much easier.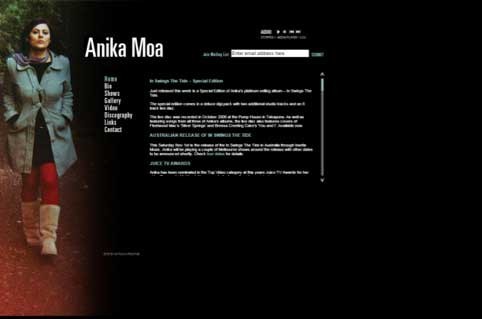 Anika Moa
Archive Link: http://natlib.govt.nz/records/21208377
Anika Moa has been a household name in New Zealand for over a decade now. As she has grown and changed as an artist, her web presence has reflected this evolution.
The snapshot above is taken from her website in 2008 when she was busy promoting her third studio album In Swings the Tide.
Four years, two albums, a civil partner and twin boys later, her website also had a fresh new look. When her site was archived in 2012 Moa was busy promoting the release of her Love in Motion covers album which featured a range of musicians including Street Chant, Cairo Knife Fight and Julia Deans reinterpreting songs from her successful Love in Motion album released in 2010.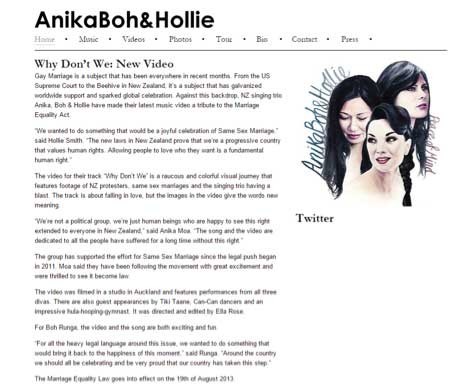 New or redesigned websites often appear with significant events, such as the release of a new album or change in artistic direction and in 2013 Moa in collaboration with Boh Runga and Hollie Smith launched AnikaBoh&Hollie. This website also marked a significant landmark in New Zealand, the passing of the Marriage Equality Act allowing same-sex marriages, which inspired the trio's track 'Why don't we'.
Archive Link: http://natlib.govt.nz/records/32295959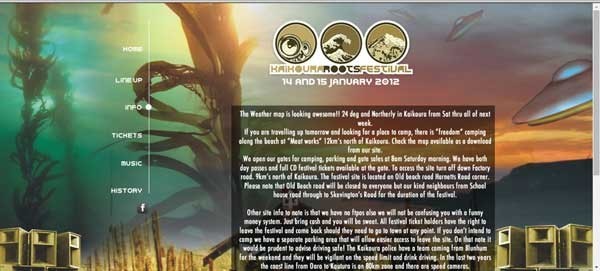 Kaikoura Roots Festival
Archive Link: http://natlib.govt.nz/records/30084837
The Kaikoura Roots Festival was a mainstay on the summer circuit from the early 2000s until 2006. Following a five year break it re-emerged for what was to be the last time and this 2012 website documents the event including the full line-up and timetable of performances. There is also a history in photos dating back to 2003 which can be viewed in the archived site. Festival websites, much like the festivals themselves can be very fleeting and the National Library has a growing number of festival sites, past and present, archived for safekeeping: for instance, The Gathering, Parachute Music, Rhythm and Vines and Splore.
--
For more information about nominating New Zealand websites for preservation and tips for making websites preservable, see the National Library's Web Harvesting page.
Sholto Duncan is the Web Archivist at Alexander Turnbull Library.