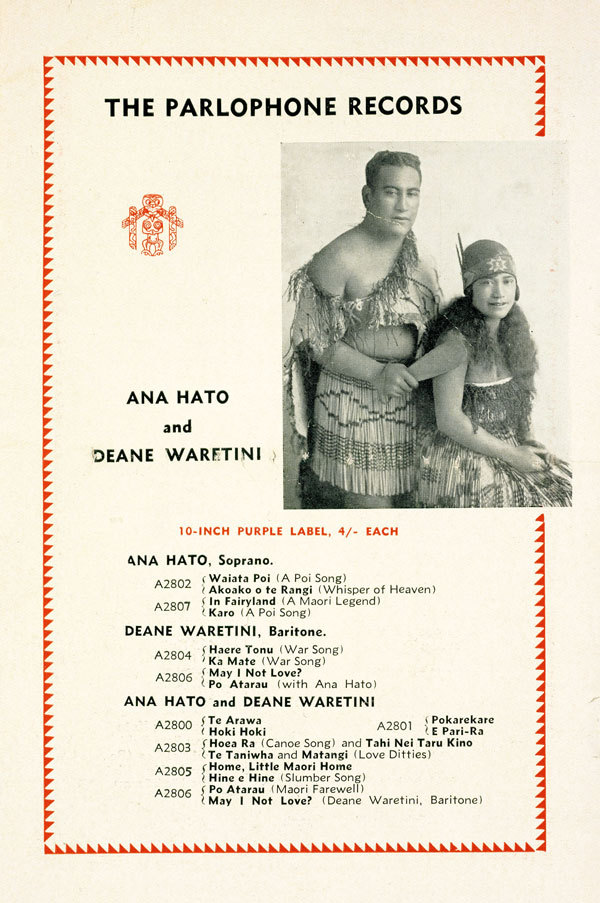 Vinyl records may be having a strong comeback (although there are many who would argue they never went away) but the format that vinyl replaced is unlikely to ever do so. 78 RPM shellac records were almost the only way recorded music was sold around the world for some 40 years until they disappeared at the end of the 1950s, replaced by 7-inch 45 rpm and 12-inch 33 1/3 rpm records.
The first record companies to issue 78s in NZ were a couple of independent labels in the early part of the 20th Century, Herald and Minstrel, although they issued foreign recorded releases and manufactured these in London so are beyond this story.
It would take a visit by royalty in February 1927 for the first New Zealand recordings for release to be captured. EMI in Australia took advantage of the visit of the Duke and Duchess of York to send a mobile recorder to Rotorua, and there they recorded Ana Hato and her cousin Deane Waretini for issue on the Parlophone label, although these were pressed in Australia.
It wasn't until 1948 that the first pressings of 78s were done in New Zealand, by His Master's Voice (NZ) Ltd. (later EMI New Zealand), followed a year later by the famous 'Blue Smoke' by Ruru Karaitiana on Tanza.
From those first 78s recorded in 1927 until the last 78s were manufactured in 1959, New Zealand-targeted releases often featured quite wonderful, unique artwork, both on the labels and on the paper sleeves. This page looks at some of these graphics.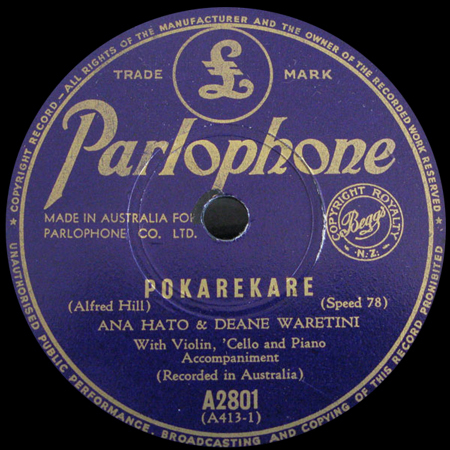 The first 78s on Parlophone, from those 1927 recordings, came out on the standard purple Parlophone label (this example was an Australian recording though, from 1929) – and then someone unknown had an idea ...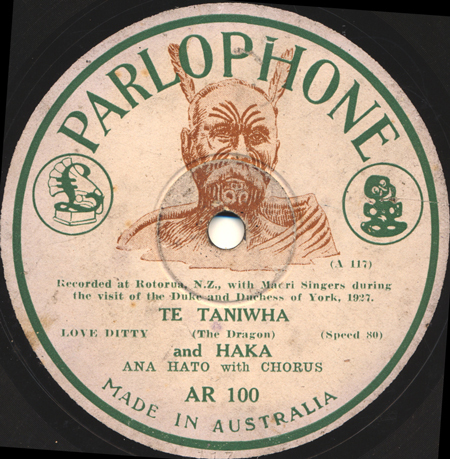 It's not known who designed these first New Zealand record graphics – quite likely somebody in Parlophone Australia's art department – but they replaced the purple labels in late 1930 and then variations began to turn up ...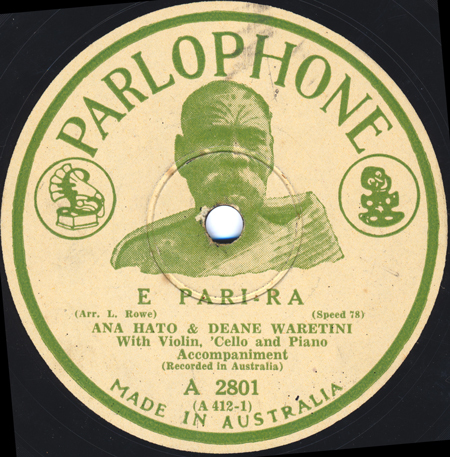 The brown drawing was replaced with a softer green drawing at the end of 1931.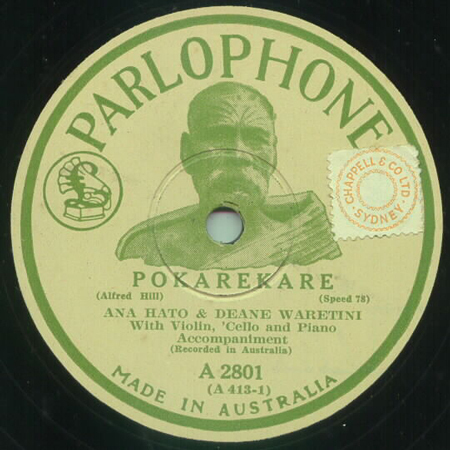 And the soft green version that lasted into the early 1950s when these were finally deleted from the His Master's Voice (NZ) Ltd. and EMI (Australia) Ltd. catalogues.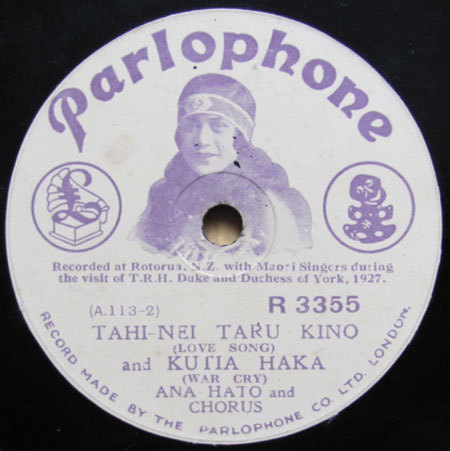 These 1927 recordings would eventually see UK release, with Ana Hato on the label. This dates from late 1950.
Meanwhile, over at Parlophone's sister label Columbia ...
Recorded in April-June 1930 in Rotorua, by Reg Southey onto copper masters by the Australian Columbia Graphophone (Australia) Ltd., these Columbia labels were quite something, but especially when seen in their paper sleeves.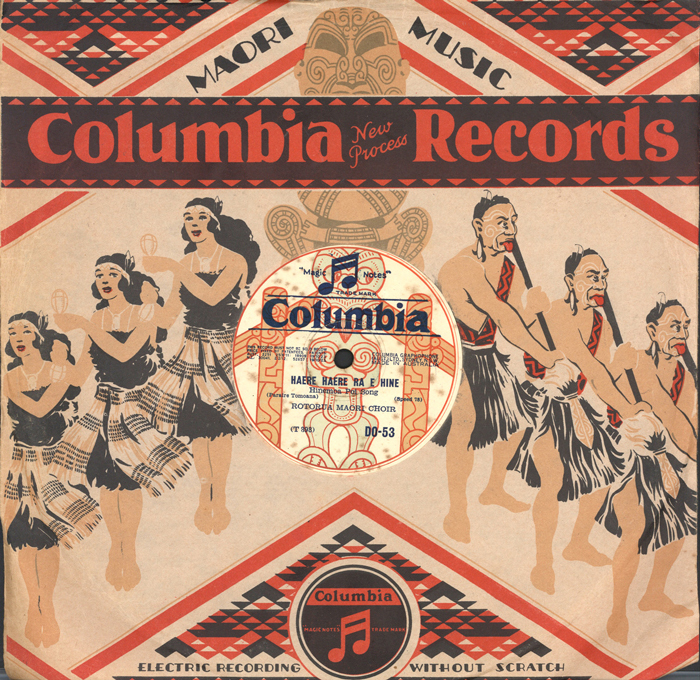 Once again, there is no known record of who designed these. These were notable as the first ever released recordings of a standalone Māori choral group.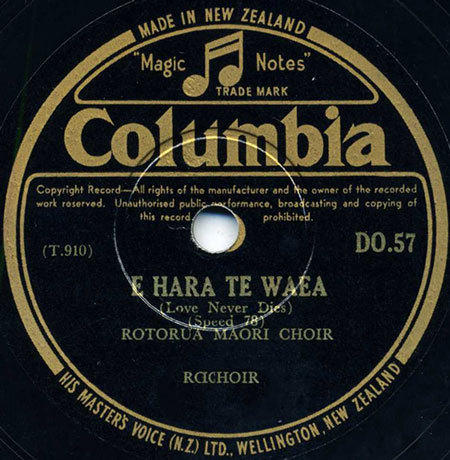 When His Master's Voice (NZ) Ltd. began pressing theit own releases in New Zealand in 1948 they reissued the Columbia 78s, losing the labels but retaining the Australian catalogue numbers.
In 1949 the Tanza ("To Assist New Zealand Artists") label was launched, with this famous recording: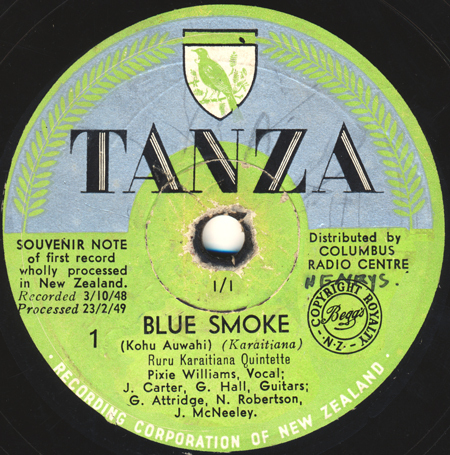 The green and silver labels were followed by: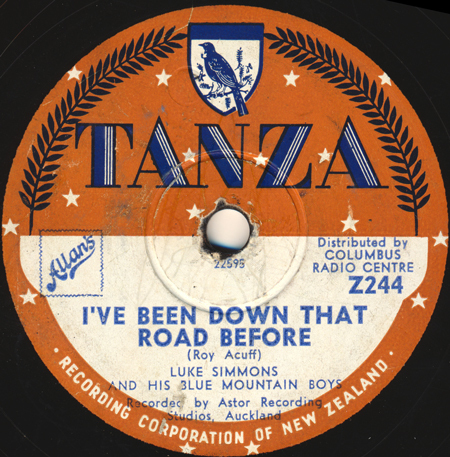 A brown and white label.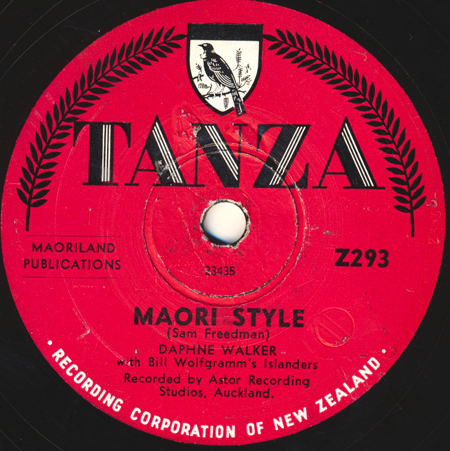 A red label, and ...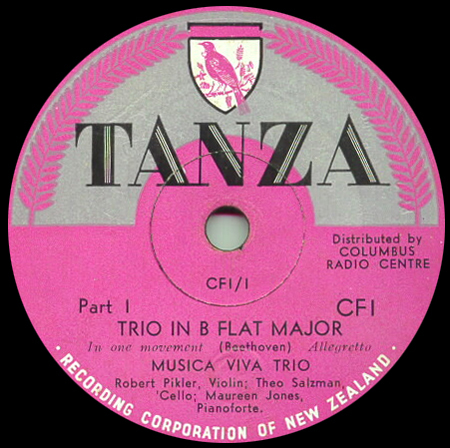 A pink one, and ...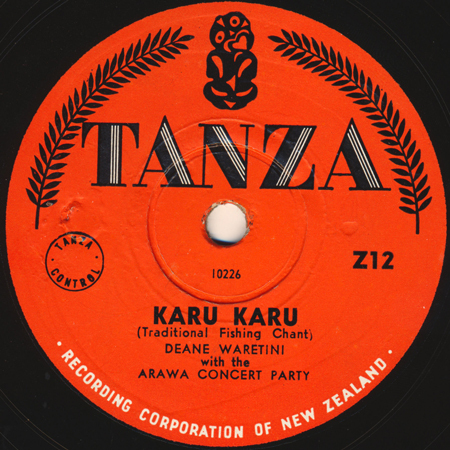 My favourite, the red Tanza label (first seen on reissues in 1950).
The Tanza 78 releases were issued as follows:
1949 ended with Z15
1950 ended with Z50
1951 ended with between Z81 to Z89
1952 ended with Z157
1953 ended with Z209
1954 ended with Z232
1955 ended with Z275
1956 to 1959 Z276 to Z316
(courtesy of Donald McLeod)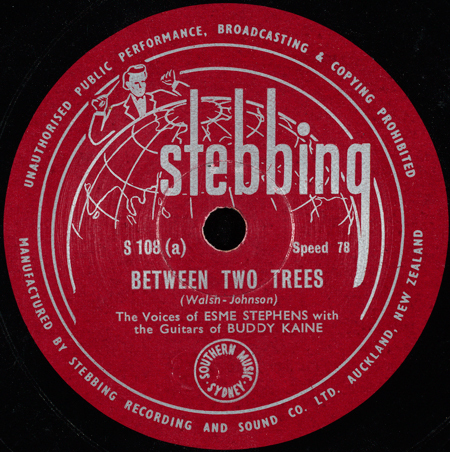 Tanza kicked off the industry but it was shortly followed by the Stebbing brothers' early labels. In the early 1950s Stebbing was one of two labels the siblings Phil and Eldred had in-house.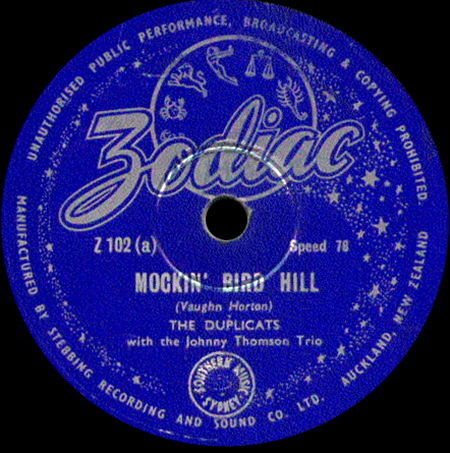 The other was the first Zodiac label.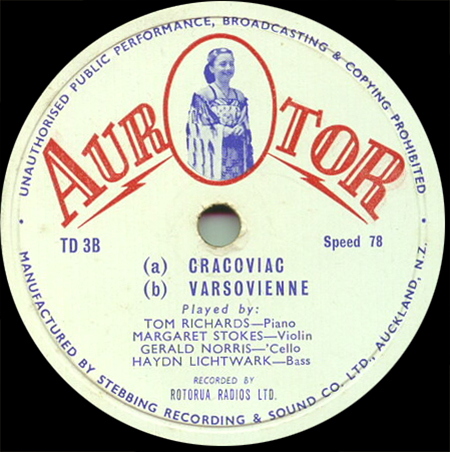 They would also custom manufacture other small labels, including the Aurotor label from Rotorua (the label's name is the town spelled backwards), before they (temporarily) shut down their labels in 1954.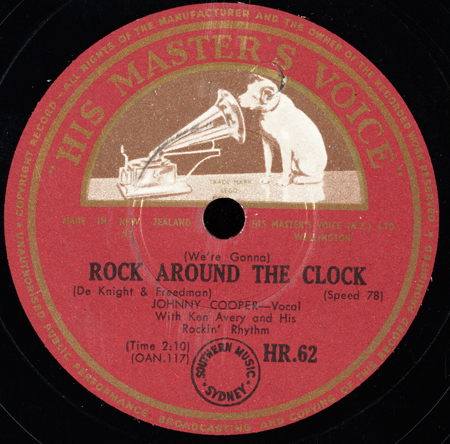 And then the future arrived with this, claimed as the first rock and roll recording done outside the US, and on an early HMV red and gold label. The labels on these signified price codes, with the above being full price and the below a slightly cheaper price point. The purple labels were still cheaper.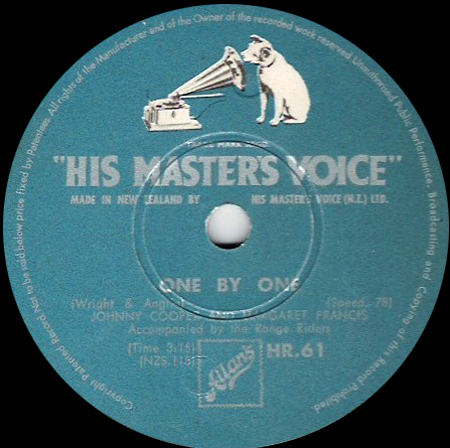 A variant of this label would exist on the 7-inch 45s that would begin to replace 78s from about 1957 onwards, with the blue HMV labels surviving until 1968.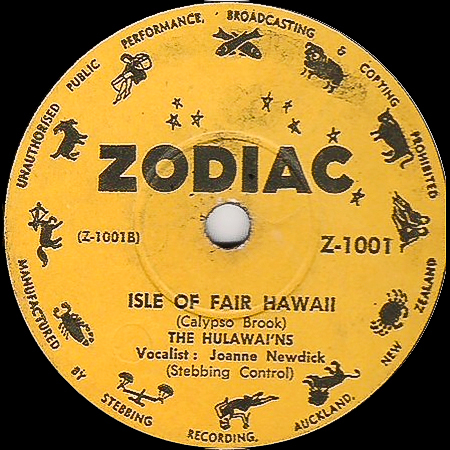 And finally, in 1957, Eldred (now without brother Phil as a partner – Phil had moved into live sound), revived Zodiac. It would become one of the great New Zealand-owned labels, mostly on vinyl, not shellac. However, several second-generation Zodiac releases were also issued on 78, including one (from The Howard Morrison Quartet) that was only 78 as late as 1959.
This page is just an overview of 78s in New Zealand. For a more detailed look at these pioneering discs, please go to Adam Miller's site. The images here come from Adam, Chris Bourke and, mostly, from my own collection.
Thank you to Mark Reardon, Adam Gifford and the National Library of New Zealand for assistance and dating.