It's the sign of a great song that it can be played with just an acoustic guitar and still express a depth of feeling and meaning. Of course, it also requires a talented singer (or singers) to carry it off. This list looks over Aotearoa's popular music history to pick out some talented artists who've proved the enduring power of voice and guitar in unison.
Hoki Mai – Howard Morrison Quartet
'Hoki Mai' was originally written by Hēnare Waitoa (as 'Tomo Mai') to welcome Māori soldiers back to Aotearoa after World War II. The melody was based on the Gene Autry song 'Goldmine in the Sky', though in the decades that followed the tune changed markedly from the original. It remained a singalong favourite at social events when it reached the ears of young group, The Howard Morrison Quartet.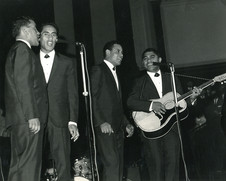 The Quartet's upbeat version of 'Hoki Mai' did cause some controversy at the time, given the feeling of lament that was infused in Waitoa's lyrics. "At that time I was rather ignorant about the sanctity of the words," Morrison explained to Caitlin Cherry of RNZ in 2001. "It became a hit because everybody was singing that song at parties before we even recorded it." The infectious energy of the song – led by Gerry Merito's rollicking guitar strums and fine sense of humour – set the quartet on a path to become household names.
Taumarunui (On the Main Trunk Line) – Peter Cape
Acoustic guitars were also the central instrument in the rise of the local folk music scene that arose during the 1950s. Not only did researchers begin looking for folk compositions written by Pākehā over the previous century, but musicians started writing new songs that took interest in this history.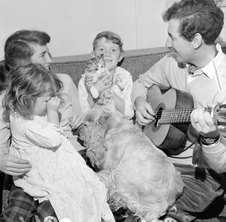 The emergence of bohemian-chic cafés like the Artist in Auckland and Monde Marie in Wellington provided a candlelit setting for these traditional and newly-composed songs to be performed. The latter was where singer-guitarist Peter Cape became prominent. Cape's ballads described New Zealand life using an instantly recognisable Kiwi vernacular, and usually with a good dash of humour. His unique songwriting approach saw him signed by Tony Vercoe at Kiwi Records, who paired him up with folk guitarist Don Toms in order to tighten up the structure of his songs.
Peter Cape's first two EPs purportedly sold upwards of 15,000 copies. His most enduring track, 'Taumarunui', was released instead by singer Pat Rogers in 1960. Despite the hackneyed pronunciation of the placename of the title, it's one of the most evocative slices of Kiwiana put down in song.
Farewell to the Gold – Phil Garland
By the early 1970s, the folk scene had grown to the point where it now had its own festival in Auckland – first started at Moller's Farm in Oratia in 1974 (a "folk camp" was held there the previous year). There were also long-running venues such as The Poles Apart in Auckland and a plethora of folk clubs throughout the country.
Some singer-songwriters who began in the style of modern folk moved beyond the austere singer-and-acoustic-guitar approach when it came to recording. While many would picture Shona Laing and John Hanlon performing with just a guitar in their hands, their biggest hits ('1905' and 'Damn the Dam'/'Lovely Lady' respectively) were fully orchestrated.
In contrast, artists who were seriously interested in the historic folk music of New Zealand usually also emulated traditional instrumentation – many would argue that "folk music" should only be applied to music done in that style. One of the most well-known artists from this scene was Phil Garland, who not only wrote his own songs on historical themes but also researched settler songs from New Zealand.
Garland had a remarkably long career. Starting in the folk clubs of Christchurch in the mid-1960s, he released over a dozen albums and twice won "folk album of the year" (out of five nominations). His work led to him being awarded a Queen's Service Medal in 2014 for his services to New Zealand folk music. Garland passed away in 2017.
The song was written by another New Zealander, Paul Metsers, though it was popularised by famous UK singer Nic Jones. It was also performed by Bob Dylan in 1992.
Untouchable Girls – Topp Twins
Up to this point, I've left aside country music since many of New Zealand's biggest hits in this genre were by artists backed by full bands – there's a comprehensive country timeline on AudioCulture. However, during the 80s, if you'd asked any New Zealander to picture a local act playing with an acoustic guitar in hand then undoubtedly it would have been the Topp Twins that came to mind. They began their career busking and when it came time to record they largely took the same approach, placing their unique vocal harmonies over a single acoustic guitar. This was enough to put two EPs into the top 50. These weren't just comedy songs either: tracks like 'Radiation' and 'Mr Ronald Reagan' were heartfelt protest songs. Their subsequent career was astoundingly successful, with countless television shows, New Zealand honours – they are now Dame Jools and Dame Lynda – and induction into the NZ Music Hall of Fame in 2008. (The video below shows the Topps performing 'Untouchable Girls' at the Black Barn vineyard, Hawke's Bay, with the Hamilton County Bluegrass Band, Tami Neilson, Marian Burns and Cameron Luxton.)
Raga / Bird Without A Song – Paul Ubana Jones
Paul Ubana Jones is not a household name like the Topp Twins or others on this list, but the span of his career rivals that of Phil Garland and he has also twice won the "Best Folk Album" category at the NZ Music Awards (1989, 1998). Yet his approach to the acoustic guitar is less like a folk picker than it is like Jimi Hendrix – rhythmic strums with individual notes stabbed out and turned into runs with lots of hammer-ons and alternating open notes.
He was signed to Pagan in the 1980s by Trevor Reekie, who realised that releasing roots music such as Jones and The Warratahs made decent financial sense since recording costs were so low. Reekie recalls:
"I co-produced all those Ubana albums with Paul and they were all wrapped up in three days and four nights … Paul used to come up to Auckland the day before going into the studio and I'd say 'What have you got?' He'd play me a collection of originals and covers then we'd mutually agree on what we would record … I always liked acoustic albums like Nick Drake et al and the opportunity to work with someone of Paul's calibre was a dream for me. He remains one of the hardest working musicians I've ever met."
The song below was first written as a poem by Jones in 1974 and addressed the untimely death of a close friend. It's first iteration as a song came a few years later, though at that point it had the funky underpinning of congas and double bass (as well as some jazzy alto sax!). However, it is the acoustic version recorded in 1988 that has stayed with Jones and still features in his sets to this day. The video below is a little out of focus in places, but best captures Jones as both a riffing guitarist and deeply soulful singer.
Drive – Bic Runga
Bic Runga first appeared to the public as part of an acoustic duo Love Soup (with Kelly Horgan, later of Heavy Jones Trio) at the Smokefree Rockquest. They only came third, but within a couple of years she had relocated to Auckland (from Christchurch) and was in the centre of a bidding war between various music labels, before Sony bought her contract off her original label, Pagan.
Sony's plan was straightforward – set her up with a hotshot producer and create some pop songs from her demos. However, Runga had her own strong ideas about the direction her music should take.
This is why the full band version of first single 'Drive' was eventually abandoned so the original demo could be released instead – just Runga's voice and a guitar, though with some subtle effects to fill out the sound. This song entered the Top 10 and became the title track of her album, which sold seven times platinum in New Zealand.
Bird In The Thyme – Tiny Ruins
By the 2010s, there were two, largely separate folk scenes within Aotearoa. The first was based around the traditional style, kept alive in the folk clubs and festivals around the country (carried by acts like Lothlorien, RUA, and Claddagh). In contrast, there were many new singer-songwriters that took the acoustic style and meaning-heavy lyrics of folk but applied them to a more contemporary style.
Tiny Ruins (Hollie Fullbrook) is an interesting case since she plays in a modern style: she often records with a full electric band. But she has written a number of songs that take off from historic material – her 'Tread Softly' is based on a Yeats poem and her first serious composition, 'Bird In The Thyme', was written as accompaniment for a performance of Twelfth Night.
Throughout her career she has alternated smoothly between solo shows with just a guitar and full band shows. The ability to perform acoustically has been helpful in keeping costs down for touring overseas, which has been necessary since her second album came out on cult UK label Bella Union and received great overseas interest (including 4/5 review in Mojo).
Her following album Olympic Girls was released in two versions ­– one with her band and one without. The first song she wrote as Tiny Ruins, 'Bird In The Thyme', has gone on to be an audience favourite, racking up over 3.5 million streams.
Call the Days – Nadia Reid
Over the past decade, Tiny Ruins has found herself among a run of acts who have initially found fans through heavy local touring as solo acts, before using this as a launchpad for international success. Notable examples include Marlon Williams, Holly Arrowsmith, Flip Grater, Aldous Harding, and Nadia Reid.
There is some interaction between the traditional grassroots folk scene and these more modern acts who were also given the "folk" tag. For example, one of Nadia Reid's first inspirations as a performer was seeing Mahinaarangi Tocker at the Whare Flat Folk Festival, which she attended with Harding.
From this point onward, Reid certainly took a folk artist's approach to gaining an audience, undertaking long tours throughout New Zealand with just a guitar in tow. One early tour with Flora Knight (The Eastern) took in 15 venues across the country and another with Luckless (Ivy Rossiter) consisted of 13 shows. Despite this work, it seemed as if her debut album would be self-released until Spunk Records in Australia jumped in at the last minute (they'd already signed Aldous Harding and Tiny Ruins) and it was subsequently released by Scissor Tail Records (US) and Melodic Records (UK).
One of the first signs of Reid's impending success was when NPR featured 'Call The Days' in their Songs We Love section in September 2014. The track is quite direct in its approach – just Reid's voice and a guitar with minimal other instruments – but it went on to mind-blowing numbers online, with 18 million streams on Spotify alone. Her success in the years since has shown that modern folk is one of New Zealand's most popular genres on the worldwide stage.
Little Bird – Anika Moa
Anika Moa first found success at the turn of the century. Like Bic Runga, she was signed to a major label following a stunning acoustic performance at Smokefree Rockquest. However, she soon found herself being sent to record her debut album in the US with a set of experienced session players, with the hope of creating a big pop sound.
Moa would subsequently move away from this approach and record in more low-key circumstances and, while her albums continued to be band-orientated, she was just as comfortable touring as a solo act. When Moa decided to record a children's album in 2013, she set up in the studio of experienced sound engineer Andre Upston and captured the type of performance she'd been giving on live stages for years.
The result was the No.1 album Songs For Bubbas (2013). Its designation as a children's album means the beauty of tracks have sometimes been overlooked. 'Little Bird' in particular has a melancholy yearning quality that is as evocative as anything on Moa's other albums and deserves to be appreciated in its own right.
No Fixed Abode – Mitch James
The arrival of UK singer-songwriter Ed Sheeran in the 2010s changed the way acoustic-guitar-wielding singers were seen in the pop world. After years of talk in the media about how "the guitar was dead" suddenly here was proof that a sparsely-produced song like Sheeran's 'The A-Team' could still fly up the charts. It was into this new world that Mitch James appeared, seemingly out of nowhere.
He'd been performing as a busker for years in Europe before local pop singer Maala saw his videos online and sent them to his label, Sony, who promptly signed him. James's self-titled debut was produced by Ji Fraser and Eli Paewa (Six60) and raced to No.2 on the New Zealand charts. The pair added musical accompaniment to many of the tracks, but some of the biggest singles were still largely just James and a guitar, including the track below, 'No Fixed Abode' (which has over 23 million streams).
In subsequent years, James' sound has turned more towards pop production. Nonetheless, the acoustic guitar remains central to his sound and has seen him become one of New Zealand's foremost pop acts, with over 150 million streams and counting! It turns out the guitar isn't as dead as it seemed!
--
The guitar used as a thumbnail on the homepage is made by Peter Madill, to a design by Shane Hansen.