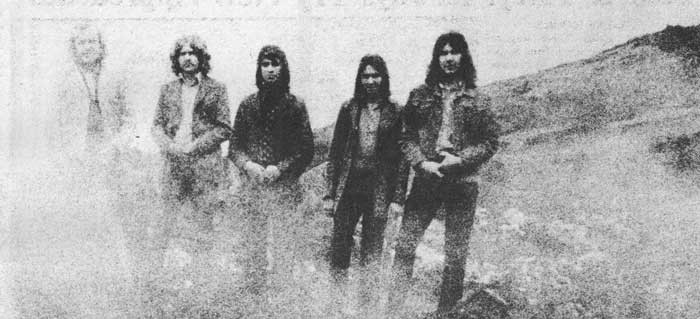 The following appeared in New Zealand Rolling Stone, May 24 1973.
–
"If we played what we wanted to we wouldn't be able to live from it. We're all happy to play a certain amount we don't like but which we know will go down well," said Graham Wardrop.
A rather jaundiced outlook you may think, but at this point in time it's the one forced on most mainstream New Zealand rock groups who want to make a living solely out of being a mainstream New Zealand rock group. Record companies here probably think they're doing bands a big favour by getting them on record, but the fact remains that the money accruing from those records is a long, long way from being enough.
"What you make out of records is not even pocket money. As for writing, well I haven't received a cent from writing royalties. I saw a lawyer recently about that actually, and they said they'd send me a cheque in April. I haven't got it yet." (It was the 26th.)
Wardrop sees records in this country purely as advertisements for getting a band into the clubs and pubs. Singer Garry McAlpine essentially shares his views. "The restrictions placed on singles for example are terrible, but they produce the bread to make the albums. And to sell a million albums, every third person in the country has got to buy one." Not that anyone expects anyone here to ever sell a million albums. But it's down to compromise, and the game is to try and get as much music in there as possible, seeing how far they can go while retaining the all-important (for them – and realistically, for many others) Bulge In The Pocket. A Bulge which for Lutha at the moment evens out somewhere around one hundred dollars per man per week.
Lutha may have a reputation further north as Just Another EMI pop band, I don't really know – their recent tour surely cleared things up a bit in that respect – but down here they're held in considerable respect. Some – like me – feel they are under-achieving, but this again brings back the concept of just how much they can in fact do to remain loyal to group philosophy (which, specifically, is something that's "never discussed", according to Wardrop). Others again see definite individual talent within the band, which may just not get heard inside the confines of Lutha. "As long as we're making money, the group will stay together but personally I want to go both musically and in music as far as I possibly can. Like as far as writing goes at the moment, we're really only starting."
Garry used to be in a group called Pussyfoot, who were Dunedin's head-band in most every sense of the word. A bit sloppy but usually good, lotsa guitar and lotsa drugs, always keeping the customers satisfied – and Garry screaming Cocker and Plant-like better than anyone else I've heard in this country. However, torn between Having A Swell Time and Moving On Musically, Garry finally left the band for the already-established Lutha – helped along by magic words like "recording career".
"There was nothing to lose in Pussyfoot," McAlpine reflects, "and I had some really good times. Really good times ..."
Pussyfoot became Stash, playing Traffic and Spectrum plus a few lovely incongruities like Them's 'Mystic Eyes' whenever and wherever there was dope, and we all wondered how Garry could possibly fit into the slicker, lighter and more overground Lutha.
Initially, the McAlpine roar was quickly honed into little more than another voice in the CSN&Y, Three Dog Night stuff Lutha were then doing. There wasn't too much stage presence either for a lead singer (in fact the group still falls down in this respect), but in recent times McAlpine has successfully moved on from being The Voice to his current very definite position as The Front Man. And his writing, done with friend and musician Gordon Spittle, has come on lots between albums one and two. Check out tracks two and three on the Earth set.
"I sometimes find I'm keeping the best things I write to myself. It's hard to write things for the band. Personally I'd like to travel, see a few good groups and then decide what I want to do. I'd like to play by myself acoustically, and the music that means a lot to me I just play acoustically," says Wardrop.
Graham Wardrop likes the meandering acoustic music of David Crosby especially, and he also enthuses over bassist Leland Sklar and guitarist Danny Kootch, "I was pissed off that in the Playboy Jazz And Pop Poll he didn't even make the nominations. He's a bloody good guitarist." Some of the best Wardrop I've heard has come at folk concerts, where he'll do things like Crosby's 'Triad', Paul Simon's 'America' and his own instrumentals – and in pre-Lutha times he was a rated bass guitarist as well.
Playing electric in Lutha, Wardrop leans more towards the ideal of the forty-year-old pub guitarist (ale on the amps, burning cigarette in the tuning pegs) than that of the lean and ghostly rock and roll star whipping guitar as the natural extension of cock. A Libra. But he plays very tastefully, and seems to be able to duplicate the efforts of some quiet highly-rated fellows if the song demands it. (Did you pick up the Eddie Hanson licks on the first album'? Intentional though – Wardrop's Gibson actually belonged to Hansen.)
As to Wardrop's future, one feels the group would have to break up before he tried the solo bit. Nevertheless the quote about keeping the good bits for himself is ominous – notably when put alongside one from Jimmy Page, interviewed last month in NME: "If I find a number coming that I know wouldn't be suitable for the band I scrap it. I stop working on it. from that moment on."
Drummer Pete Edmonds has been playing in highly acceptable heavy pop bands round Dunedin for quite a while now, most of the time with bassist Peter Fraser, and it is Edmonds who makes the decisions. He had a spell there at one time as spidery lead singer with The Throb, who also numbered Lutha organist/ second guitarist Kevin Foster. The Throb made it to Christchurch in that Battle Of The Bands thing around the time that Eddie Hansen was playing the guitar with his teeth in The Revival. And around the time that Craig Scott was howling out 'Morning Dew' in Fantasy and the Dunedin hoppers used to wonder who was better, Peter or Craig.
HMV producer Peter Dawkins had this plan in 1971 to have a hand in every city and release a nationwide four-album set. He came down to Dunedin, told Lutha to tighten up the bass drums ( Dawkins had a thing about bass drums) and they'd have an album out by the end of the year. "They're a really good little group. No messing around – I'm very pleased with the album," said Dawkins when I ran across him in Wellington after Lutha had done their first album. "I don't think Dawkins was right for the group," says Wardrop. "On the first album we would have liked a heavier production, heavier in bass. 'Why Is Gone' is the only song on the album the band did justice to. There were some quite good ideas but we didn't know how to get them across."
The second album was done with Dawkin's replacement Mike LePetit, a likeable pianist from Invercargill who was recently offed by EMI, probably because the EMI singles sales have been tapering off in the last twelve months (more the fault of the material than the producer). Lutha are adamant that LePetit did a good job. Wardrop speaks warmly of the empathy the band had with him, "He got the sound the group wanted and he suggested few things himself," while McAlpine is even stronger, "Mike is the only New Zealand producer I've heard who doesn't start off with boom-boom-boom (imitates the introduction of an assembly line HMV top ten single of 1970-71).
Album two is obviously more mature than album one, though question marks still remain. Wardrop agrees that they lost it after the first three tracks on side two when they did the old Spencer Davis thing 'My Babe' – "I still like the song, but it ruined the mood and It really would have been better on the flip of a single or something like that." Ironically too, it was the first track in more than twenty the band had recorded which they didn't write themselves.
And what of the singles? Wardrop: 'Here And Now' is the most potential selling single. It's fairly commercial and there's something in it as well. Not like 'Stop', which was straight out commercial crap. I was pleased with 'Earth' as a single, though It obviously wasn't going to sell much. I was pleased with it musically."
Until recently Lutha were religiously grinding out the up-tempo songs in the top twenty at watering holes around Dunedin, but they now have a residency at the Carlton in Christchurch (which has necessitated a shift to Christchurch for permanent residence there) and Wardrop says the compromise is a bit is disappointing. "For the Cocker concert at the university we learned things like Zappa's 'Began To Fall' and Sugarloaf's 'Green Eyed Lady', but we're now doing them in the pubs as well. At the Carlton the average age isn't much more than twenty and if they don't like what we do, well they can go home."
Lutha are playing the rock music game the best way they know how, and they seem to be winning. Graham's got a Gibson and a Martin and he's just bought a $395 Fender Telecaster semi-acoustic, and Pete's just bought a new car which isn't a Lamborghini or anything but … and they destroy their bodies just like all rock stars do, and there was one time in particular when one of the guys went into the EMI studios in such bad shape he didn't remember one single instrumental track he laid down all day … and they mightn't have yet the feel of Cale nor the high energy of Edgar Winter … and a whole lot of other things … but they're a band to keep an eye on and wait around for. And they're not far off being a band to buy.
–
© 1973 Roi Colbert. Reprinted by permission.