The first 101 issues of legendary music magazine Rip It Up are now on line at Papers Past, digitally scanned to ensure the photos are well reproduced, and the text word searchable. This is exciting news for New Zealand's popular music history, and AudioCulture is proud to be involved. Below, Rip It Up co-founder and long-serving editor and designer Murray Cammick shares the stories behind the 45 covers that featured New Zealand artists in the period being digitised: June 1977 to December 1985.
--
Rip It Up was started by law student Alastair Dougal and myself while I was at Auckland Teachers Training College. As part-timers, putting together Rip It Up was dysfunctional. Alastair was the editor and I had the publisher role of contacting advertisers plus the design role of laying out the magazine editorial and many of the adverts. I also took many of the photographs we used.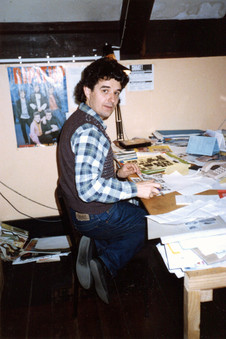 For a magazine publisher in the days before computers, the equivalent of Pagemaker and Photoshop was primitive: I call them the "Letraset Years". To make story headings, we had to buy sheets of stick-on letters called Letraset and apply each individual letter on to a sheet of paper to make a word. Then, we had to put those letters into the design – often having to send the words out for resizing to fit the space.
Rip It Up started prior to fax machines. There was a lot of driving around Auckland to collect stories typed on paper to deliver to typesetters, who would then retype the copy to create columns in the right typeface.
It is quite embarrassing to look at some of these early magazine covers featuring New Zealand musicians. If there was any good design in Rip It Up, it was likely to be inside the magazine, not on the cover.
On the deadlines for the early issues, the long hours preparing Rip It Up meant working through one or more nights. Some early covers were done at the last minute, just before dawn and a precarious drive to the printer in Putaruru in South Waikato. With the advent of colour, more attention was given to the cover, particularly when the colour section of the magazine was sent to the printer a few days ahead of the bulk of the magazine.
As Rip It Up was free until 1994, the quality of the cover was not as crucial as it would be if we were selling on a newsstand. Free meant we could have non-commercial, alternative groups on the cover. If I was asked which New Zealand act was on the cover of Rip It Up the most frequently, prior to my leaving the magazine in 1998, I would have given the obvious answer, the biggest band of them all: Split Enz. However, after doing some research the answer was The Chills, whose five covers beat Split Enz's four and a half.
Rip It Up featured 45 local acts on its first 101 covers. Here's a visual trip – good and bad – through memory lane.
RIU 01 June 1977 – Commodores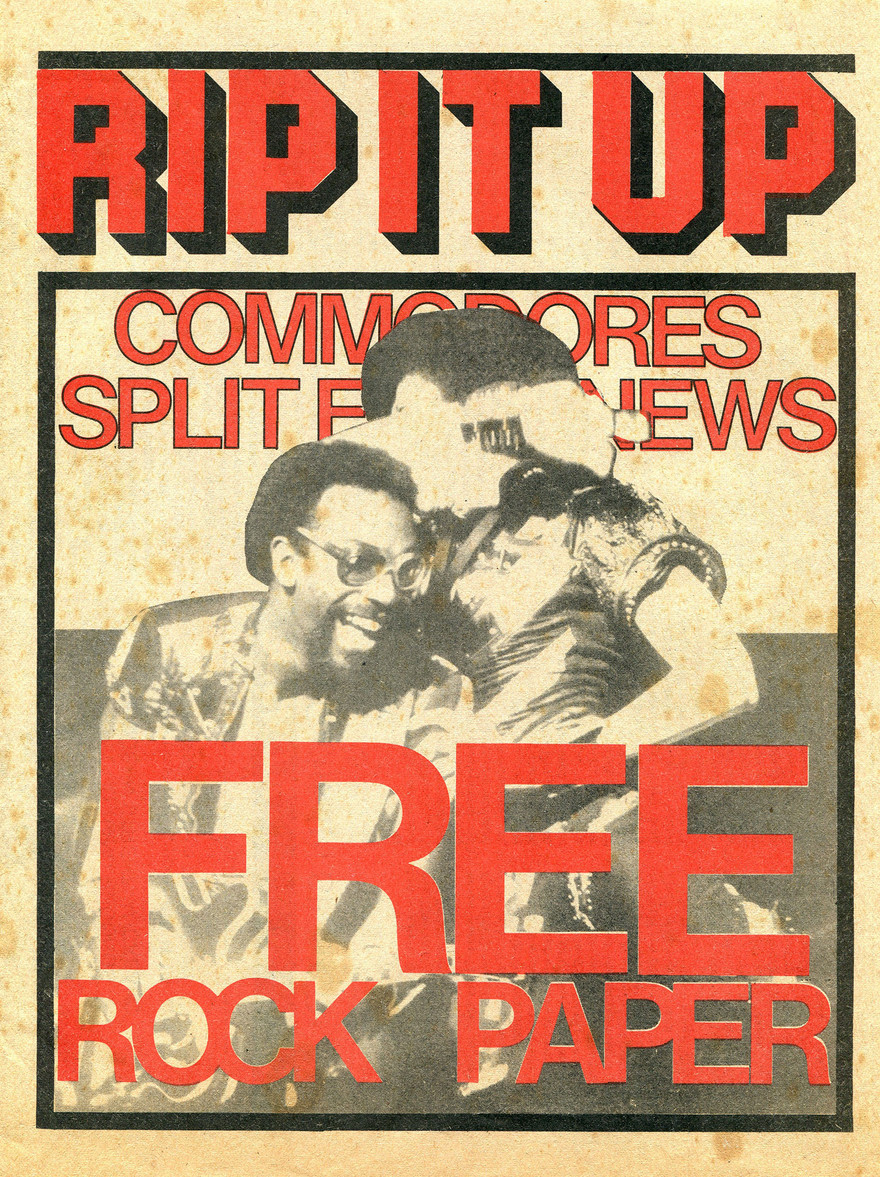 The first Rip It Up cover was of dire quality – a very low-rent look compared to our forerunner, Hot Licks. The photo appears to be a poor-quality bromide and it is an appalling choice of photo considering my Commodores photos in the magazine's centrespread looked excellent. There was not a lot of time to conceive a Rip It Up logo style, as the magazine's name was only decided a few weeks before publication. On this cover there is still a remnant of the magazine's earlier working title, The Little Rock Paper in the words "ROCK PAPER". The lack of a date is bizarre and the use of the word "rock" was probably to avoid being perceived as a "pop" publication. The initial print run was a healthy 10,000 and it was easy to obtain a list of record stores from Kaikohe to Invercargill, so we were nationwide from issue one.
RIU 02 July 1977 – Mark Williams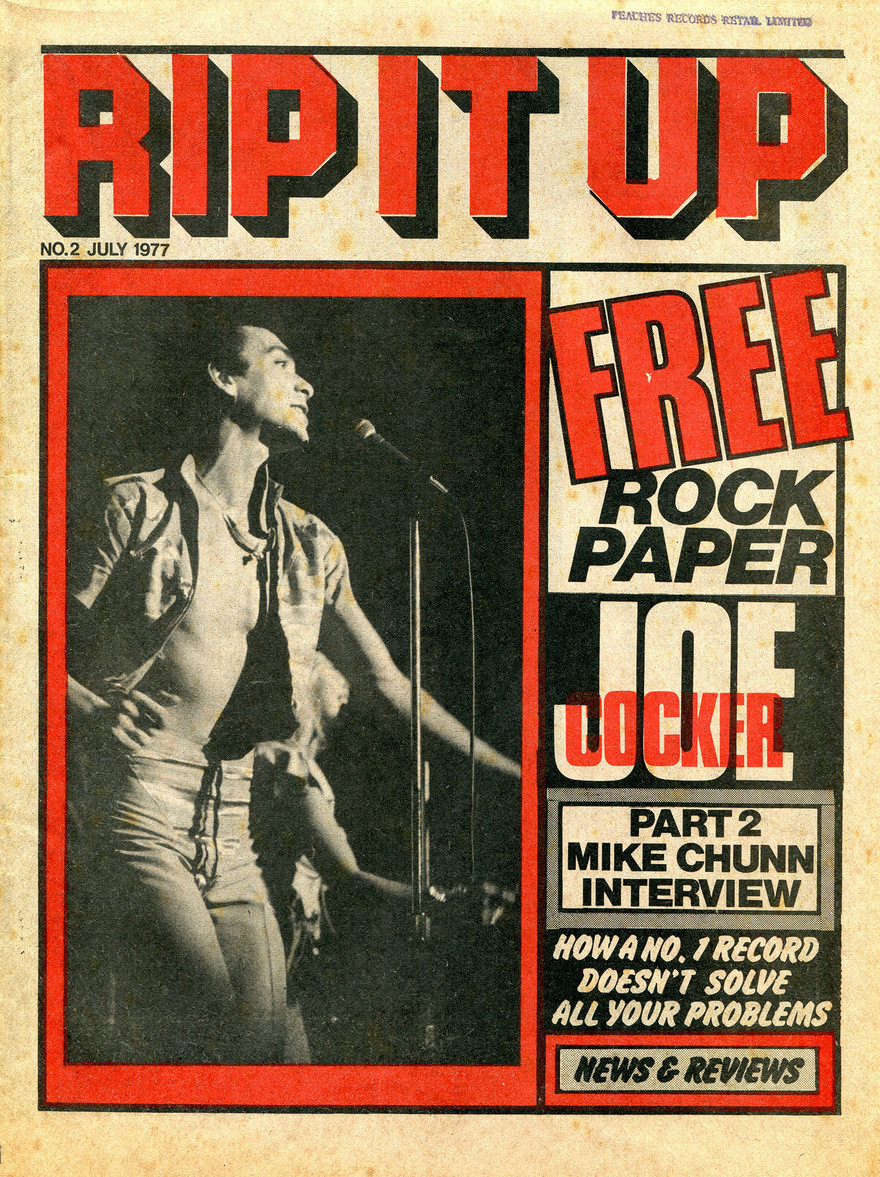 The first two covers reflect the editor Alastair Dougal and my own liking of soul/funk, of which Mark Williams was a local exponent (although his music was filtered through the EMI pop music factory). In concert, Mark did a Parliament song or two. Sharon O'Neill is also visible in this cover photo. I guess as the co-publisher (and ad salesman) I was trying to woo EMI into advertising in our magazine. Alas, they were one of the companies that waited until 1978 to advertise. We were still hyping the "FREE ROCK PAPER" identity.
RIU 03 August 1977 – Graham Brazier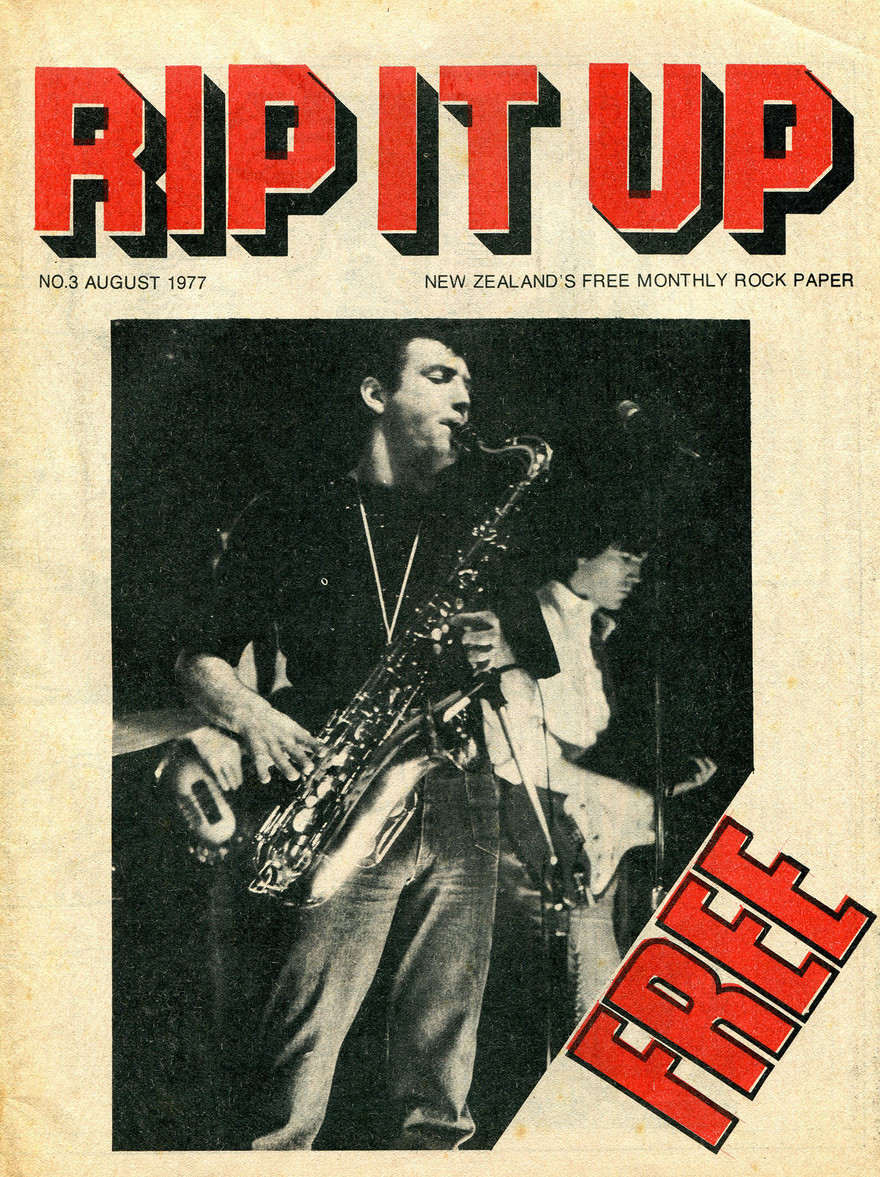 I was not the first to appreciate Hello Sailor. As co-publisher I asked original editor Alastair Dougal, "Why are we putting a band that plays a small bar like the Globe on the cover?" He considered them to be as good as any band that played larger venues. After the issue came out, Graham Brazier wandered up Airedale Street to tell me we had a great magazine. At the time I thought his opinion was based on the fact he was on the cover, but I would soon learn that Graham knew about books and writing etc.
RIU 04 Sept 1977 – Split Enz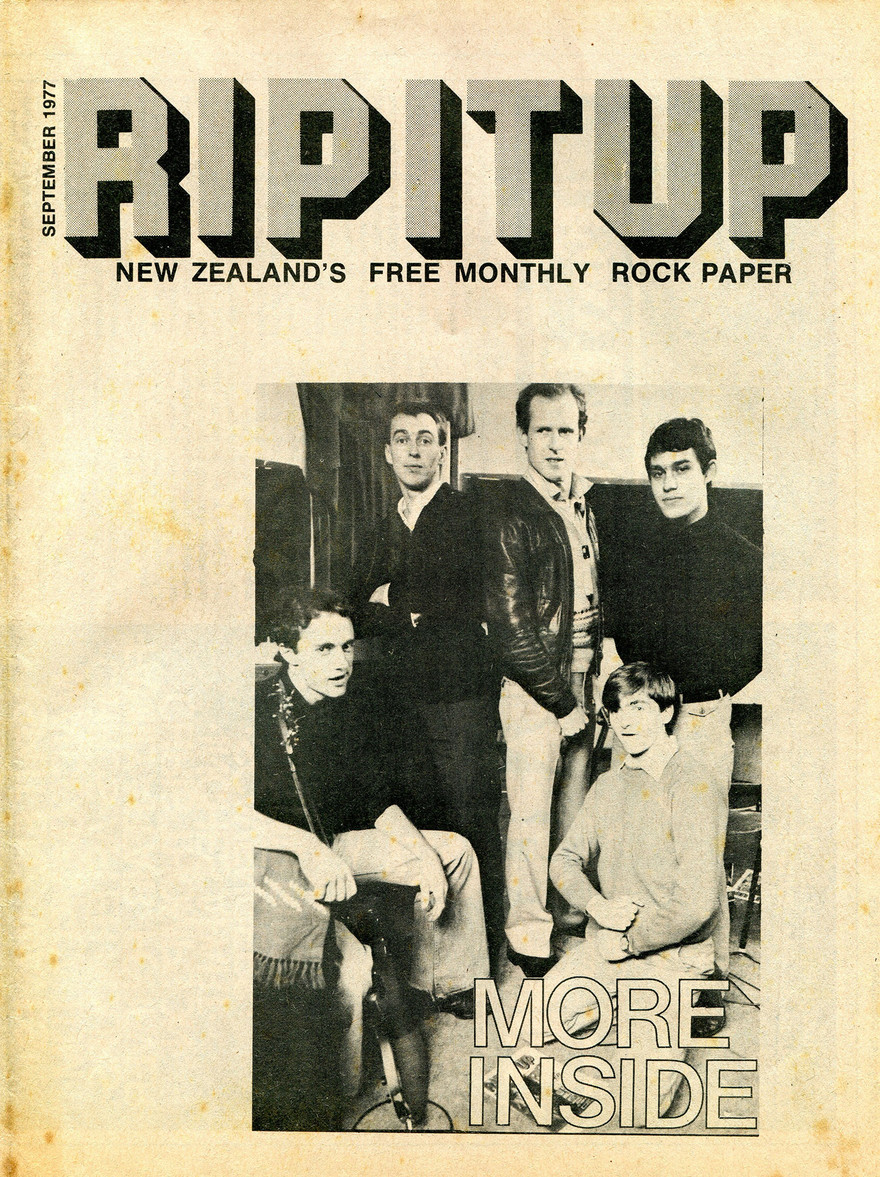 With Split Enz back in New Zealand after living in London, they were obvious cover stars ahead of their national tour. Elvis Presley died 16 August 1977 and – as naive young magazine publishers – we were the only music magazine in the universe to not have Elvis on the cover after his death. We did an obituary but, with editorial space limited in Rip It Up, obits for foreign artists were rare. Lettering appears to have gone missing from this cover and Tim is also missing. A very dysfunctional cover for a very dysfunctional publishing enterprise.
RIU 05 October 1977 – Tina Turner, Split Enz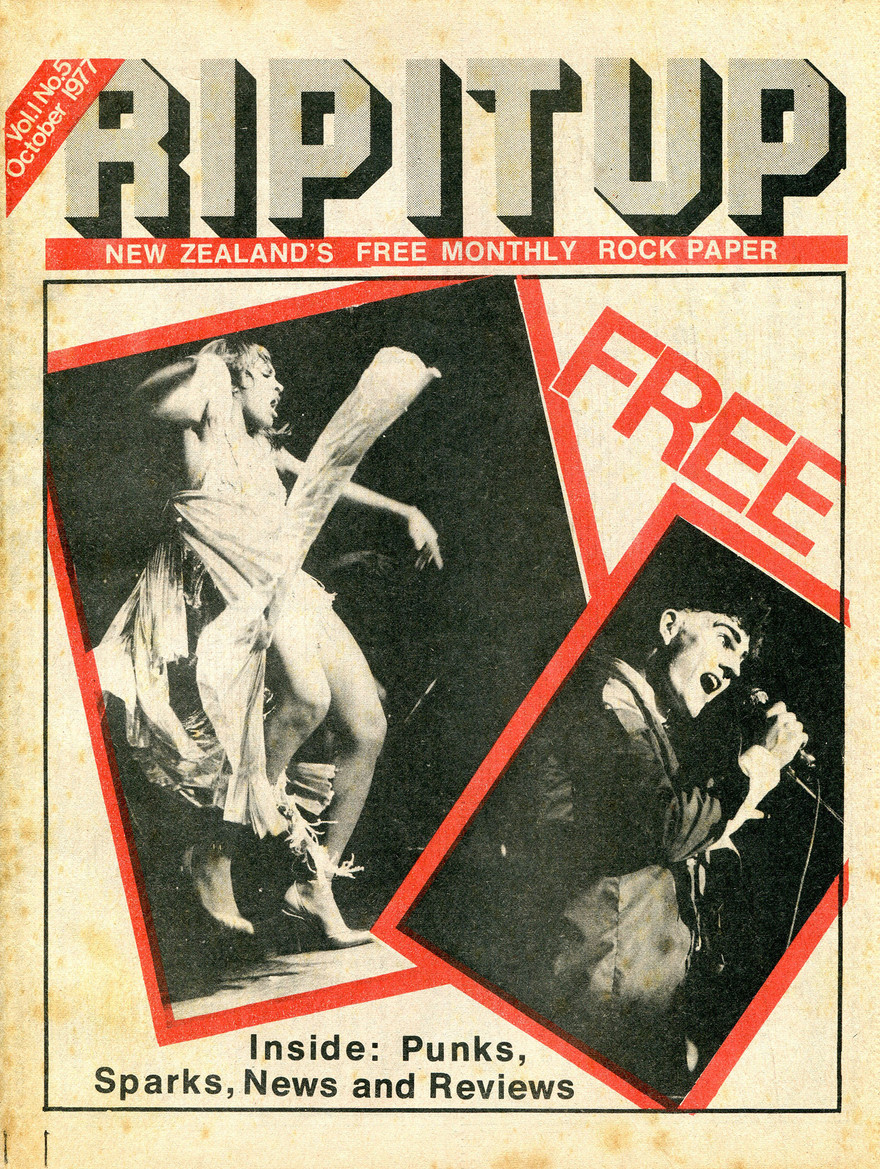 Soul fan-boy showing again here. When Tina Turner toured in 1977, she had left Ike but her solo career would not get off the ground until the 'Let's Stay Together' single in 1983. A slightly more professional cover for this issue although I was at Teacher's College and doing a stint at Waihi College while it was being completed. However, I was in the right place to be driven to the site for the following summer's Nambassa Music Festival.
RIU 06 Nov 1977 – Hello Sailor, Mother Goose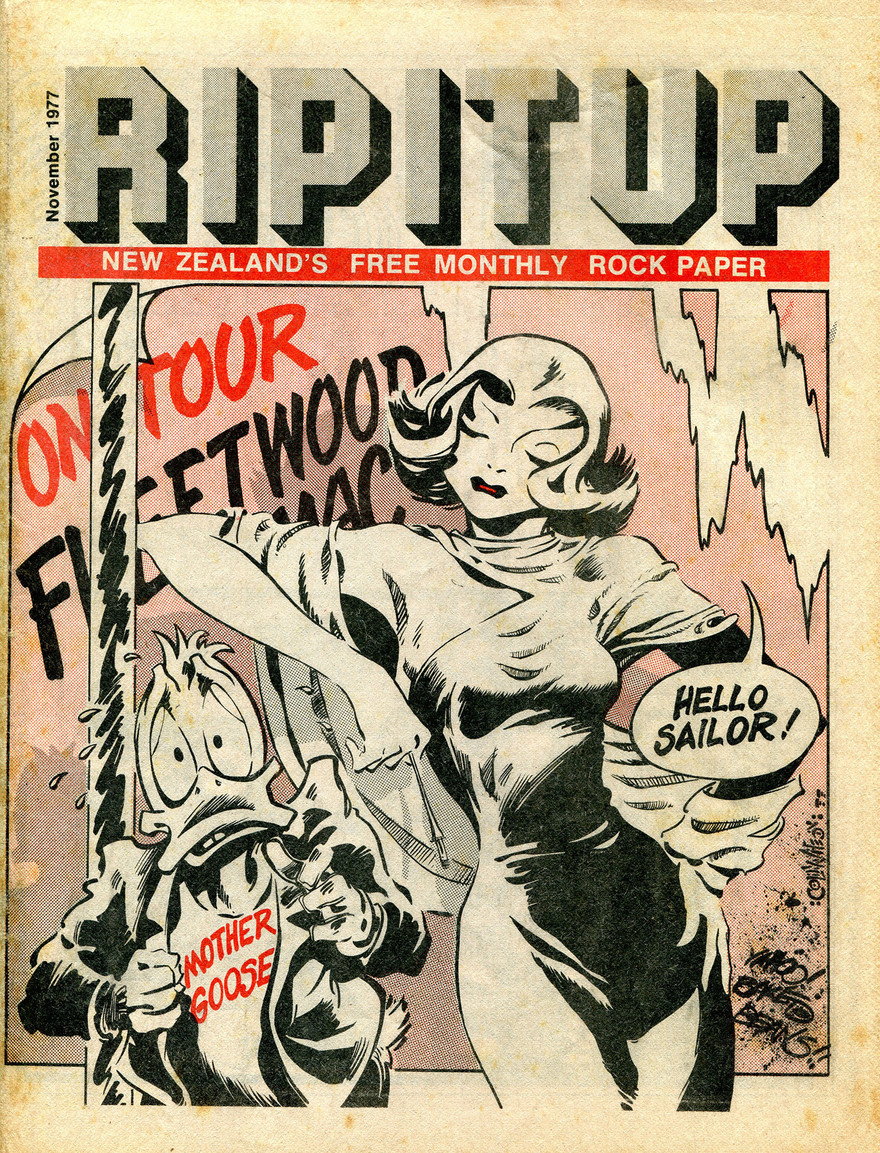 Our covers were a problem area and we got classy and paid the fabulous Auckland comic artist Colin Wilson to design us a cover with mention of two Enzed acts Hello Sailor and Mother Goose, and the summer's big tour, Fleetwood Mac.
RIU 08 Feb 1978 – Dragon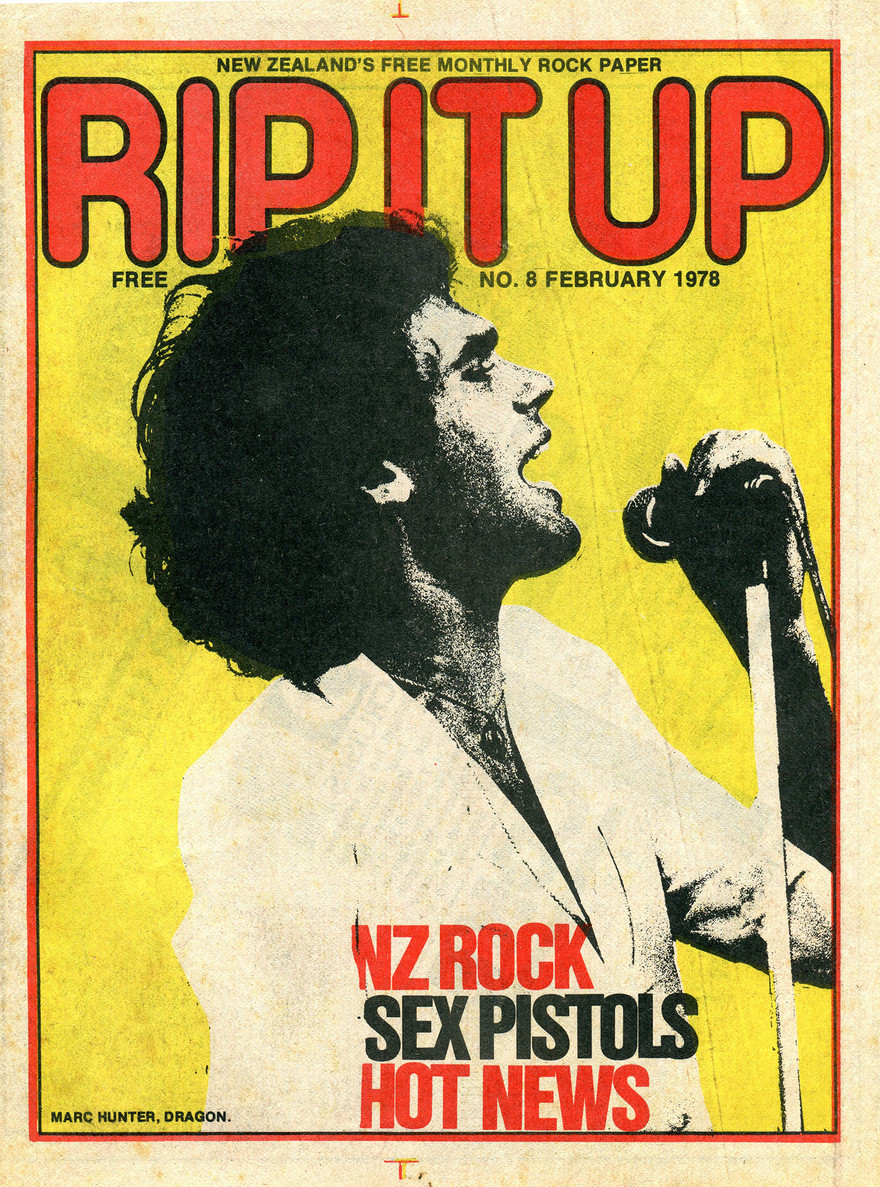 Rip It Up started 1978 with a new logo created from sheets of Letraset lines and corners. The magazine was not published in January that year, so there was more time to create a more professional cover. The photo of Marc Hunter of Dragon was shot at Great Western Music Festival on January 15. CBS Records had opened their first New Zealand office in January, with the aim of achieving better sales of their Australian signings, such as Dragon.
RIU 15 Sept 1978 – Citizen Band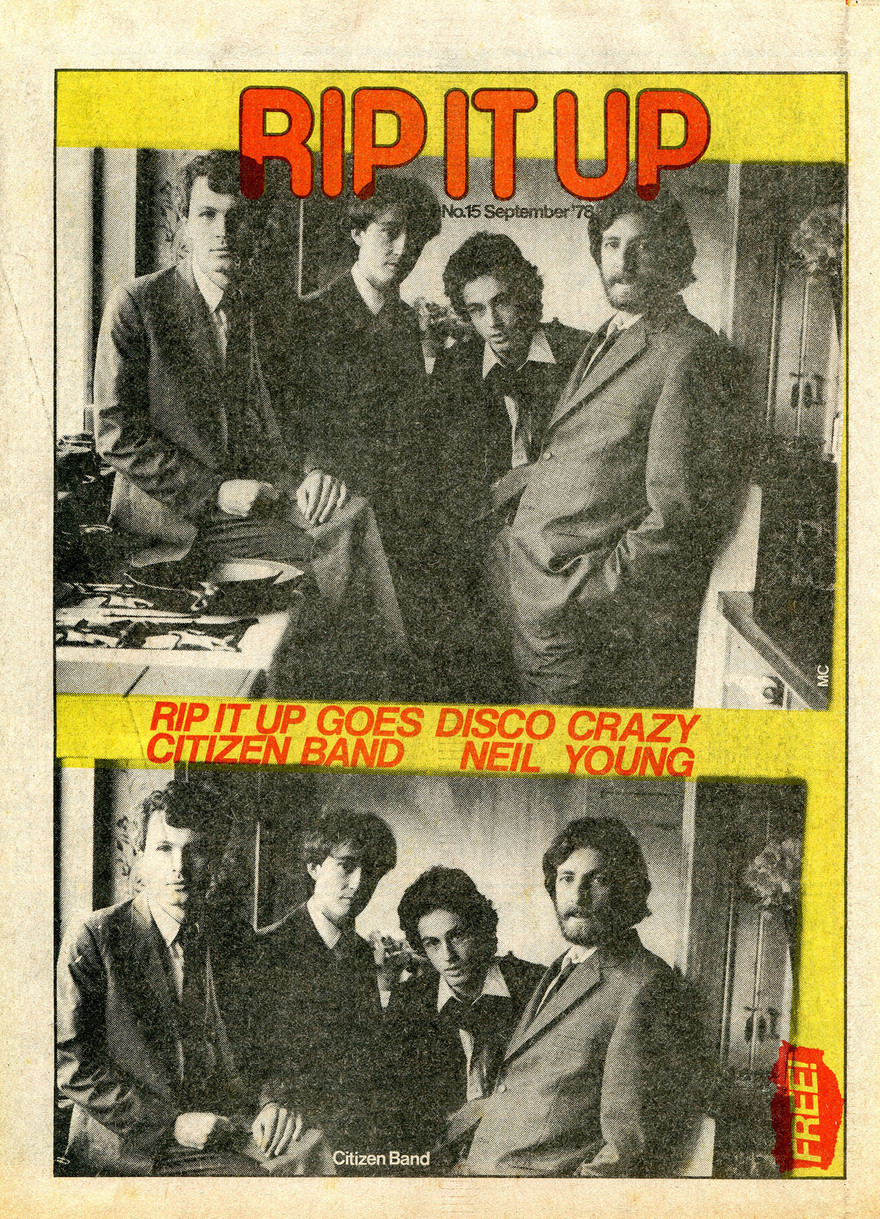 Citizen Band are pictured here looking like The Knack, a year prior to 'My Sharona'. They were ahead of their time. I was hoping that bands like Citizen Band and The Knack were going to bring back the 1960s. The genre became known as "power-pop" – a style appreciated by music writers, but not music fans. This was one of several photo sessions I deliberately did in domestic kitchens to try to be very non-rock 'n' roll. This issue has a new Rip It Up logo that evolves over the following issues.
RIU 21 April 1979 – Five New Bands: Toy Love, The Terrorways, Sheerlux, Johnny & The Hookers, Gary Havoc & The Hurricanes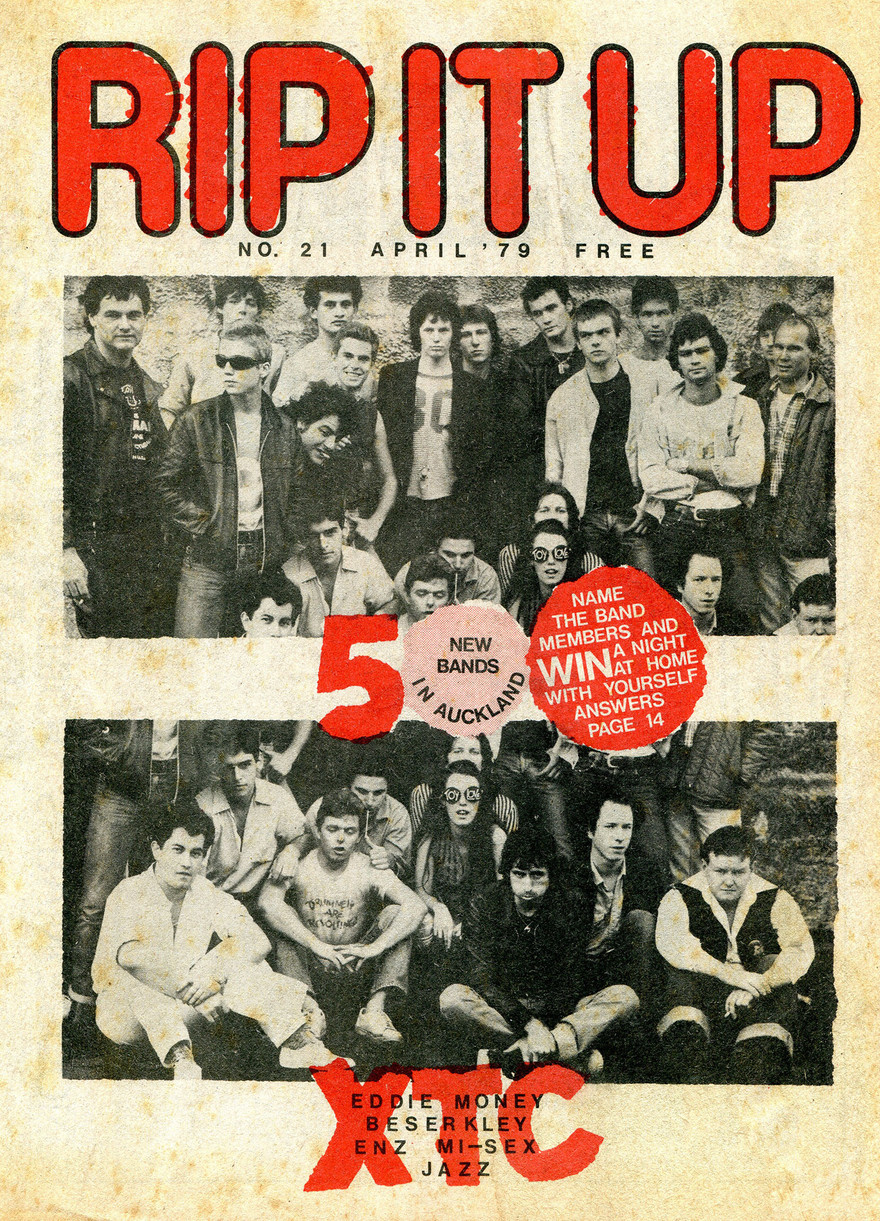 This cover features young bands that were shaking up the Auckland live music scene: Toy Love, The Terrorways, Sheerlux, Johnny & The Hookers and Gary Havoc & The Hurricanes. The same issue also announces the formation of The Swingers. It was unusual for Rip It Up to feature bands on the cover that had not recorded albums. The photo was shot on Bryan Staff's large format, two and a quarter square Mamiya camera. The photo was torn in half, probably due to deadline dementia. I took the group photo in the old car park in front of the water reservoir on the corner of Karangahape Road and Ponsonby Road. A Mobil petrol station has replaced the car park.
RIU 23 June 1979 – Th' Dudes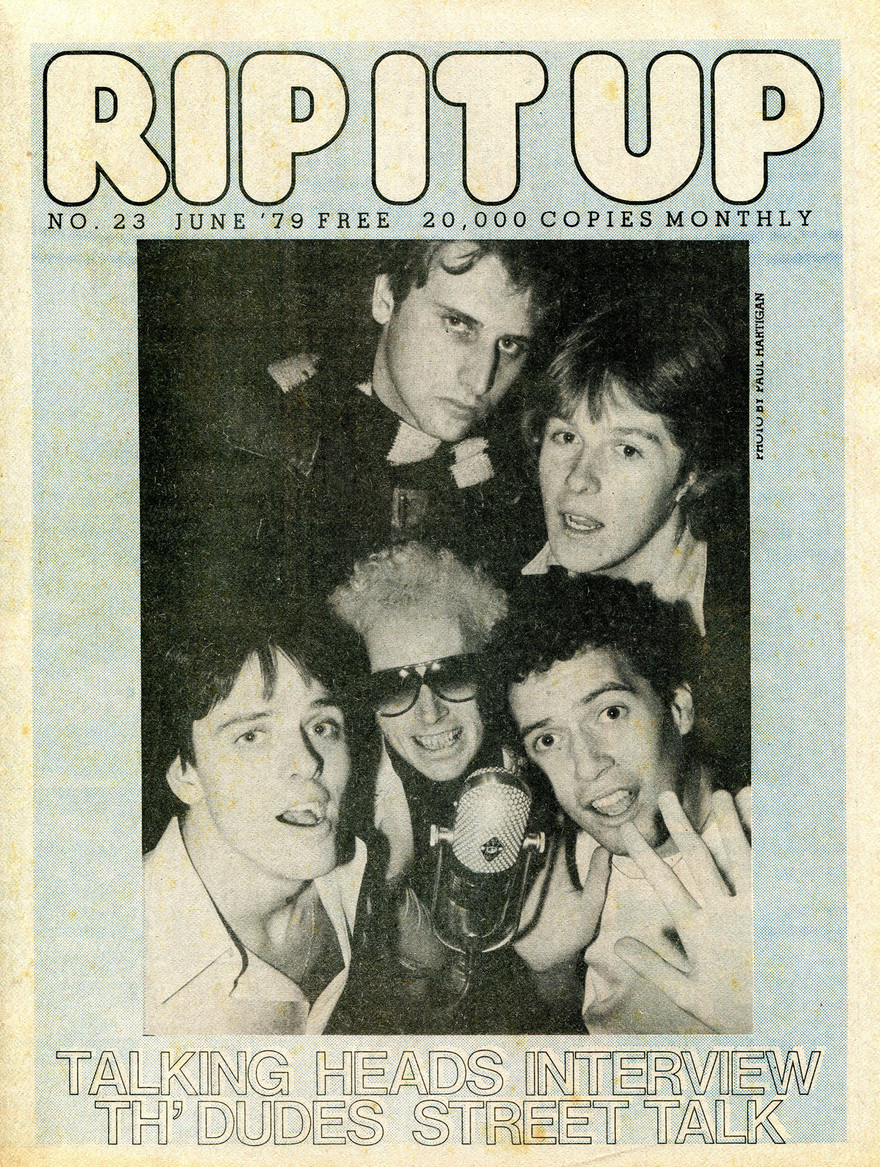 By June 1979 Rip It Up made the 100% truthful claim that 20,000 copies were printed per month. Rip It Up was in Airedale Street, across from the Auckland Town Hall, and so was Th' Dudes manager Charley Gray's venue, The Island of Real. I did a few photo sessions with Th' Dudes but Charley arranged a session by Paul Hartigan that gave us an excellent cover photo. Inside was a "Behind the Scenes" story by John Dix. If John was going to get access, Charley wanted to approve the story. John wrote in the issue: "A compromise was reached, Charley gets to check the copy for factual error and Rip It Up shall exercise a certain amount of discretion."
RIU 28 Nov 1979 – Cheap Trick, Toy Love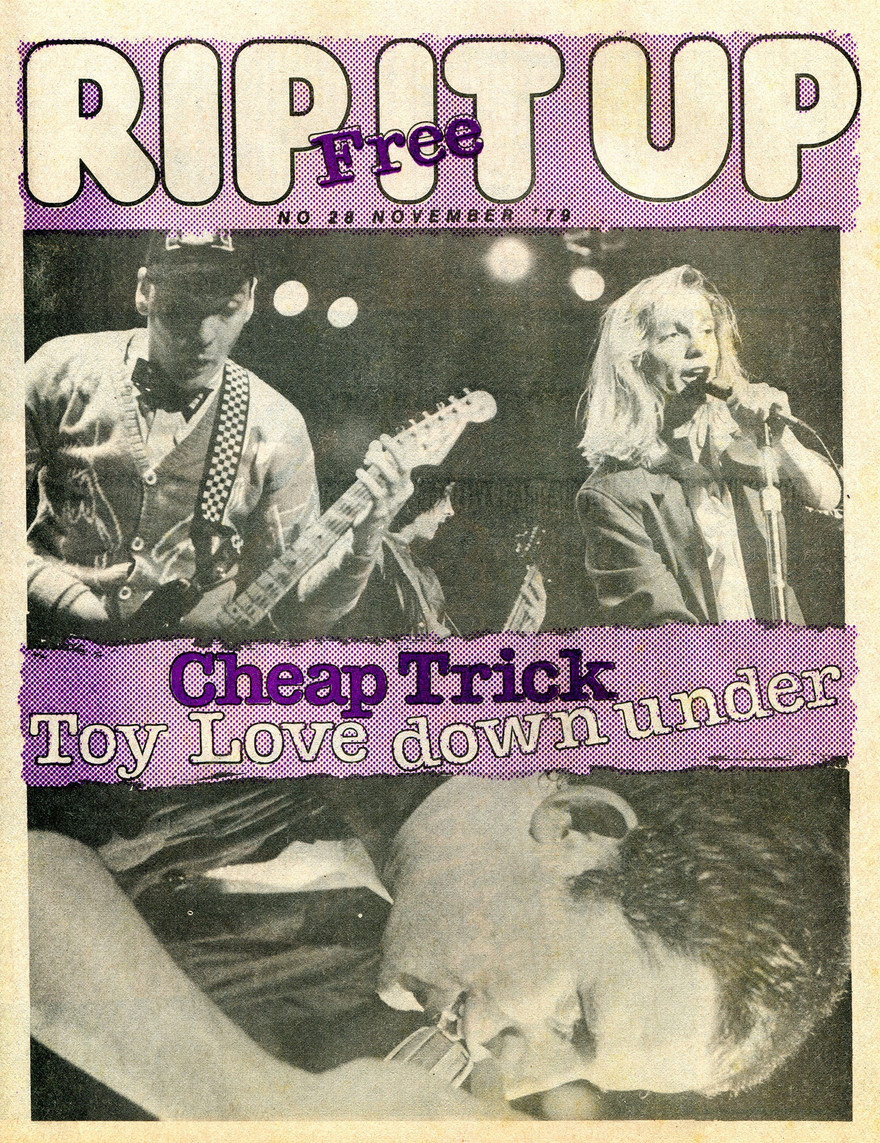 As well as liking soul music, I also liked "power-pop", a category in which I had chosen to place Cheap Trick. They have the top half of the cover while Toy Love occupies the down under portion. Torn edges on the graphics denotes a late embrace of the literal punk meaning of Rip It Up – torn edges, handwritten headlines.
RIU 31 Feb 1980 – Swingers and Sweetwaters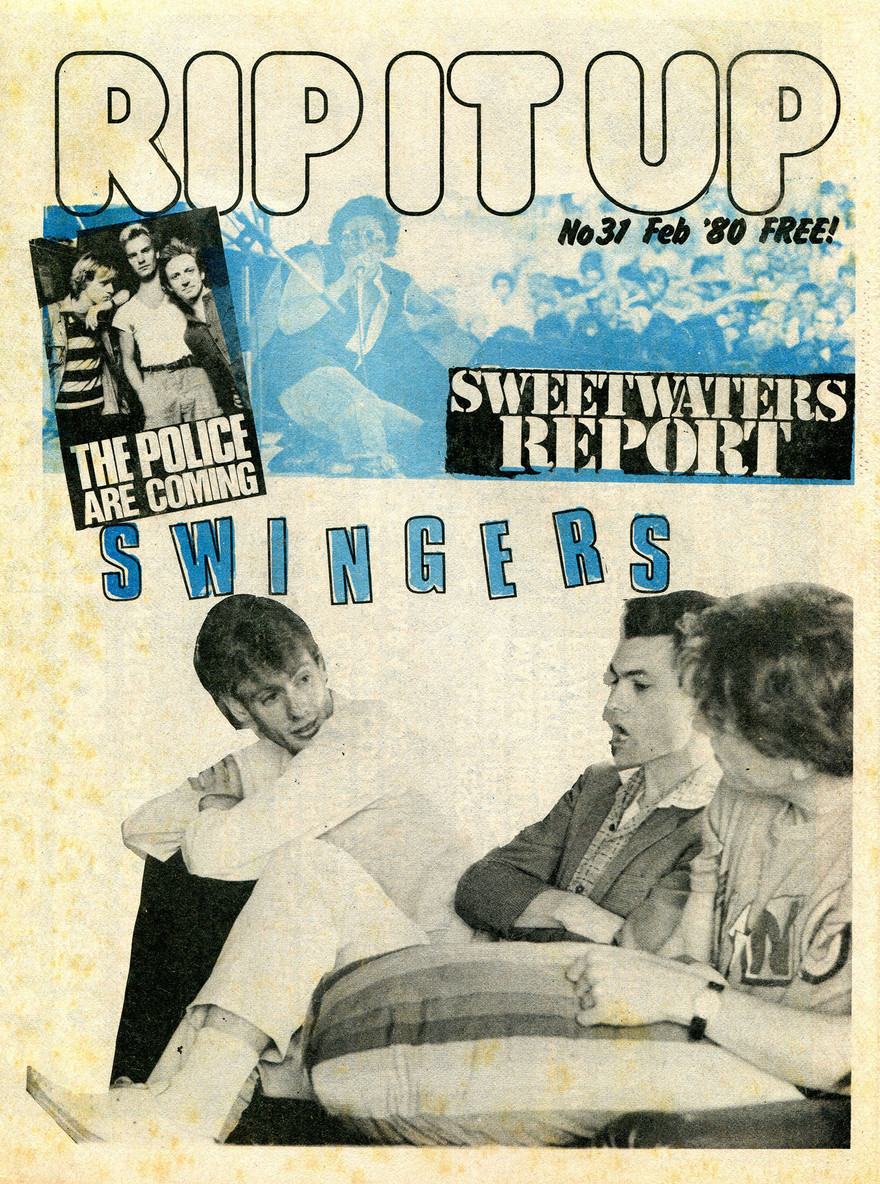 Rip It Up had been criticised in its first two years for supporting young local bands while ignoring more experienced musicians. With the first Sweetwaters Festival many of the younger bands got their first chance to play a big stage. They lived up to the opportunity and their performances appeared energetic and timely alongside the overseas bands. This energised Rip It Up support for the new generation of bands such as The Swingers and Toy Love who are part of this messy cover.
RIU 32 March 1980 – Split Enz, Police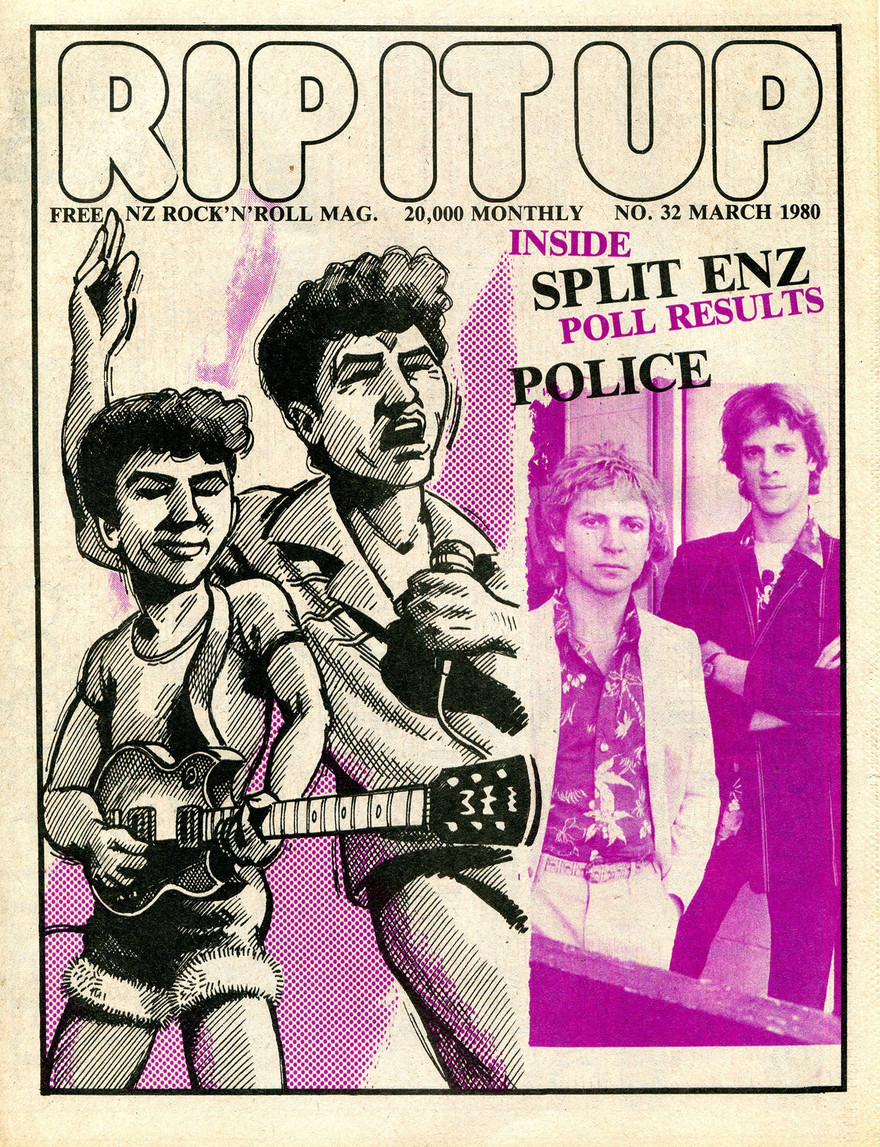 Split covers seem so unnecessary now. Placing a Barry Linton drawing of the Finn brothers beside only two members of The Police is rather strange. Sting was unwell at the Auckland press conference, so after question time I only got to photograph the other two guys. Stewart Copeland had several reasons to be grumpy, being photographed by me was one of them, being caught at Customs with a marijuana roach in his coat pocket, was another one. Rip It Up branding seems to have changed from "Free Rock Paper" to "NZ Rock 'n' Roll Mag." I am not sure why either phrase was necessary.
RIU 33 April 1980 – Fleetwood Mac, Crocodiles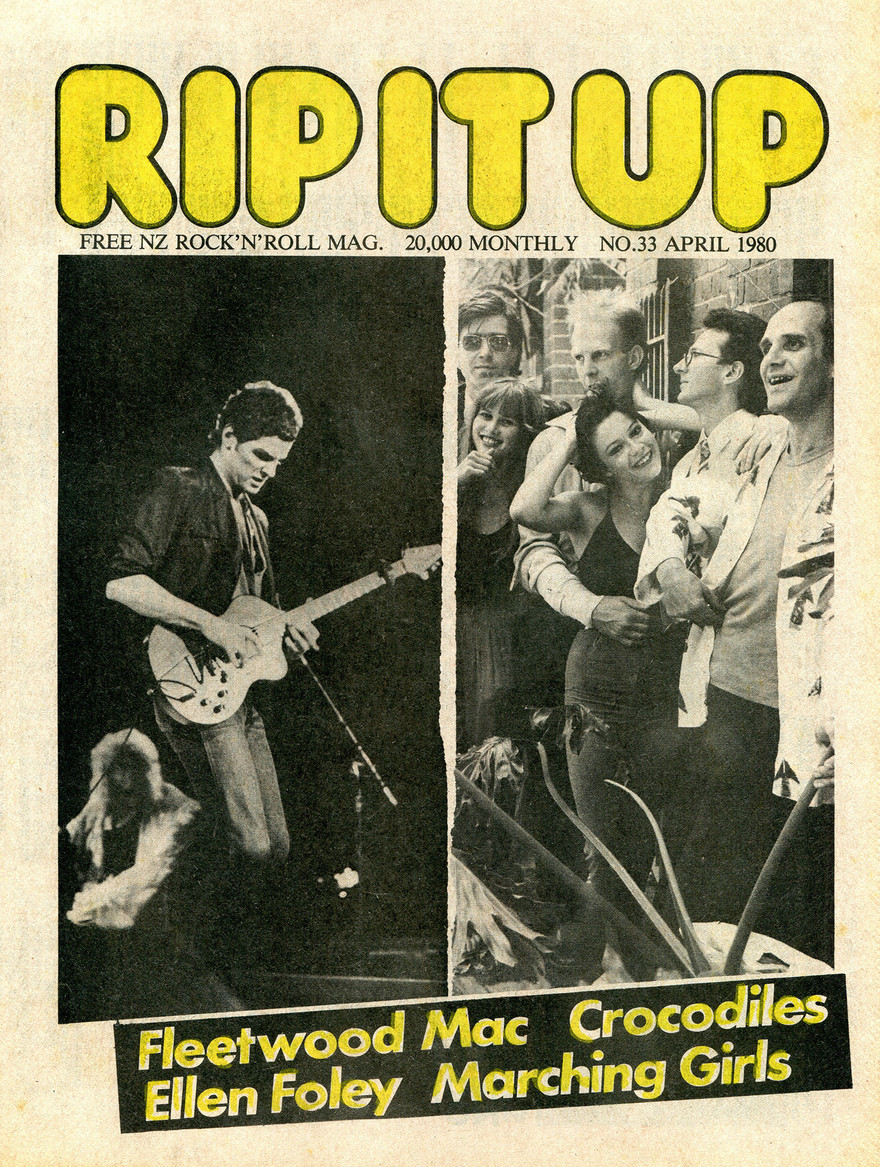 Another dire combo cover with Lindsey Buckingham of Fleetwood Mac sharing with The Crocodiles. The photos I took of the Crocodiles were rather ordinary. I have met other photographers who also think that when there are more than four members in a band, a photo session can be a hard work.
RIU 34 May 1980 – Tom Petty, Street Talk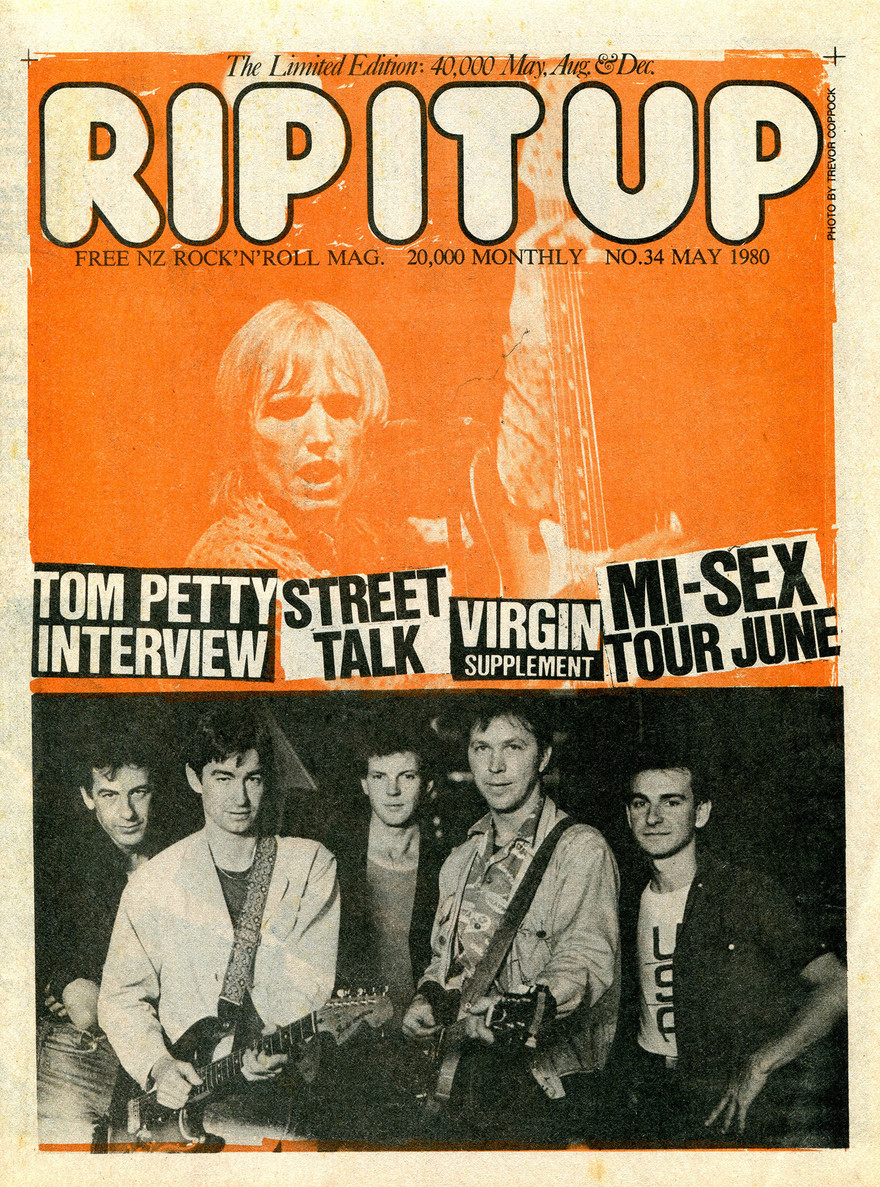 This combo has Tom Petty and Street Talk together and may have occurred because we were blown away by Petty's performances at the Logan Campbell Centre. There would have been pressure to have Street Talk on the cover but I don't recall outside pressure to have Petty on the cover. The cover claim of 40,000 copies for this issue was truthful, we had pre-announced the boosted print run to try and gain ad agency advertising. The issue is black and white, so the promotion did not seem to work. The only ad agency placement is Coruba Rum but music biz advertising is strong in the 28-page issue.
RIU 35 June 1980 – Mi-Sex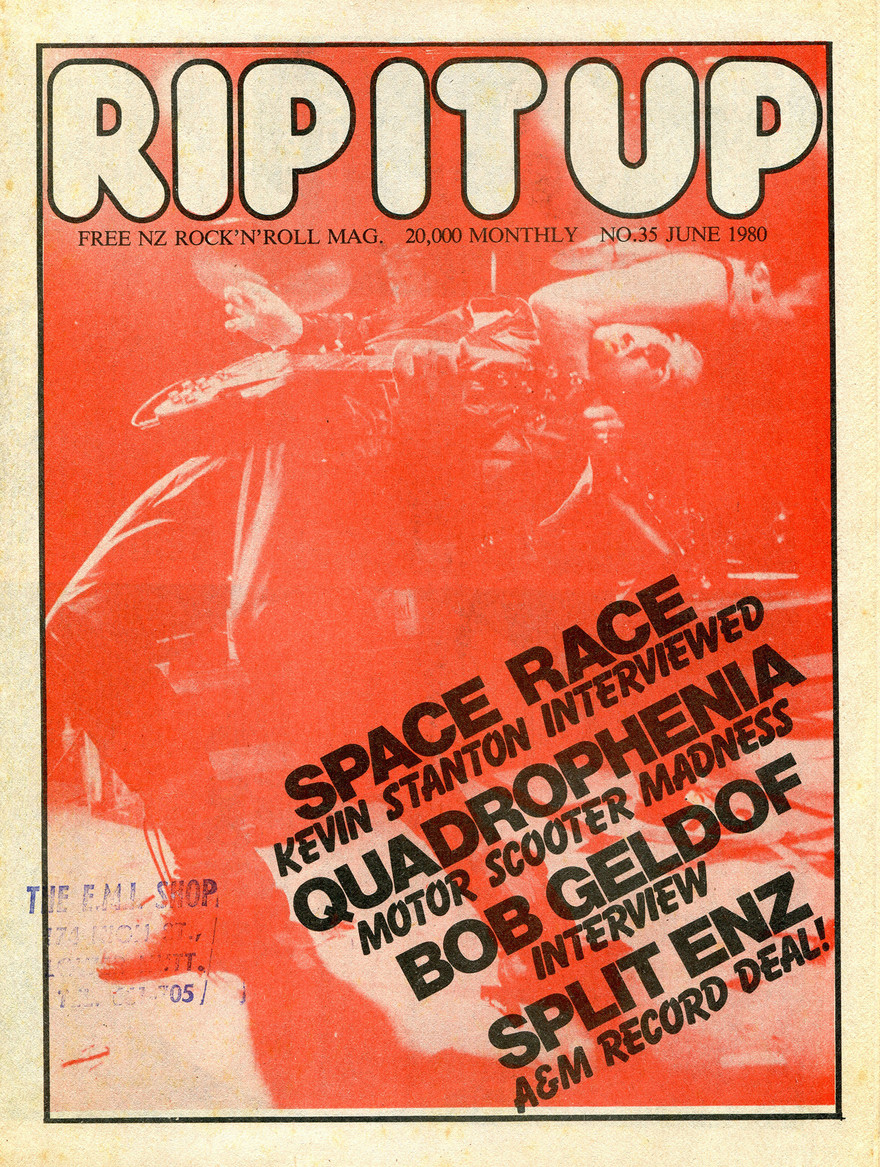 I was never a Mi-Sex fan but with their massive success in Australia and their achieving a worldwide buzz with 'Computer Games' they became cover stars with this odd live publicity shot.
RIU 37 August 1980 – Toy Love, The Newz, Magazine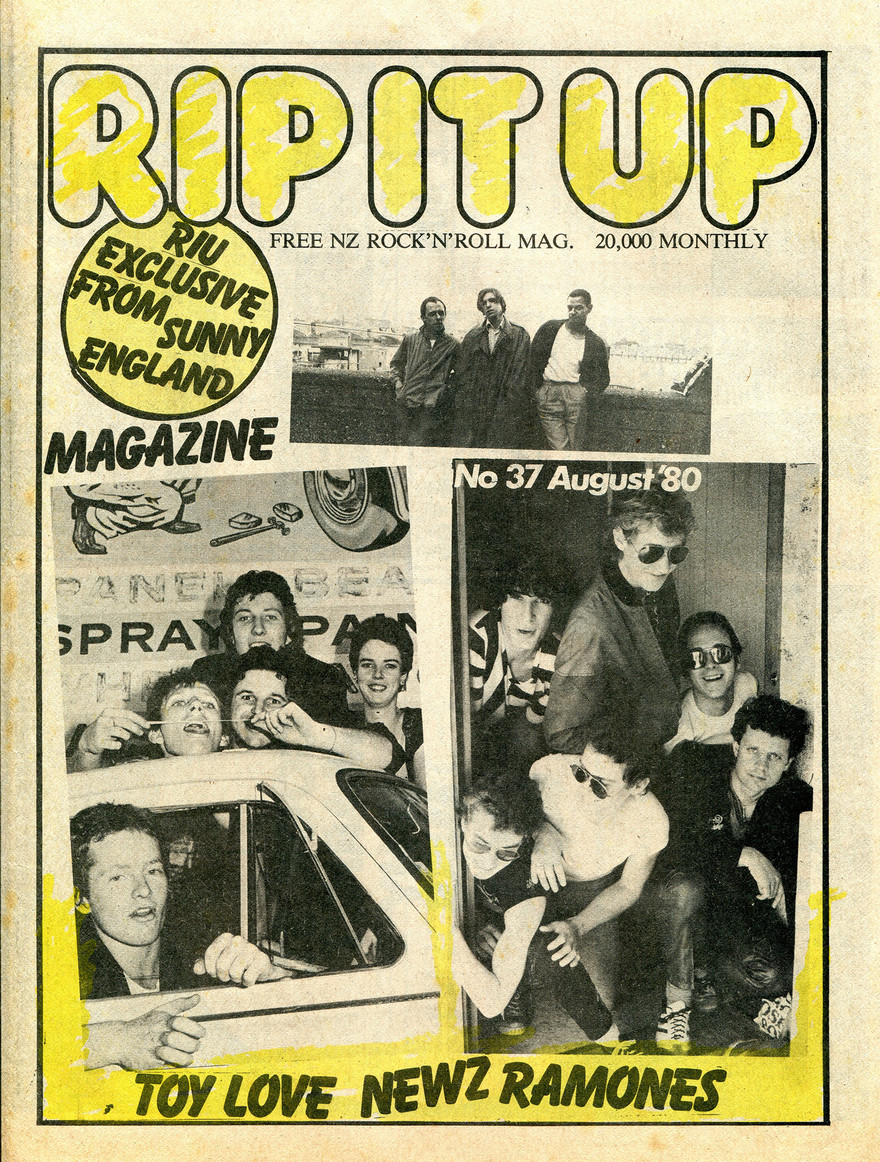 This cover is hard to explain. Why three acts on the cover? We had been supplied a fine photo of Toy Love that would have made an excellent cover. I guess we wanted to plug one of our fave UK acts Magazine, and also feature Christchurch's The Newz.
RIU 41 Dec 1980 – John Lennon RIP, The Clash, Coup D'Etat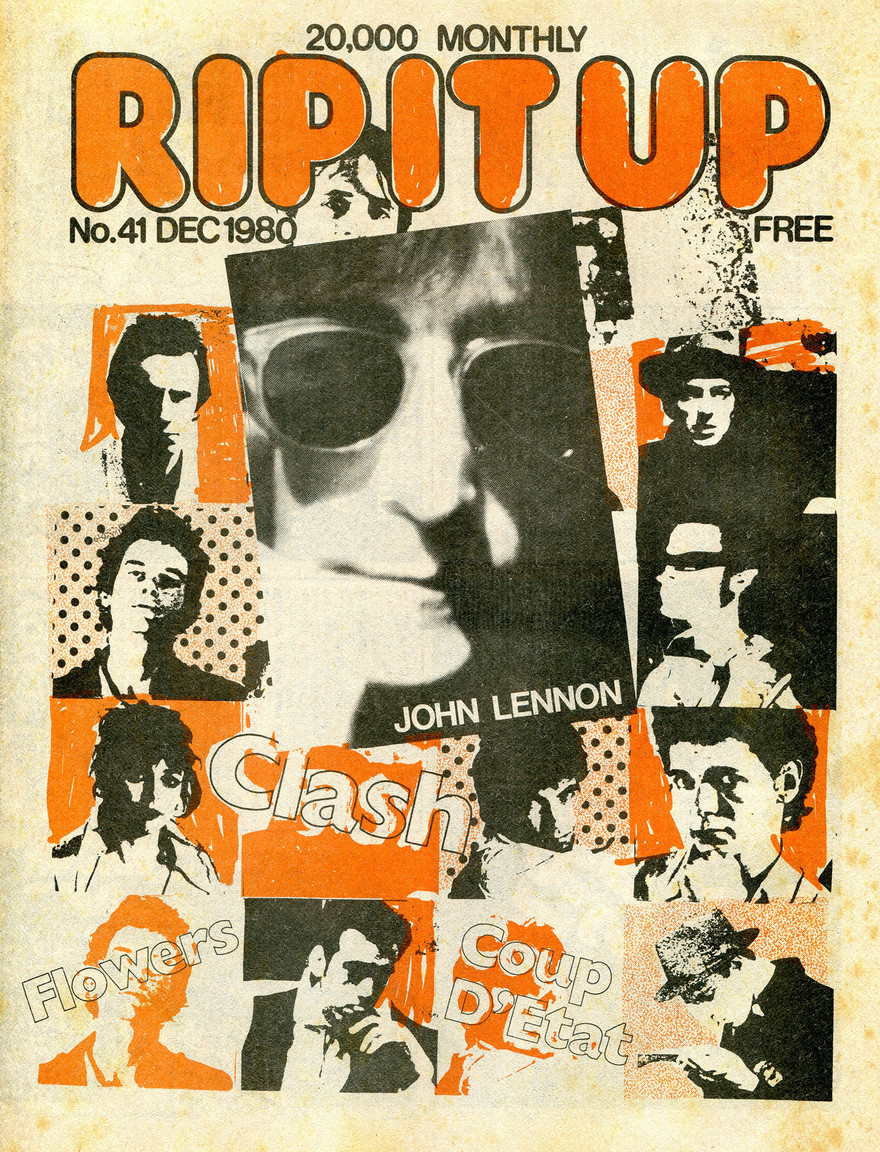 It was a tragedy when some loser took the life of possibly the most-loved man in modern music, John Lennon. It was on a Rip It Up deadline and Beatles fan Simon Grigg was given a few hours to write an obit. What he wrote was one of the finest bits of writing we ever published. We stuck (literally) a photo of John on top of our existing artwork for The Clash and Coup D'Etat. That evening I was thinking that I was not feeling enough grief and confided in our proof reader. She replied, "Why didn't they shoot Ringo?" At that point I became less worried about my reaction and more concerned about her response.
RIU 45 April 1981 – Split Enz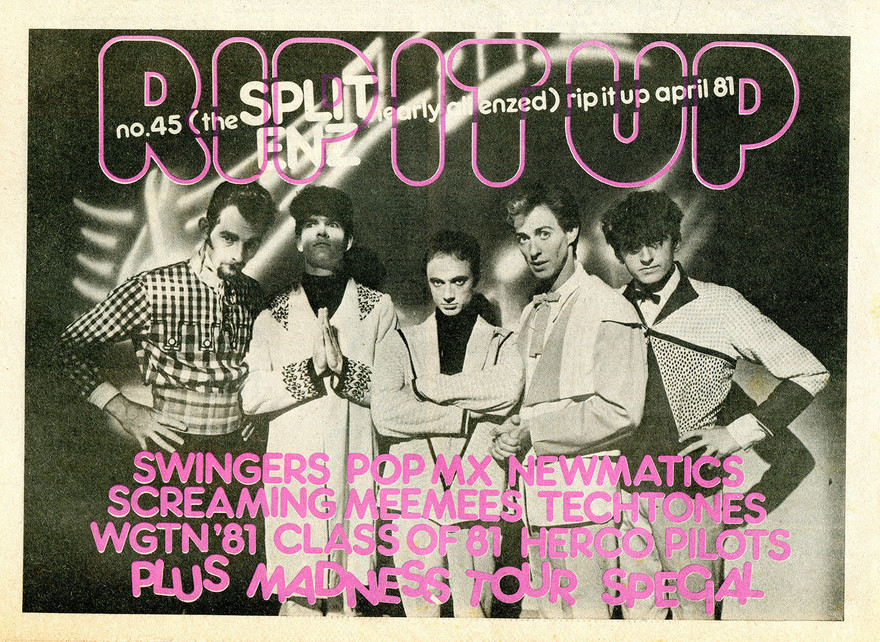 This Split Enz cover works well utilising a cool publicity photo. I don't know why we didn't use more PR shots in our earlier issues. Maybe I wanted photos that were "exclusive" to Rip It Up. This issue's claim: "nearly all Enzed" pertains to the feature stories be largely local.
RIU 50 Sept 1981 – Swingers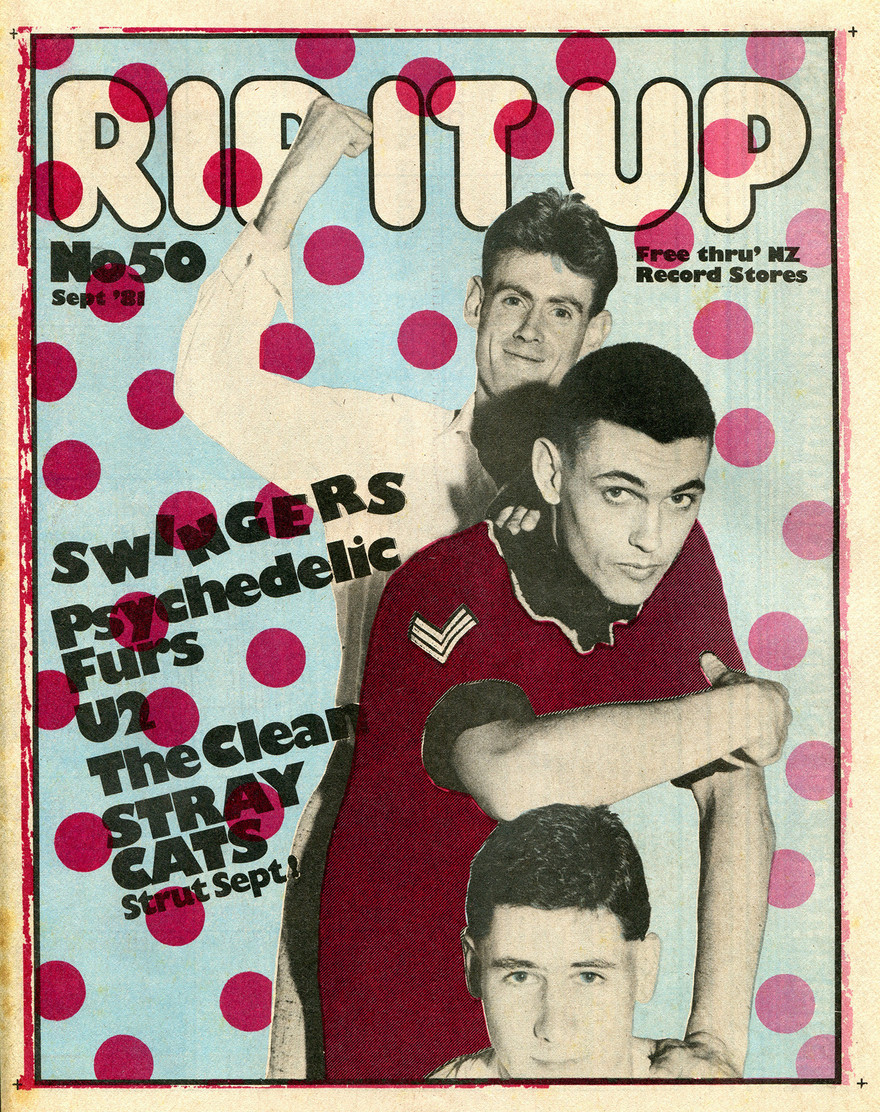 A publicity photo works well here, as The Swingers release their debut album Practical Jokers.I suspect an outside designer may have been involved in achieving a professional cover for The Swingers (minus Buster Stiggs).
RIU 51 October 1981 – Newmatics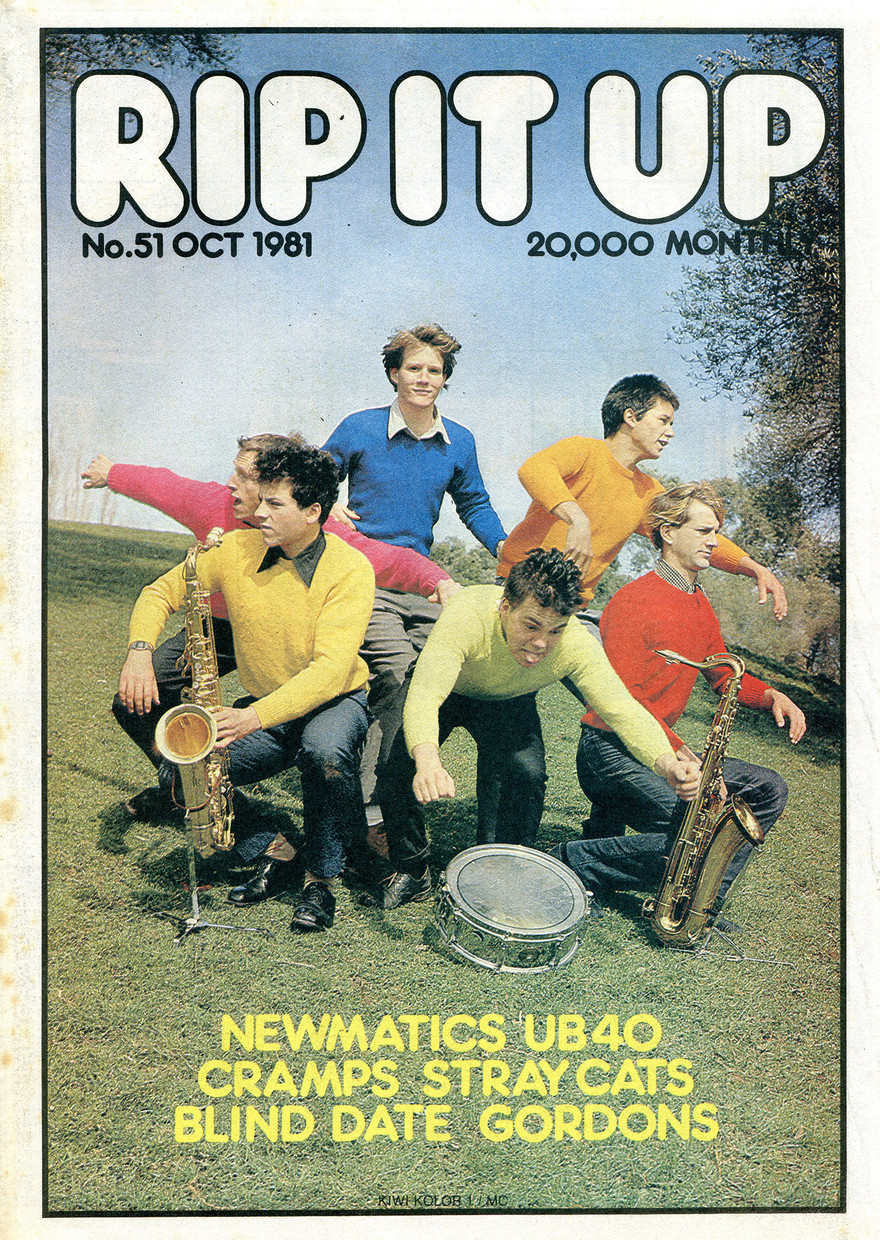 This issue coincided with some regular colour advertising bookings and I decided to do 100% New Zealand music on the covers and this met with no resistance from the big record companies as Rip It Up was viewed as a key media to sell local music. Only the manager of INXS Chris Murphy objected, telling me at The Gluepot, "You'll run out of bands." The Newmatics' colour jerseys steal the show in this photo that I shot at the base of One Tree Hill. The cover carried the cheesy "KIWI KOLOR 1" caption, possibly because there was a knitting-pattern vibe to this photo.
RIU 52 Nov 1981 – Danse Macabre/Penknife Glides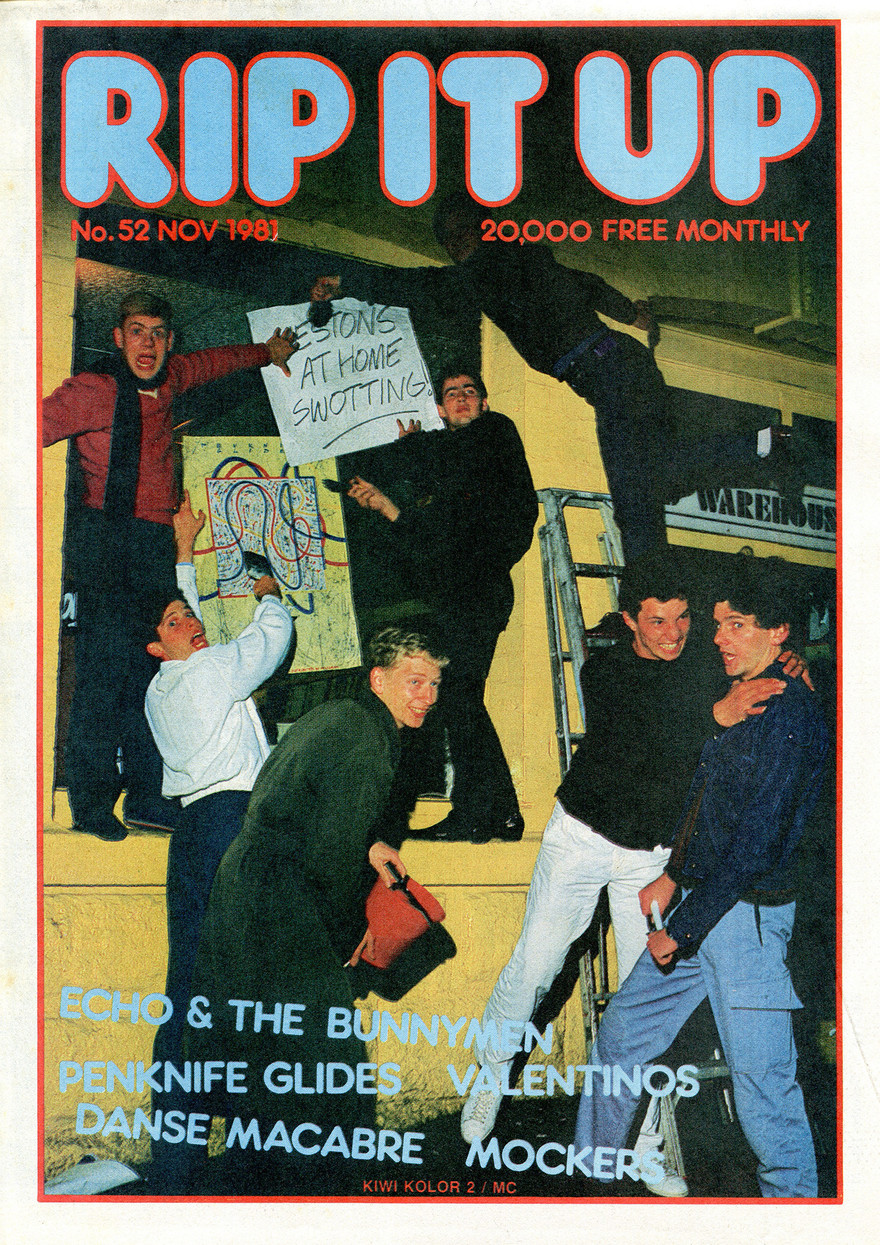 The original concept was to have Graham Brazier, Danse Macabre and Penknife Glides share the same cover. I got the word from the bands via the Rip It Up graphic artist (and Penknife Glides drummer) that the younger bands were not too keen to share the cover with an older musician who at the time was expected to do jail time for "loitering with intent outside a chemist shop." So we went ahead with the two younger bands in Vulcan Lane with a postering theme outside the Record Warehouse store. Ironically, a member of Danse Macabre did jail time, not Graham Brazier. Labelled "KIWI KOLOR 2".
RIU 53 Dec 1981 – Screaming Meemees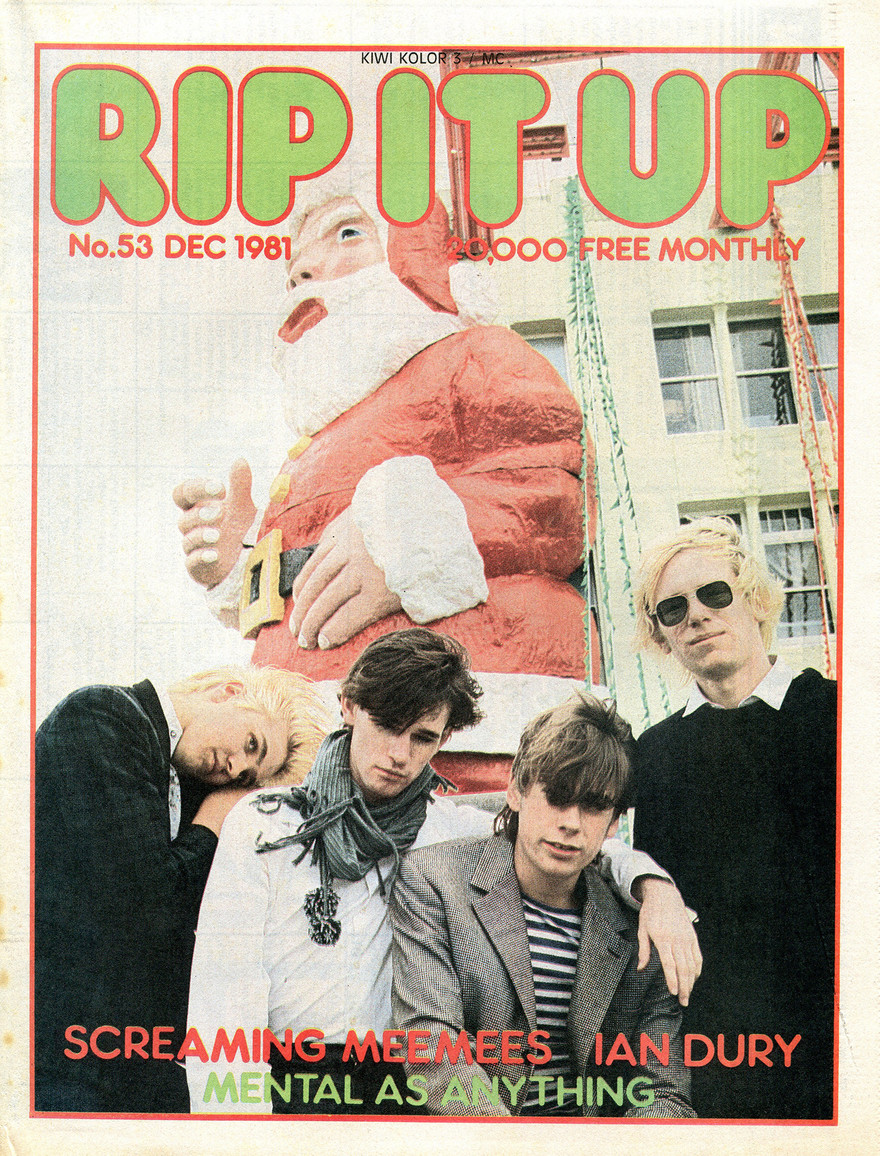 This Saturday midday photo session clashed with Alan Cowderoy of Stiff Records (London) dropping by the flat I shared with Propeller Records owner Simon Grigg. When The Screaming Meemees turned up for the photo session, we tried to buy time by Simon giving them money to go and get an ice cream. They were back a few minutes later and we had to end our conversation and head to the Farmers Department store car park to take a photo with the infamous beckoning Santa. Between us we must have decided that this image would be so uncool that it would be cool. Labelled "KIWI KOLOR 3".
RIU 54 Jan 1982 – Pink Flamingos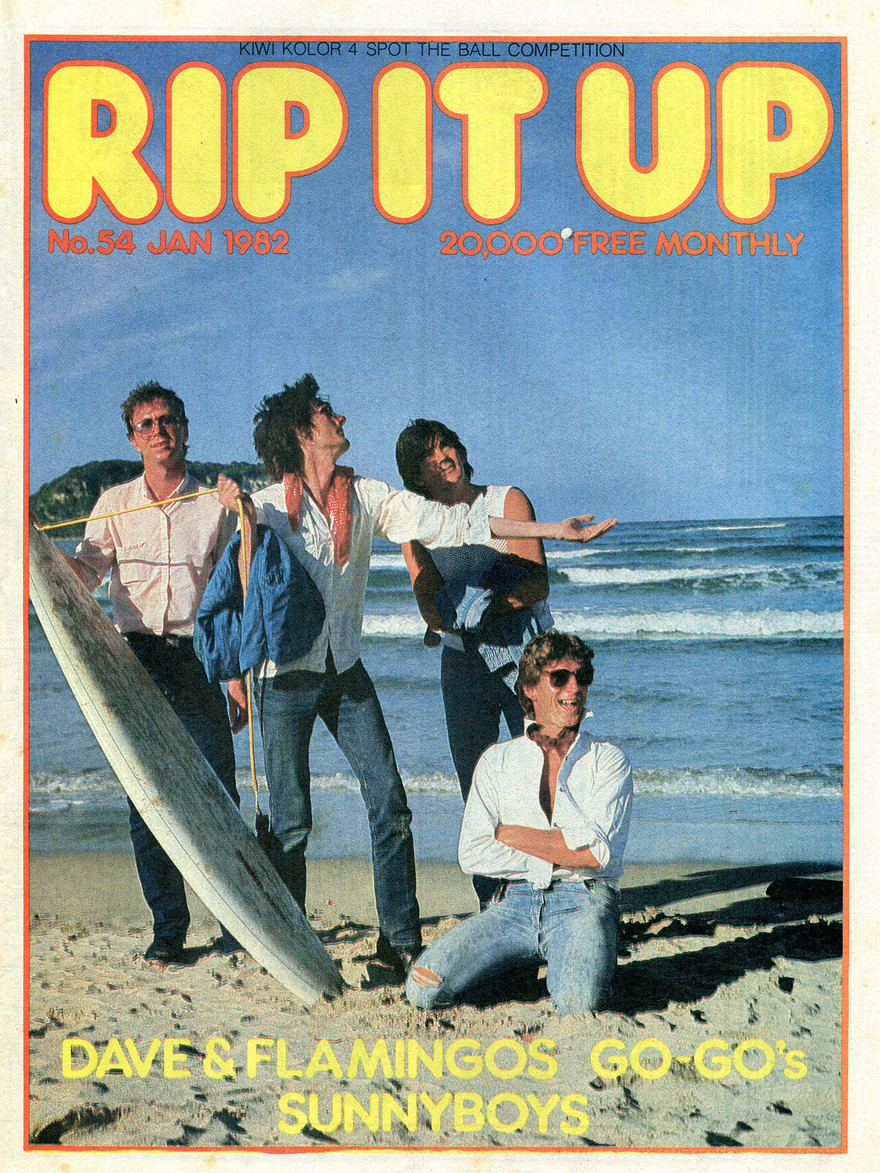 This cover photo was shot at Whangamata Beach on a Pink Flamingos summer tour. The session went well even though Dave McArtney was more of a Beach Boy than the other members of the band. At one point Paul Hewson, as a joke, used the surfboard rope as if he was about to shoot up. I have looked for that photo but I have never found it. Captioned "Kiwi Kolor 4" this cover has a similar, outdoor, Kiwiana vibe to The Newmatics cover. A bit silly but I think it is cool to see a great New Zealand surf beach in the background. The January issue was only 24 pages and had more adverts than editorial. Paul also contributes a golf ball to this photo.
RIU 55 Feb 1982 – Pop Mechanix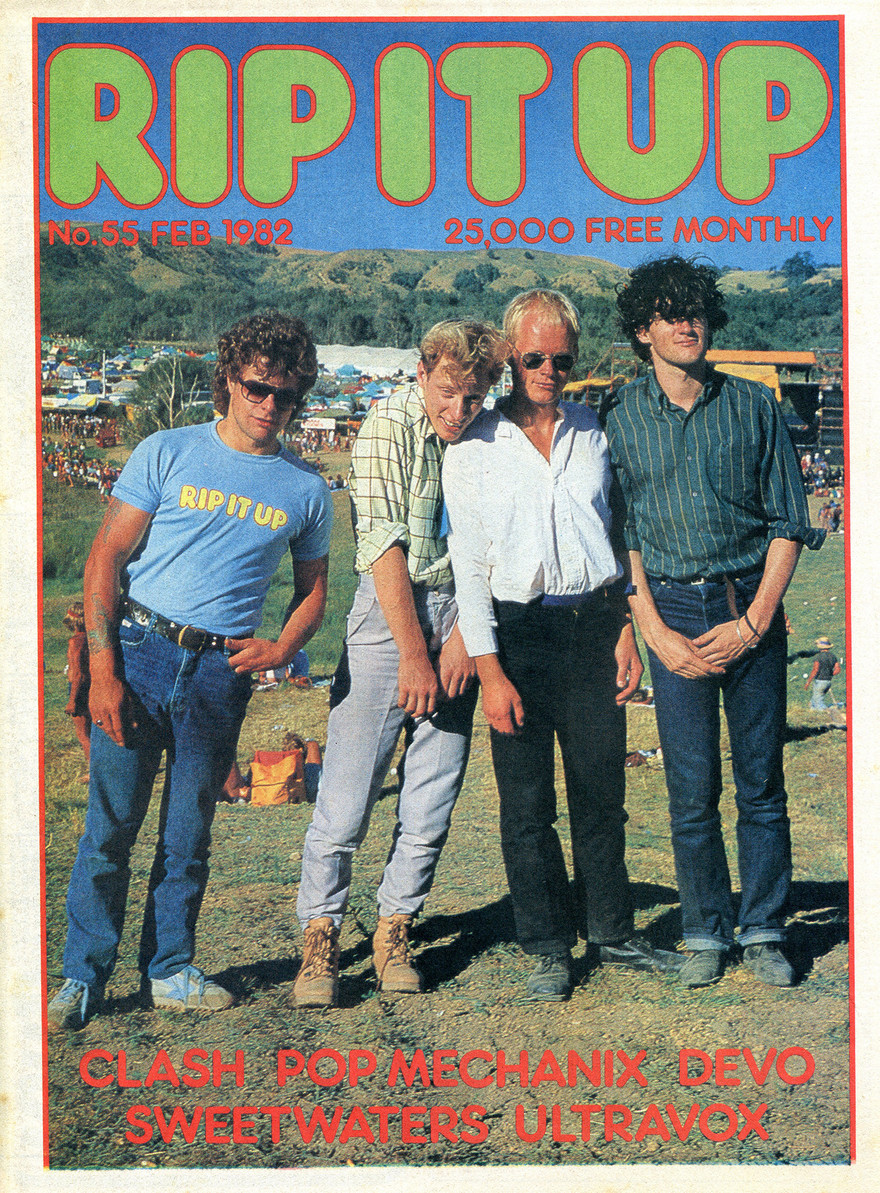 Photographing musicians in the bright sunshine is probably not fair, but it's great to see Pop Mechanix with Sweetwaters' main stage in the background. I thought it made sense for songwriter Paul Scott to front his own band and it was disappointing that they had to change their name to Zoo for Australia, where they did not achieve the success they deserved. If Rip It Up had not had a 100% Kiwi cover policy, The Clash would have been on the cover, as the issue contains a Mick Jones interview by Duncan Campbell.
RIU 56 March 1982 – DD Smash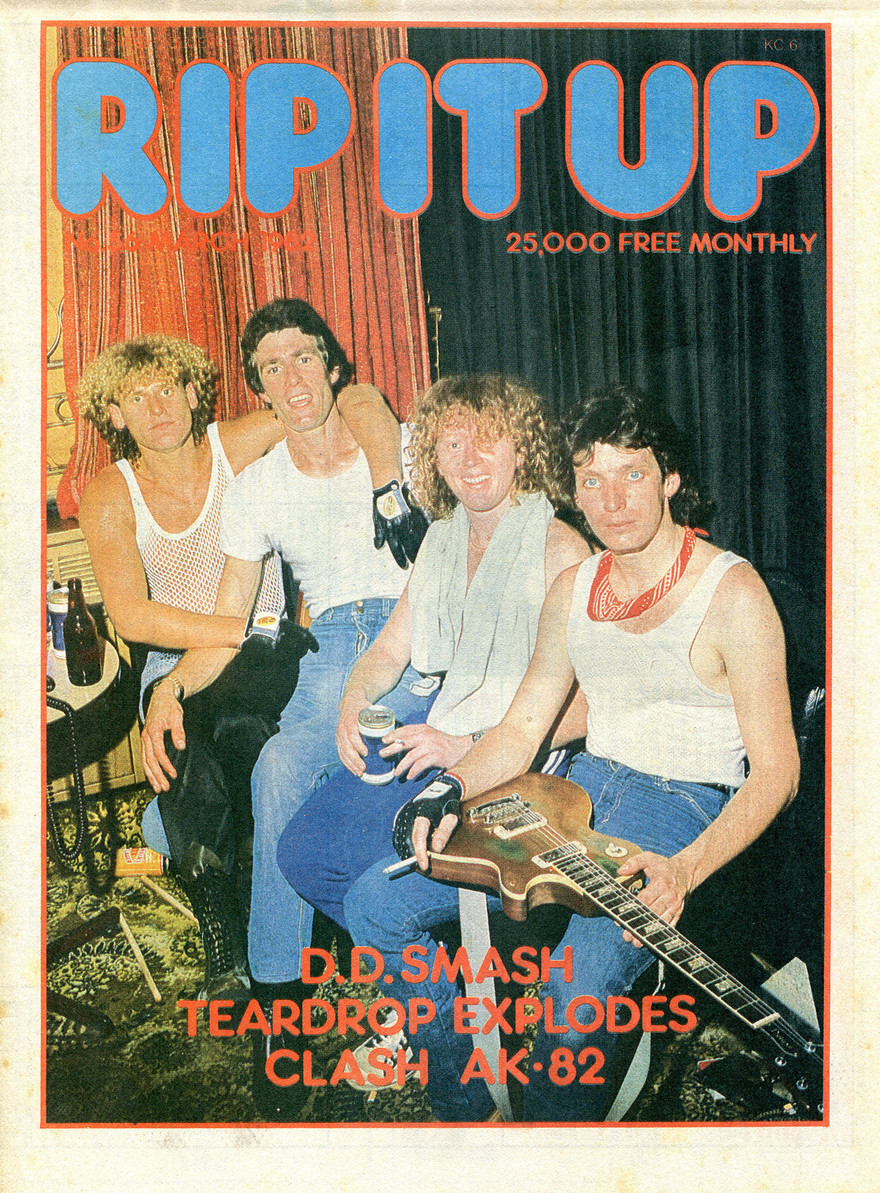 The first session for this cover was an attempt by myself to photograph the band on a large format camera at a Gluepot soundcheck. The fake live photos were okay but I got shitty about something that was said or the band's level of cooperation. I had seen great pix of the Rolling Stones by Annie Leibovitz after the band just got off stage and I asked Kerry Brown to try the same concept. The results were so-so but I would not revert to the Gluepot pix on principle. The group's manager Roger King knew there was fundamentally nothing wrong with my Gluepot pix and asked to use a photo for the back of the Cool Bananas album cover. I reluctantly obliged and a Gluepot pic and superior pic from Kerry's session was also chosen for the back cover. There was no photo credit for Kerry or I, so I am still grumpy now. However, I do like the line "NO THANX to the NZ Government for the 40% Sales Tax on this record."
RIU 57 April 1982 – The Clean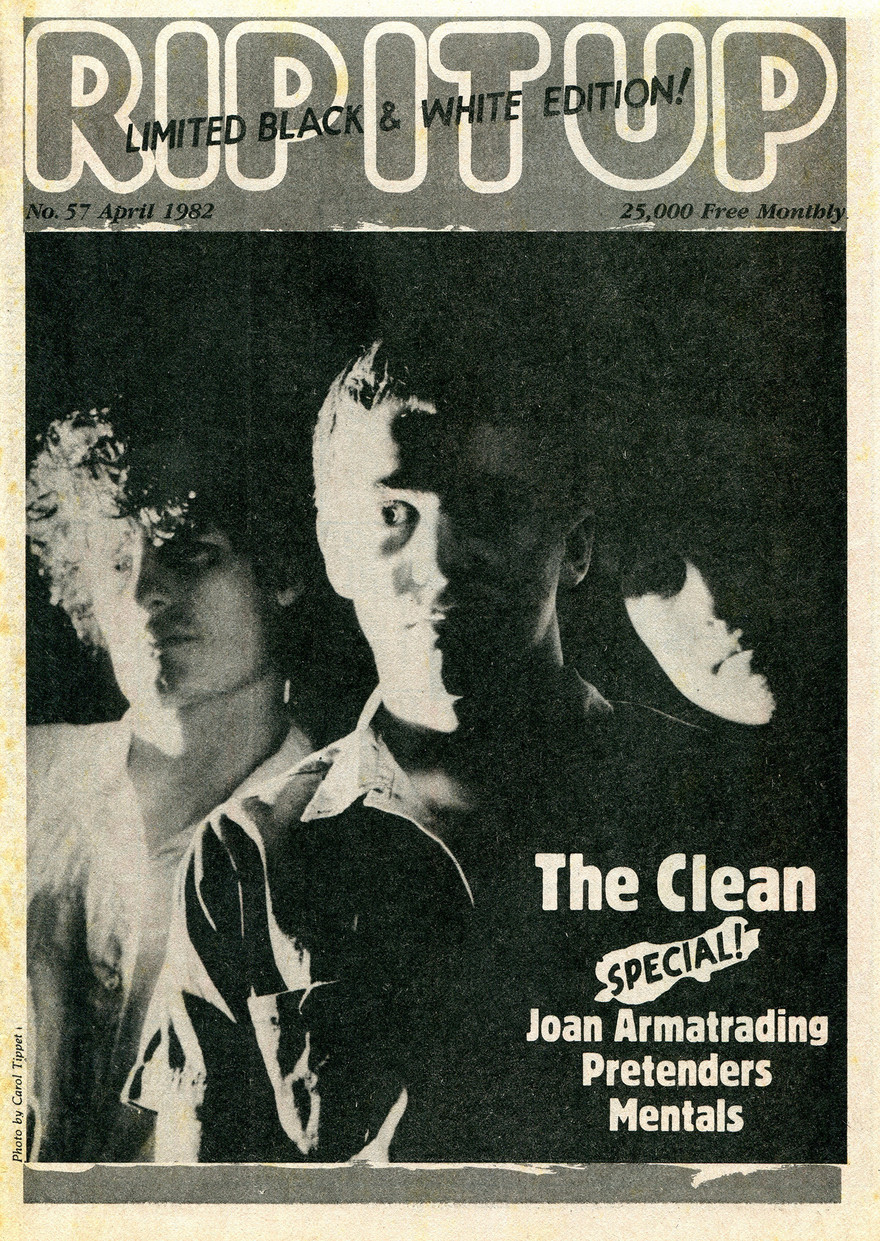 No colour advertising, so we sadly reverted to black and white but we had a strong cover image with this great photo of The Clean by Carol Tippet. The excellent story on the South Island music scene was written by Michael Higgins.
RIU 58 May 1982 – Blam Blam Blam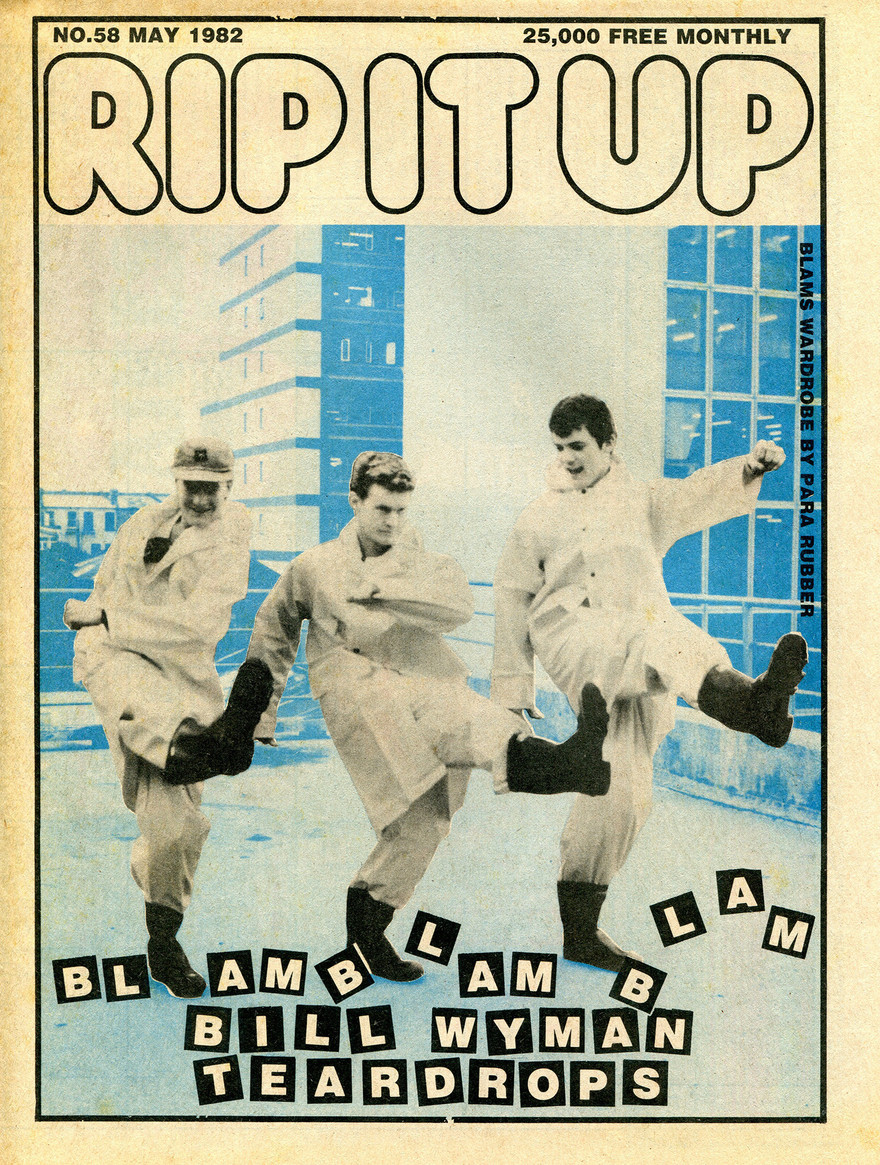 Once again there were no colour adverts, so the beauty of Blam Blam Blam's yellow Para Rubber Coats was lost in translation when printed in black & white. The photos were shot on the top of the old Auckland City Council Albert Street car park, where the Crowne Plaza Hotel is today.
RIU 60 July 1982 – Split Enz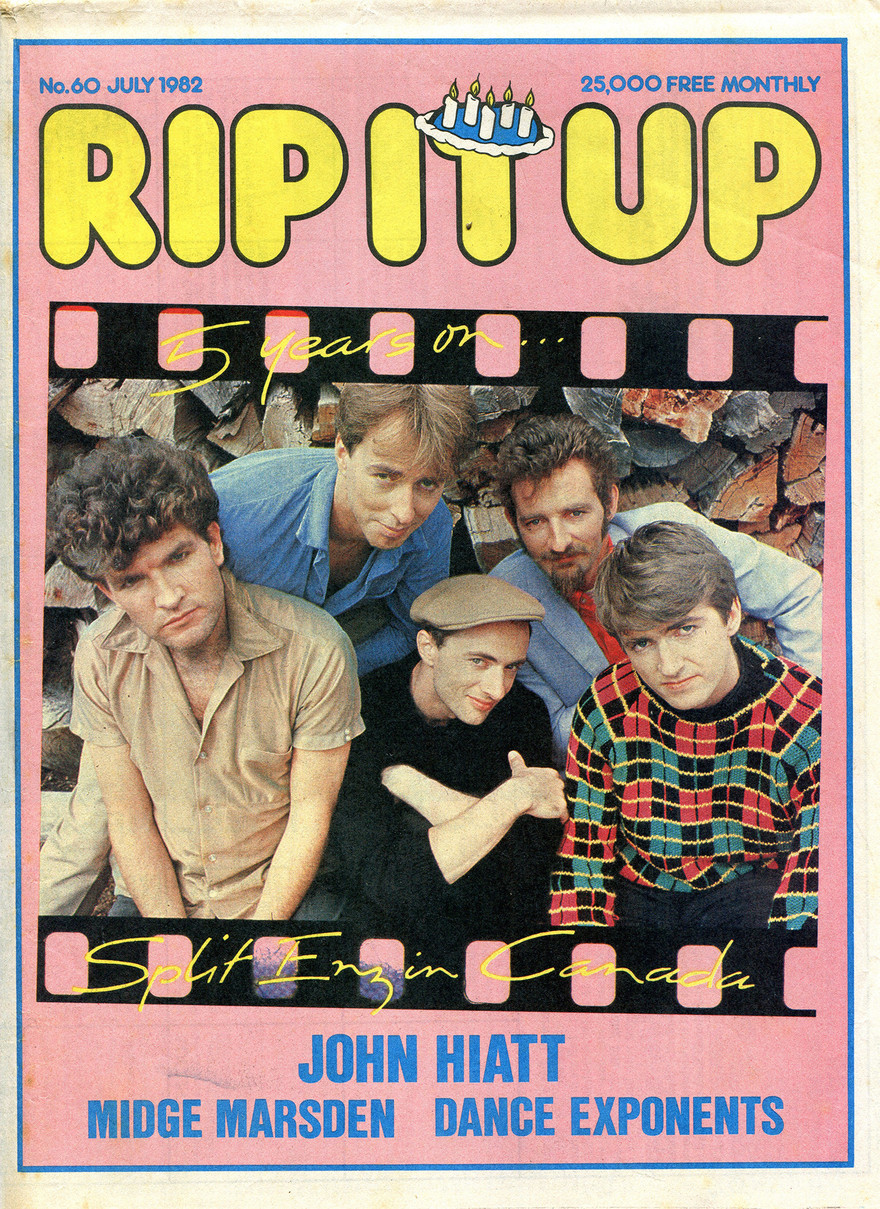 Colour returned for RIU 60 – our fifth anniversary issue – with a "Split Enz in Canada" story. The advent of regular colour meant the printers needed the colour pages early – this was a bonus as it ended my habit of doing covers at the last minute. Covers were completed earlier in the deadline when sanity levels were stable.
RIU 61 August 1982 – Graham Brazier, Harry Lyon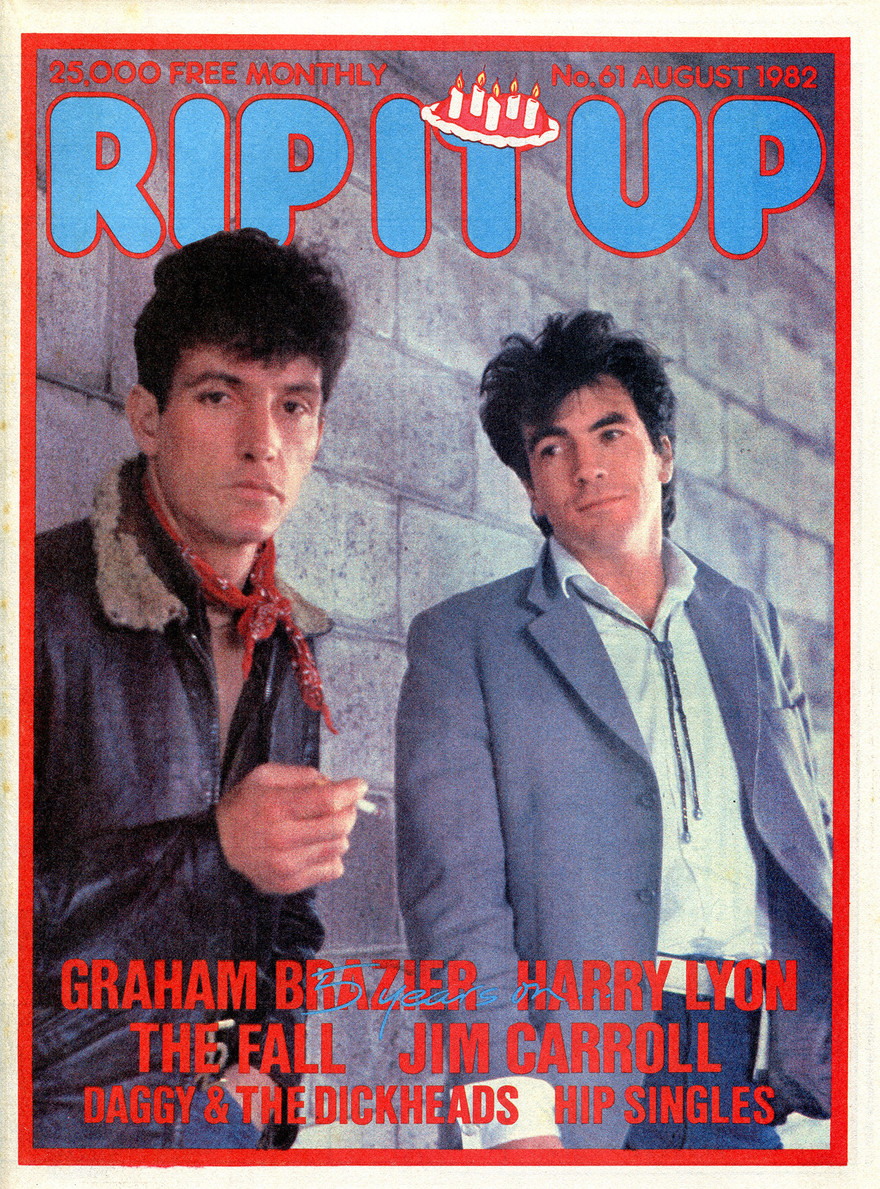 We had not put Graham Brazier on the cover for his masterful Inside Out album, so I was happy to have him on the cover with Harry Lyon as The Legionnaires. We used the old Albert Street car park as a "studio" backdrop.
RIU 62 Sept 1982 – Split Enz on the Road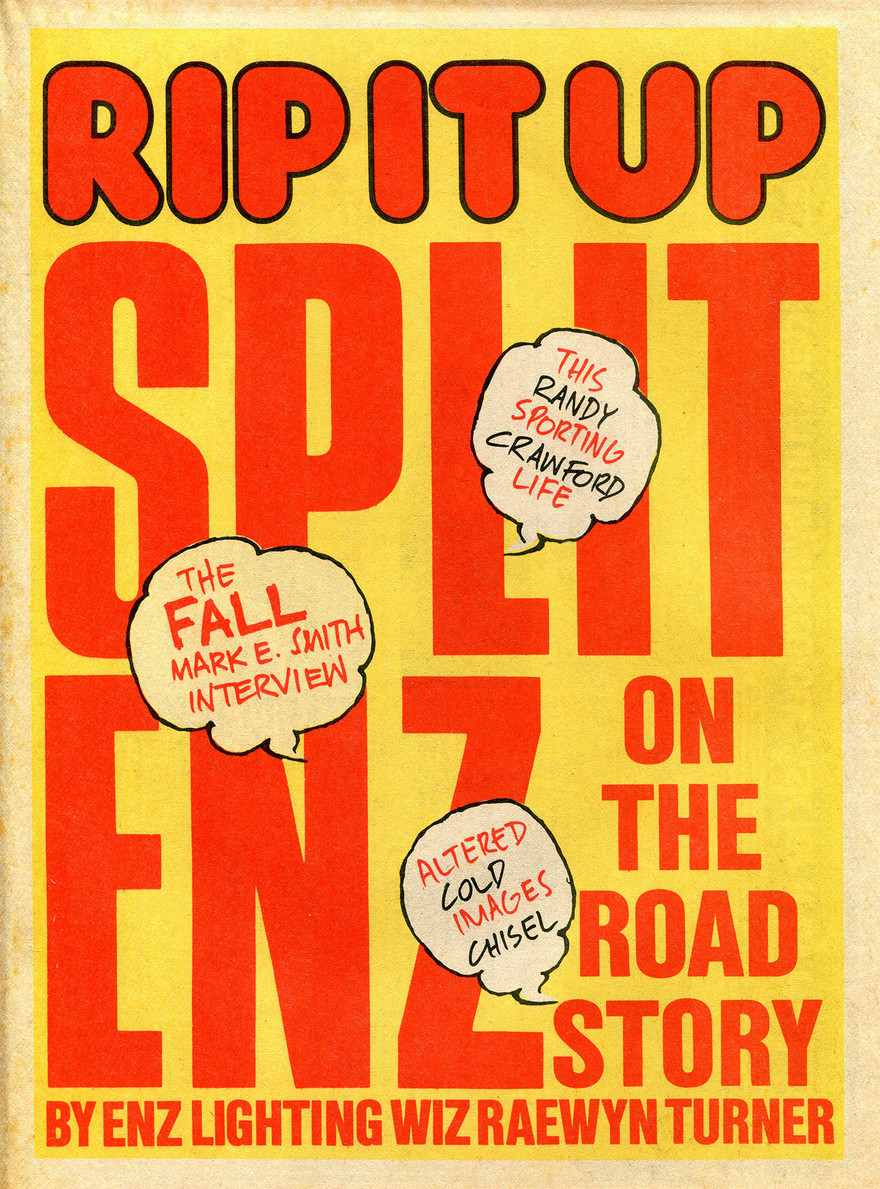 It seems weird having a Split Enz cover two months after their last appearance but I was always keen to raise the ceiling level on what could be achieved by our No.1 New Zealand band. I believed in the trickle-down theory in the context of local music. I always valued a behind the scenes story and it was great to have this diary by Enz lighting wiz (and Frenzy cover artist) Raewyn Turner. We forgot to put the month on the cover. Duh!
RIU 68 March 1983 – Herbs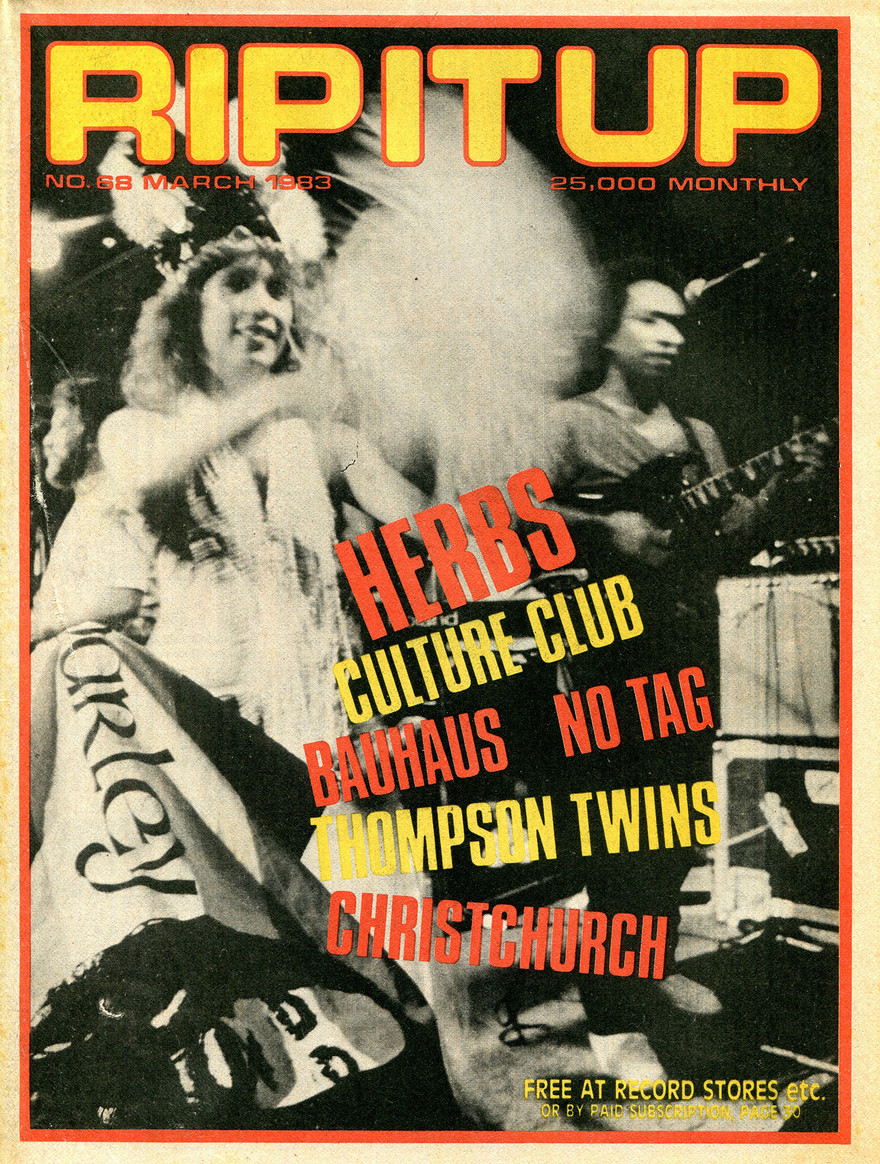 At the 1983 Sweetwaters, Herbs used Polynesian drummers and dancers to wake up the lethargic afternoon crowd. At the time it blew my mind showing traditional Pacific Island culture could fit in a contemporary setting. I took this photo a few days later at Mainstreet, possibly using colour film. It is not a collage, a Marley banner just happened to be there. Toni Fonoti recalls, "We used Tahitian and Rarotongan dancers and male drummers for a traditional drum dance as part of the intro to the title track of our album What's Be Happen?. It highlighted the Pacific Reggae brand." Pictured is guitarist Spencer Fusimalohi. A new Rip It Up logo makes its first appearance on this cover.
RIU 75 October 1983 – Tim Finn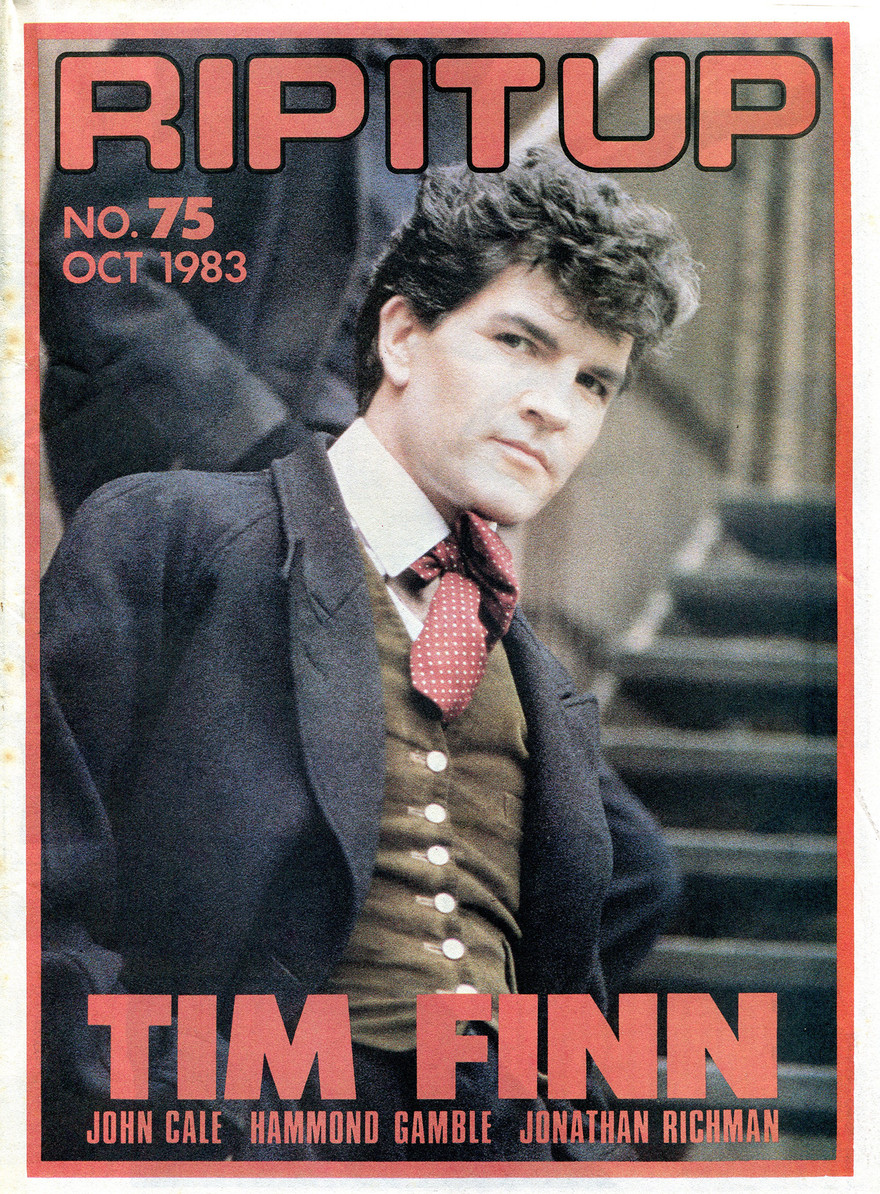 A supplied, Australian publicity shot of Tim Finn was a suitable magazine cover as his solo career got off to a good start with the hit single 'A Fraction Too Much Friction' and album Escapade.
RIU 76 Nov 1983 – Dance Exponents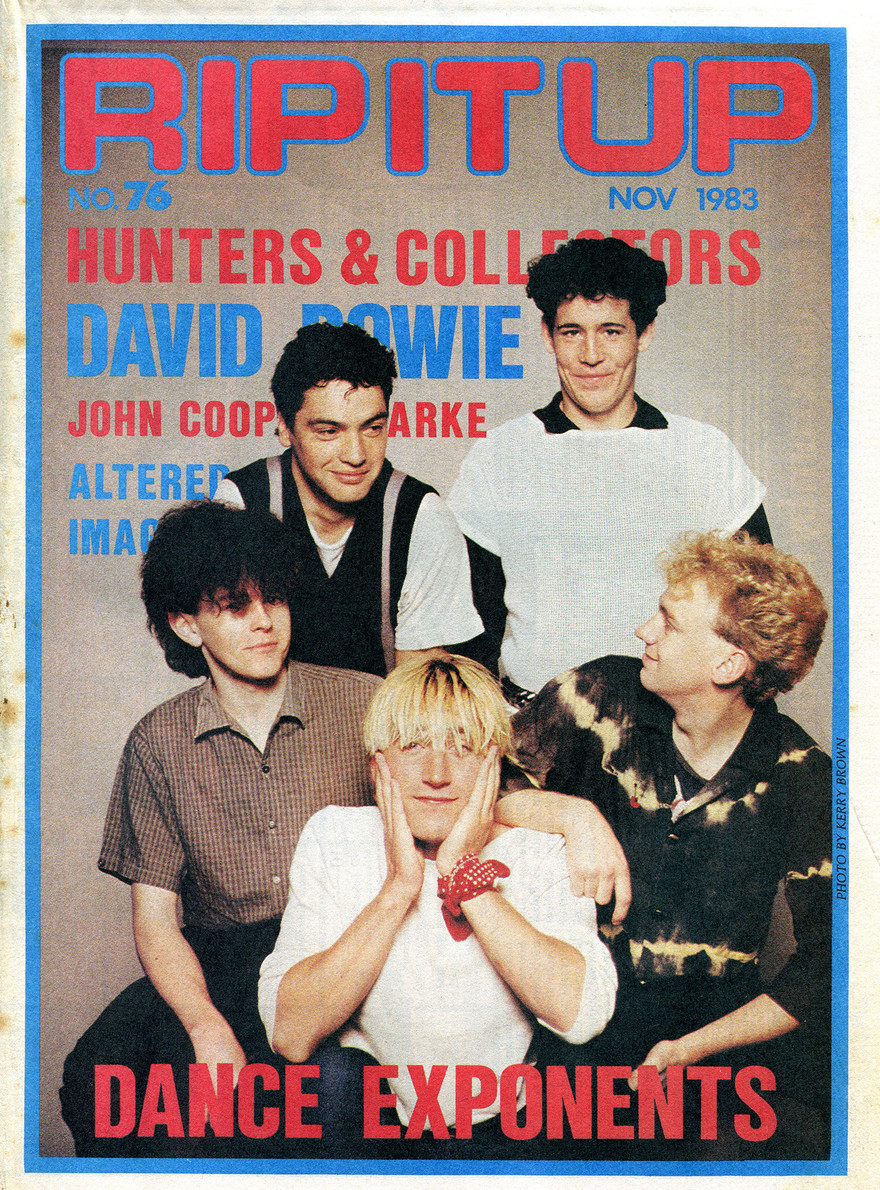 A great studio shot of the Dance Exponents by photographer Kerry Brown to coincide with the release of their debut album Prayers Be Answered. The editorial policy at Rip It Up had formalised to time covers to coincide with album releases to assist the sales of local recordings.
RIU 77 Dec 1983 – Karyn Hay and friends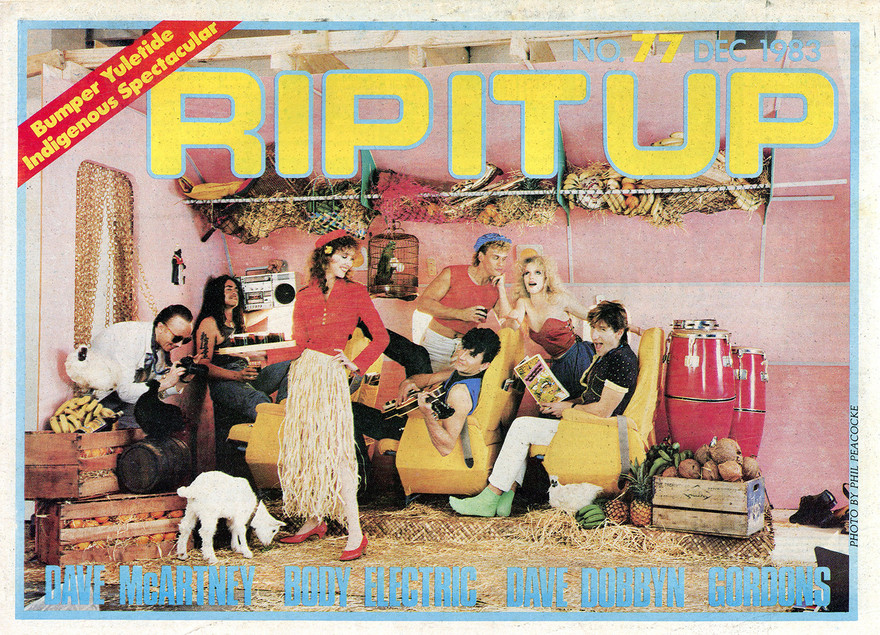 It could be argued that Rip It Up flaunted the law with alcohol advertising as we were could only prove by readership surveys a 65% 20+ audience – i.e. 35% of the readers were teenagers. In 1983 the law was modified to ban the use of heroes of the young in alcohol advertising. Coruba's advertising agency Roy Meares had already commissioned photographer Phil Peacocke to shoot a print ad for Rip It Up using Dave McArtney, Karyn Hay, Dave Dobbyn, Graham Brazier, Peter Rooda etc. So after the law change the photo was no longer legal as an advertising image. I was offered the photo by Phil for free and I used it as a summer-vibe cover image. There were Dave McArtney and Dave Dobbyn stories in that issue. In hindsight …
RIU 85 August 1984 – Andrew Fagan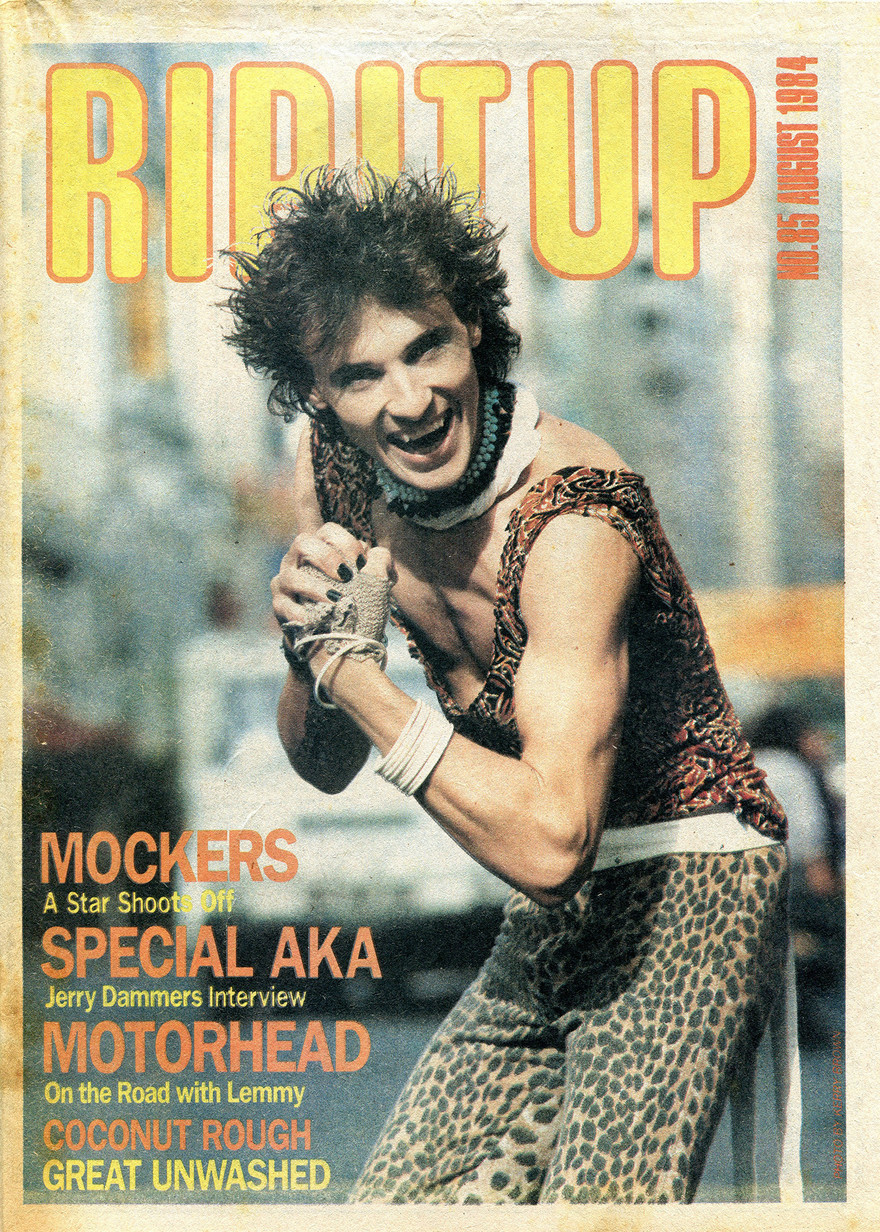 This is a classic photo by Kerry Brown capturing the energy and good humour of Andrew Fagan of The Mockers. A good rock 'n' roll cover although we were walking a thin line between The Mockers' teen appeal and Rip It Up regular alcohol advertising. One of the reasons I chose to publish the teen Shake! magazine was to siphon off acts I perceived to have teen appeal into a publication that did not carry alcohol advertisements.
RIU 87 October 1984 – Dave Dobbyn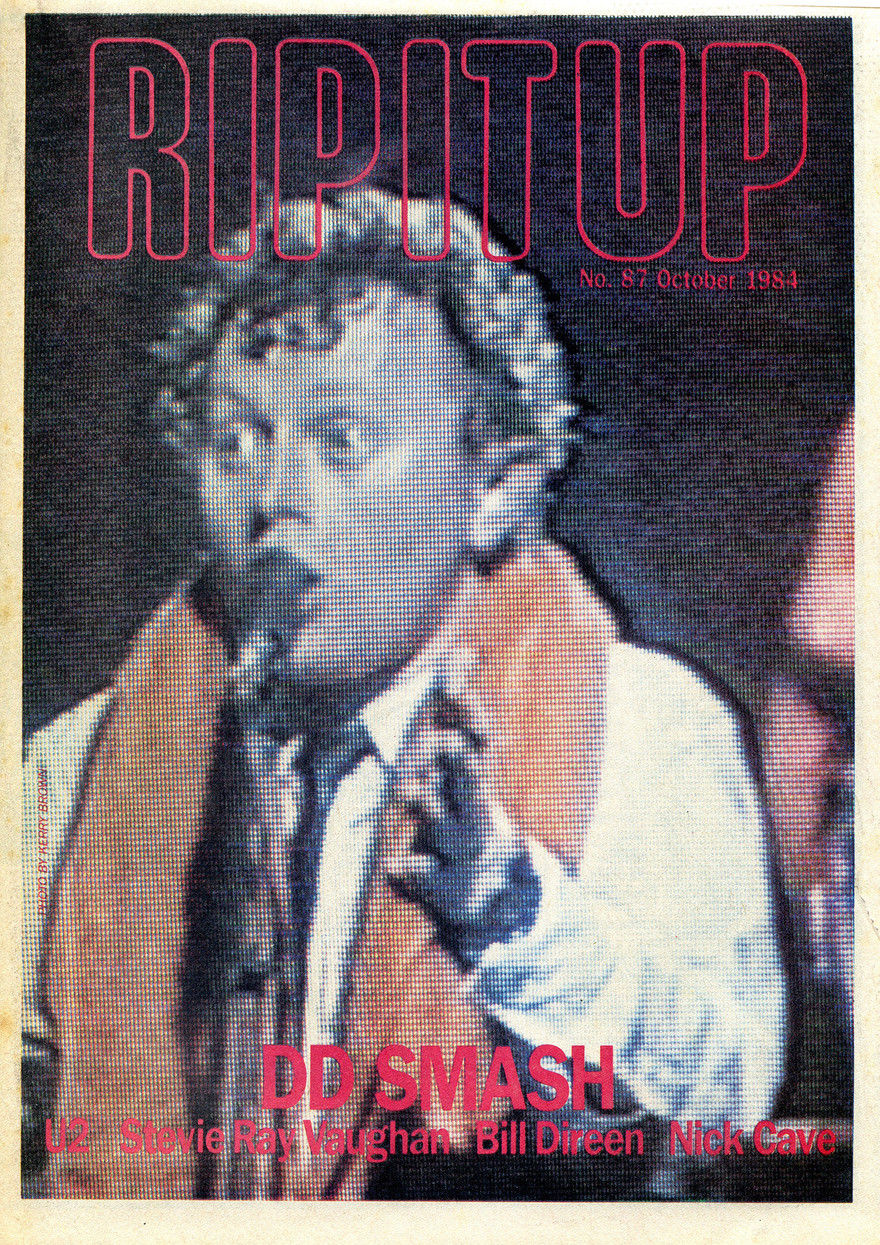 I am not sure why we took an image off a video screen? Dave must have been in Australia at the time and the supplied PR images were poor. Possibly, I did not want a group shot on the cover, so to isolate Dave, we shot from a screen.
RIU 88 Nov 1984 – Herbs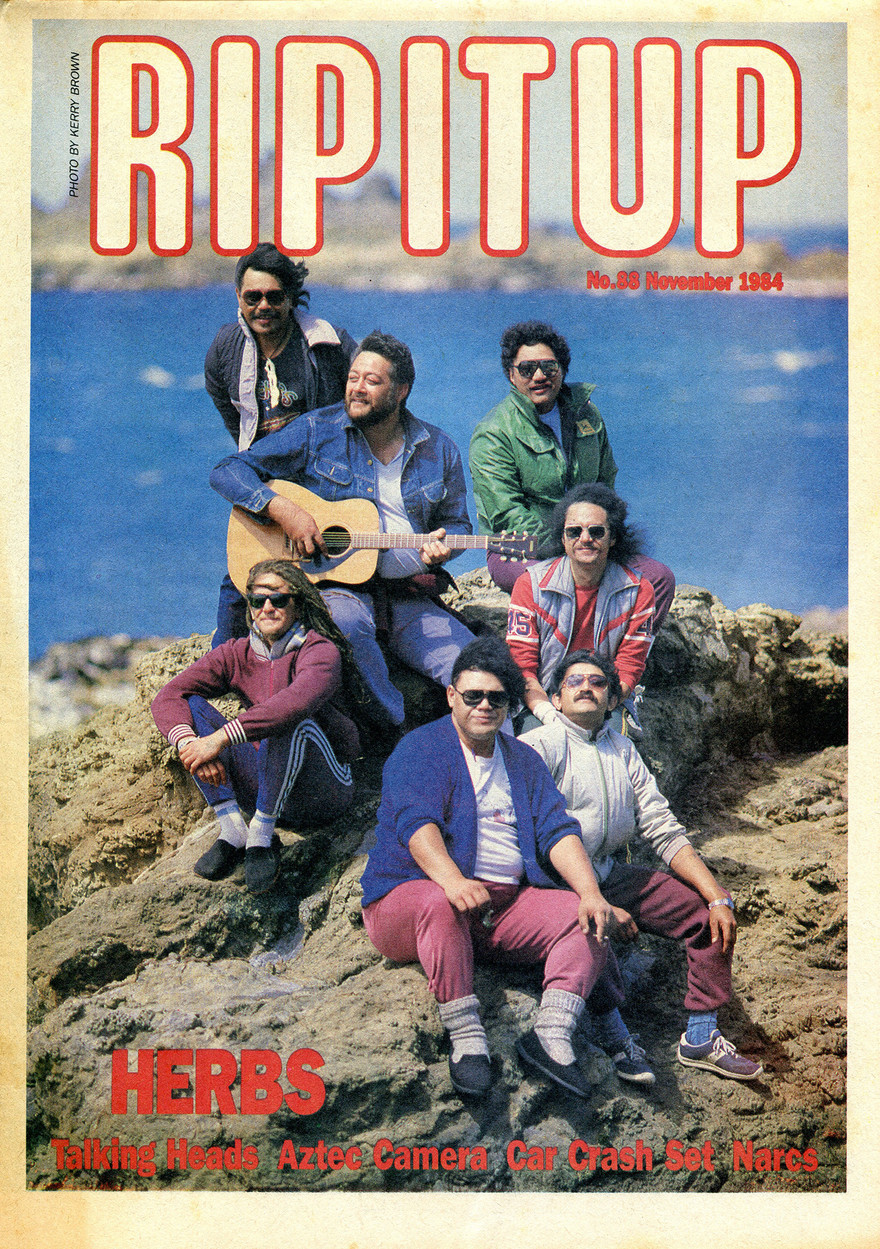 Kerry Brown took this excellent photo of Herbs with a rugged New Zealand coast in the background. This photo reminds me of the earlier "Kiwi Kolor" covers with knitted sweaters etc. Branding like "Rock Paper" and "Rock 'n' Roll Mag" had aligned Rip It Up with the skinny white-boy rock guitar aesthetic. Herbs did not fit the tight-jeans look but Kerry Brown took an image for Rip It Up that did fit.
RIU 93 April 1985 – Dance Exponents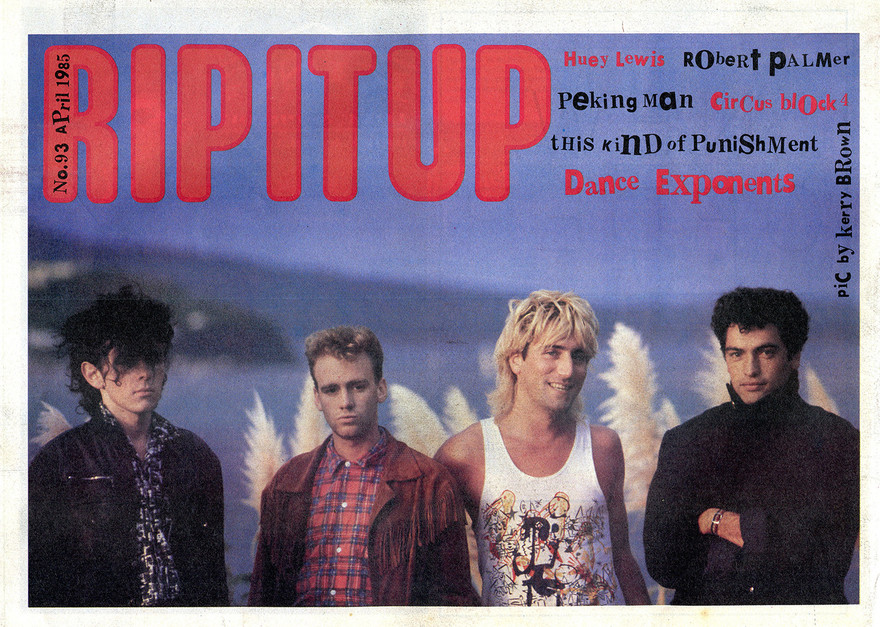 Another outdoor shot by Kerry Brown with a background that is similar to the recent Herbs cover. Jordan Luck's mullet rules and I am not a botanist but the plant at the rear may be the native toe toe that we used to spell toi toi. Once again in the tradition of our first colour covers.
RIU 95 June 1985 – The Chills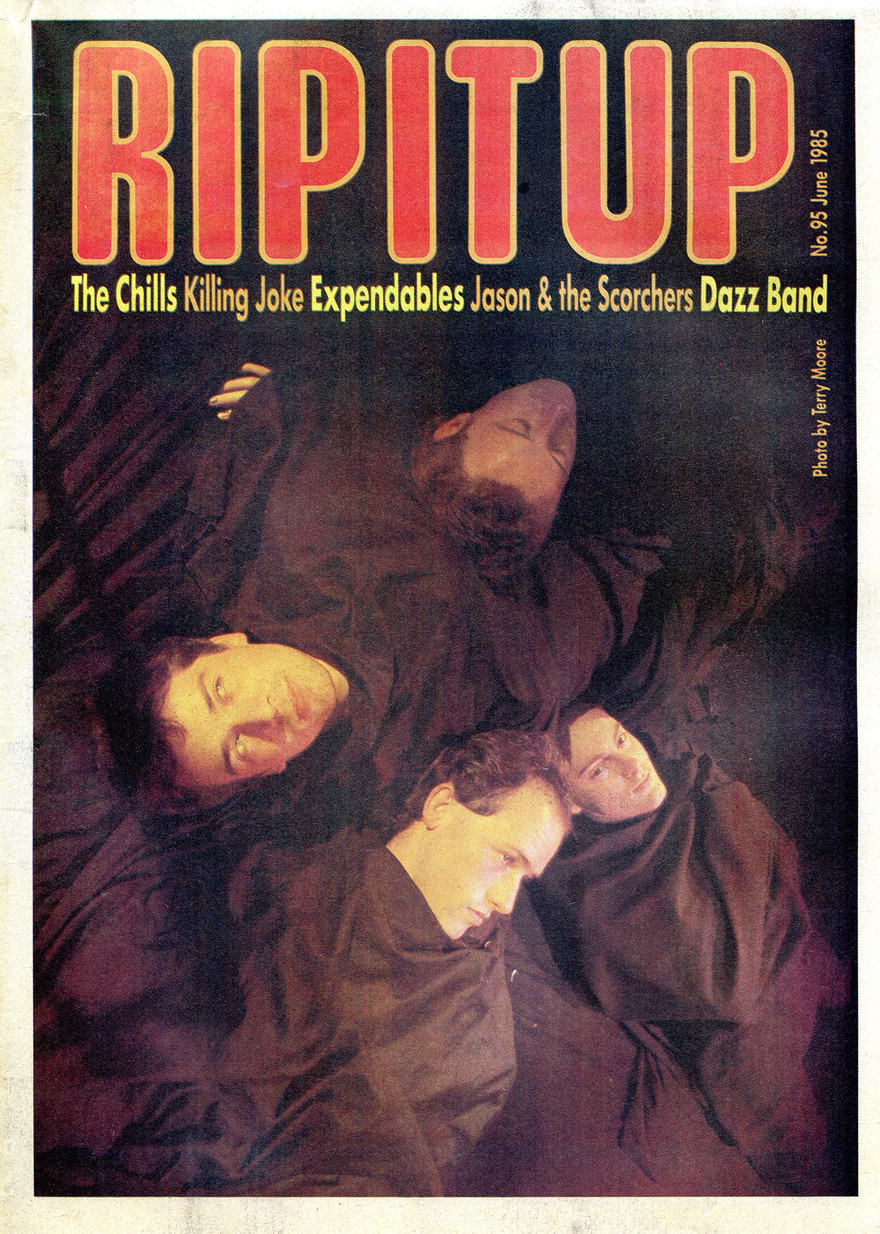 This Chills cover is too dark to succeed when printing on newsprint. The photograph was by Terry Moore and was supplied to Rip It Up, and it proves that lighter photos are easier to print on newsprint. The result was a very non-commercial cover that may have fitted with their indie image. Fortunately our Chills covers did improve in later years.
RIU 96 July 1985 – Netherworld Dancing Toys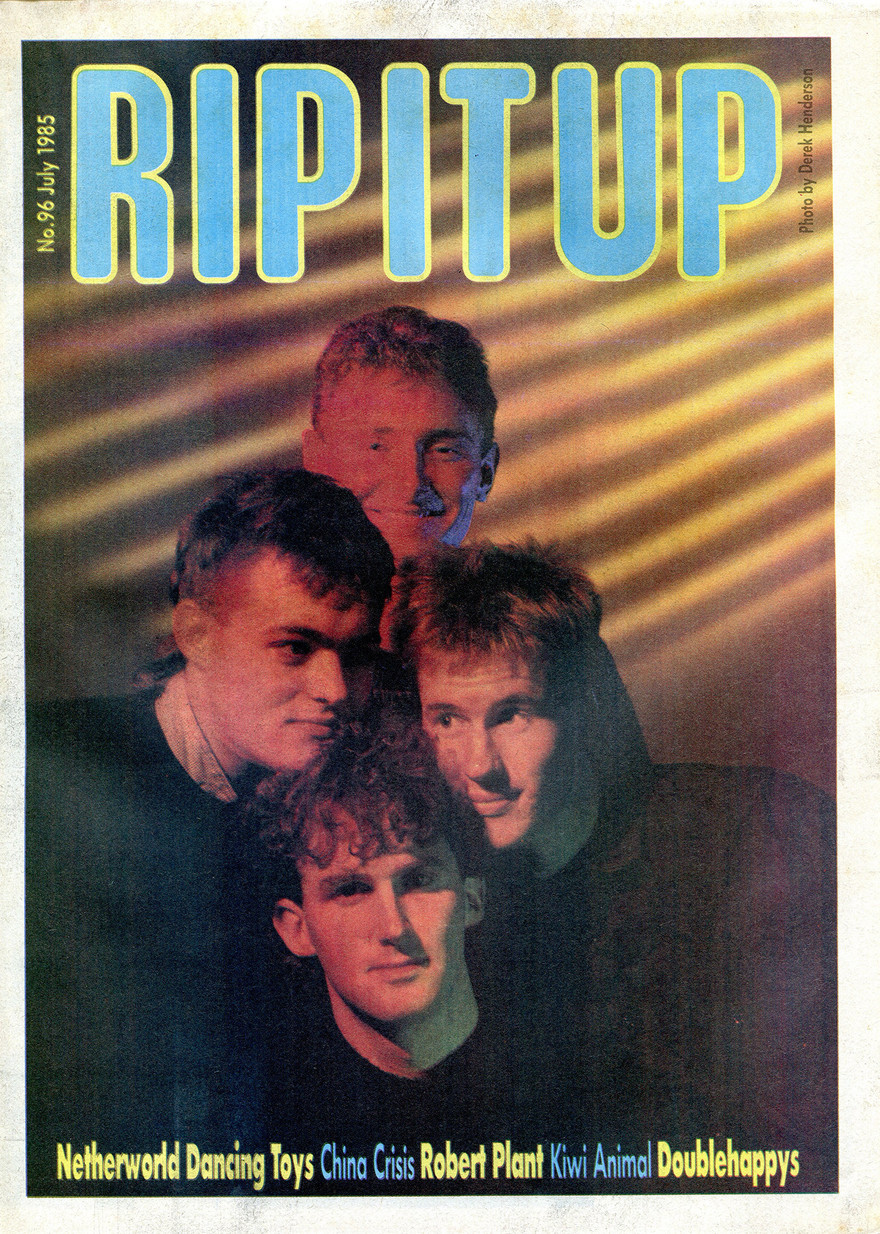 Another dark cover, this time Netherworld Dancing Toys by Derek Henderson, who is now an international fashion photographer (eg, Jacinda Ardern for Vogue). Once again, the image lacks the clarity or contrast to print well on newsprint. Fortunately Rip It Up was free and we were not relying on the cover photo to sell on newsstands.
RIU 98 Sept 1985 – Mockers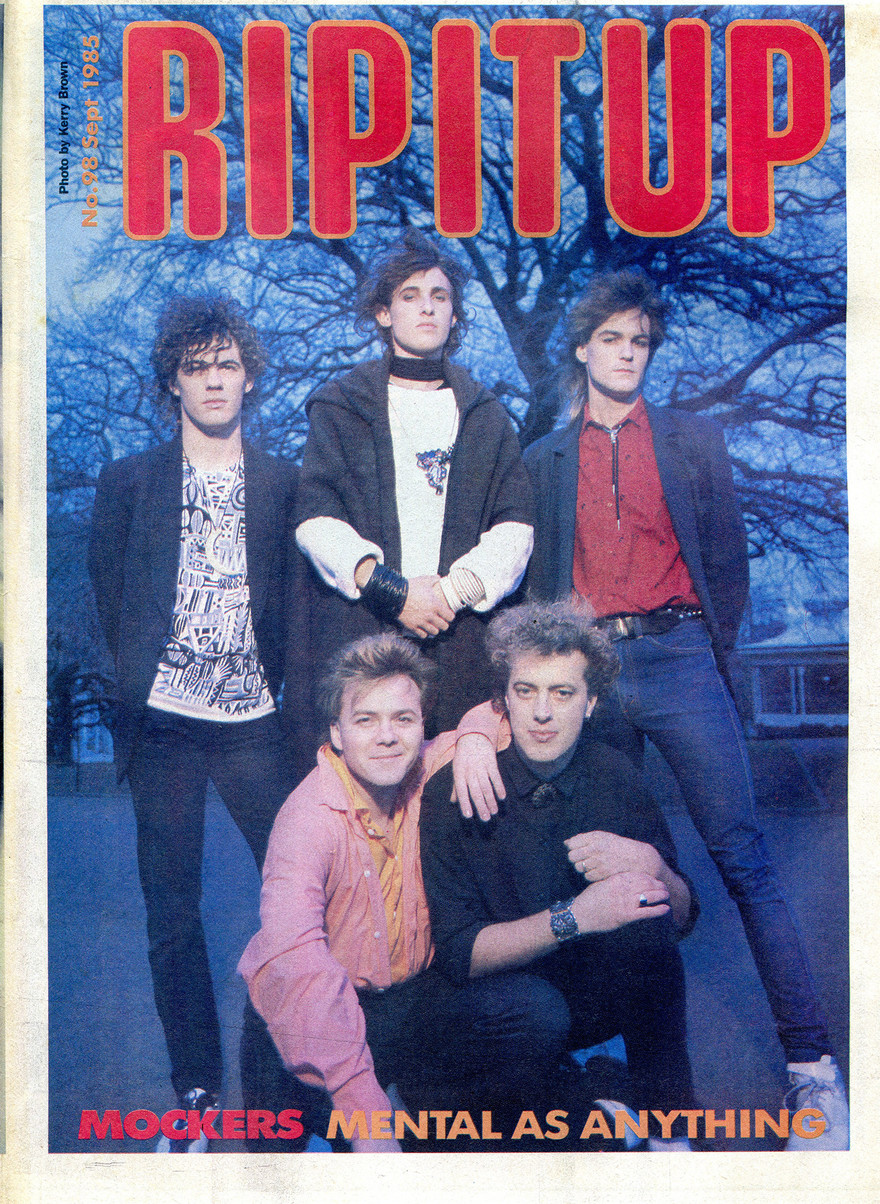 Photographer Kerry Brown is back in town and delivers another fine Mockers photo, shot in Auckland's Albert Park. Rip It Up was playing with fire featuring The Mockers, as we claimed to have a majority 20+ readership and we were putting on the cover a group whose fans were teens.
RIU 99 October 1985 – The Narcs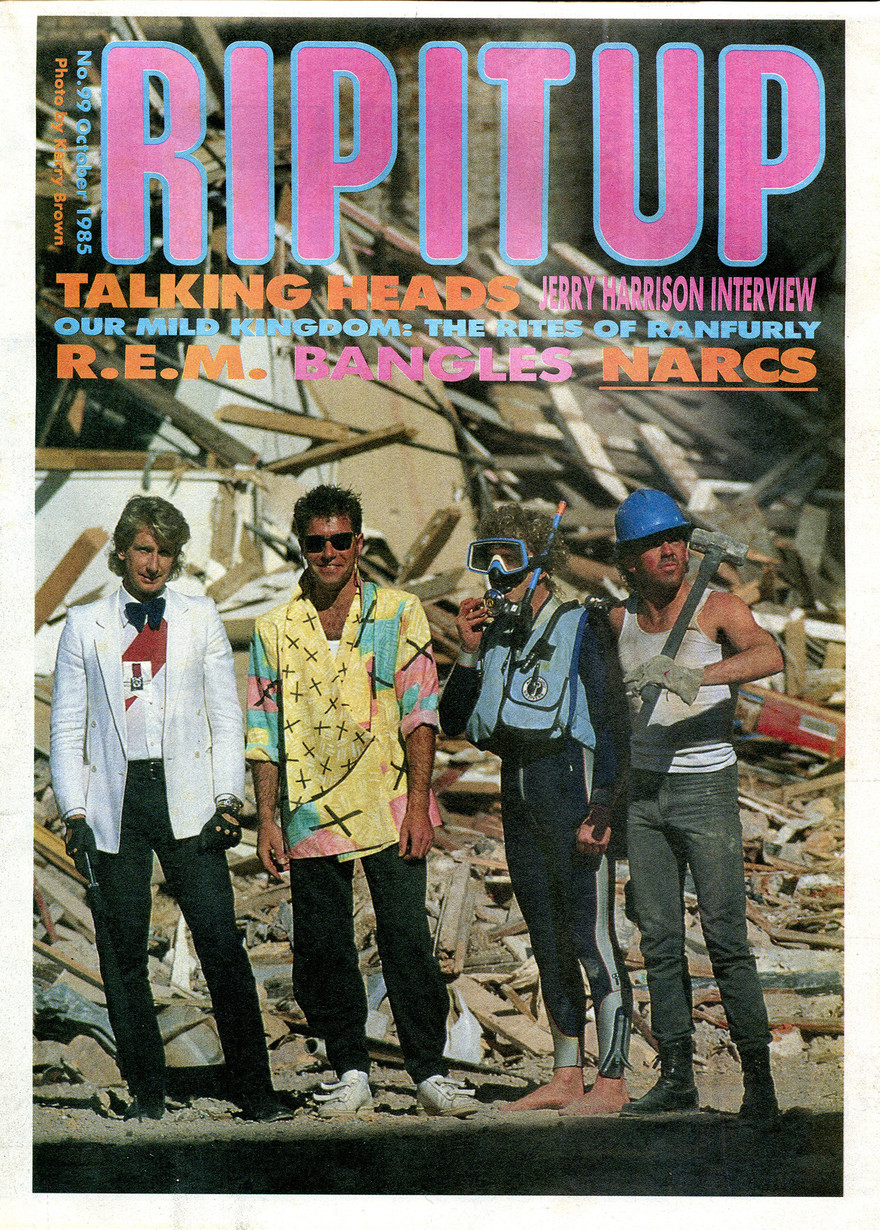 Another fine photo by Kerry Brown and we talked Auckland Star sub-editor Brendon Fitzgerald (a former Mockers drummer) into writing The Narcs story. The issue also contained a "going to the rugby and drinking with Roger Shepherd" story by Russell Brown. Fitzgerald went on to work at the NME in London.
RIU 101 Dec 1985 – The Verlaines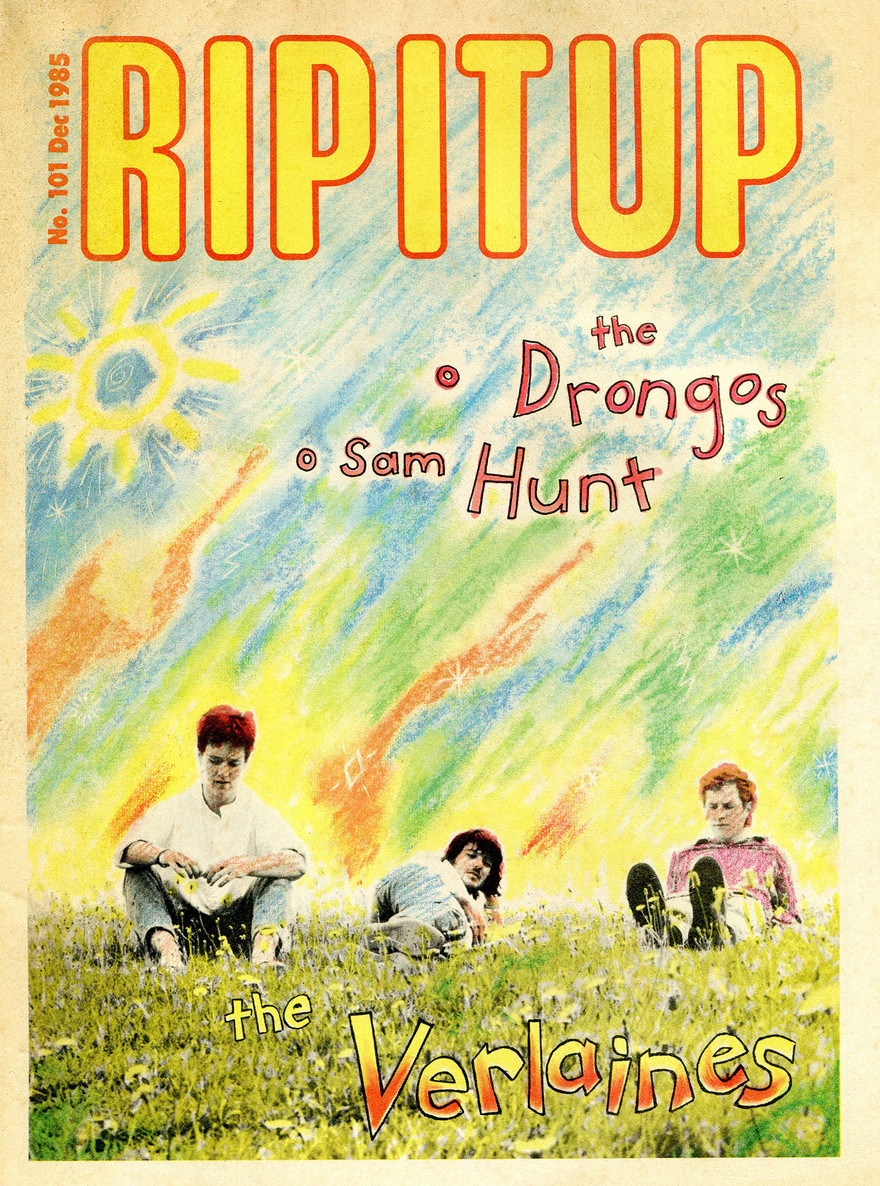 This Verlaines cover image was supplied by the band and had an alternative, Flying Nun vibe. Summer colours please magazine publishers as covers stand out on crowded newsstands.
--
Read: Hot Licks magazine – the covers