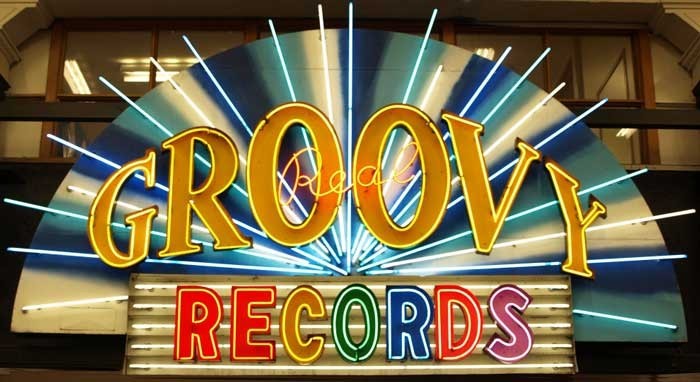 As Auckland's longest-running secondhand record store, Real Groovy has not only proved its most persistent critics wrong by surviving and prospering, but has also seen off nearly all of its competition in doing so.
Perhaps our most-loved record emporium, and the only one that bears serious comparison to California's enormous Amoeba Music, Real Groovy has weathered a chequered past and a near-complete meltdown to revitalise itself as vinyl and music-related ephemera slowly overtake the mountains of unloved compact discs and DVDs.
Few of the busloads of daily browsers can know of this genuinely iconic shop's beginnings up the road and around the bend from its famous location in Queen St, and it's hard to picture just how a couple of guys with a tiny space on Mt Eden Rd could have transformed their used vinyl record shop into its current giant warehouse-like operation.
Chris Hart had been co-owner of another legendary secondhand shop, the Record Exchange in Karangahape Rd's St Kevin's Arcade, which he bought when he was only 19 years of age, having dropped out of his university studies to do something that was much more fun than studying psychology. He got the bug even earlier, working part-time at a secondhand record shop called Town Hall Bargains in 1973. When Record Exchange cohort Neville Lynch bought him out in 1980, Hart used the cash to start another small record shop in Ponsonby, partnering with Chris Priestley (a folk singer and later, creator of Atomic Coffee) to found the shop that would be the immediate precursor of Real Groovy.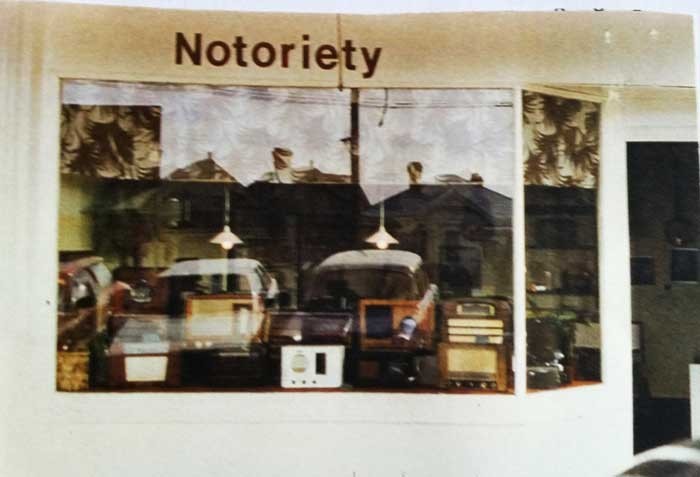 Its beginnings were inauspicious. Called Notoriety, and situated next to Harvest Wholefoods in the Grey Lynn shops, the venture did not succeed. Hart worked on building sites for a time, until he got a call in 1984 from Priestley about another shop he was setting up at the top of Mt Eden Rd, near where the Powerstation sits today.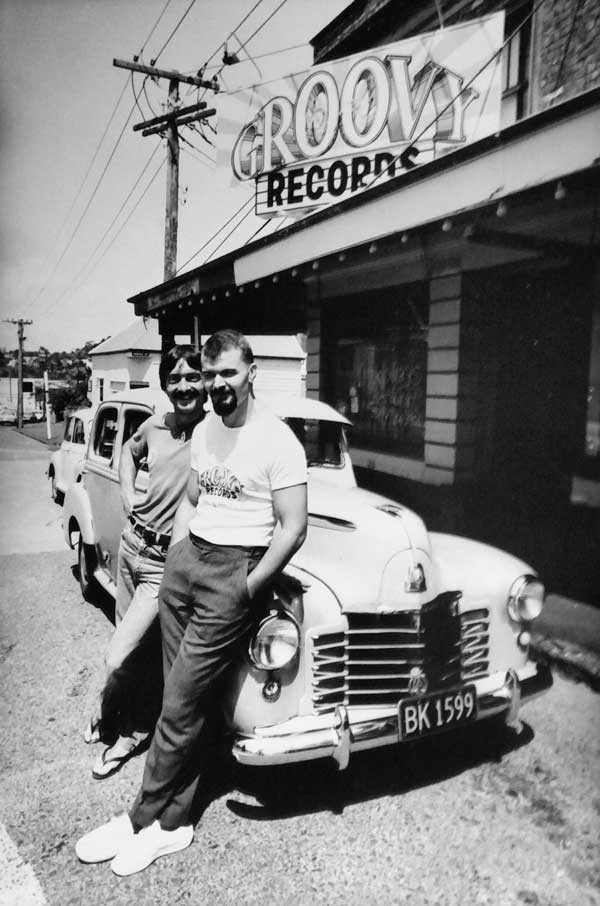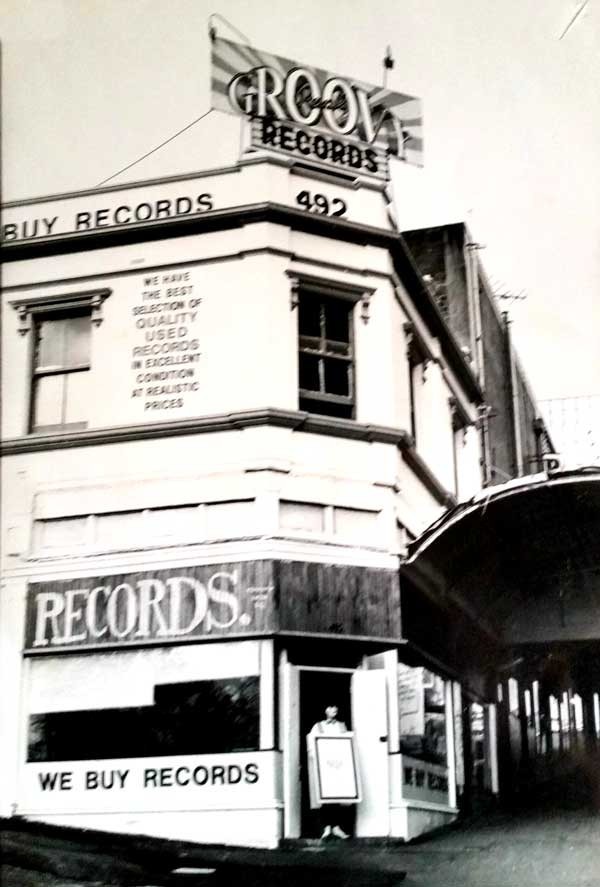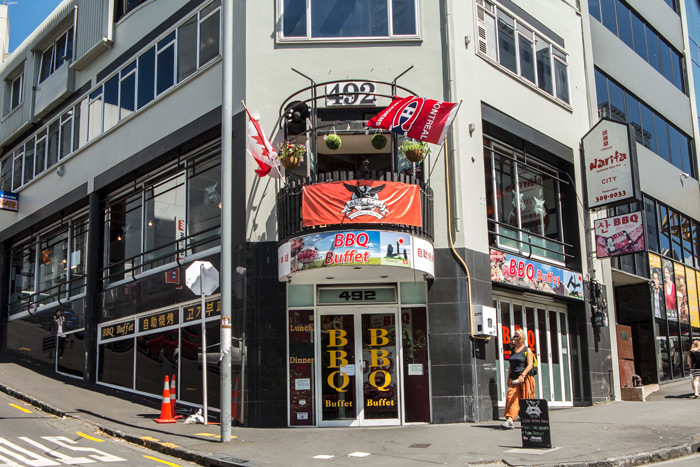 The unforgettable name came about in a conversation where they were taking the piss out of the phrase "real groovy" – the name back then having insufferable hippie connotations – and it stuck. The new store almost didn't, with barely enough sales to keep it afloat, even with both owners taking on second jobs. A move to an equally cramped space at 492 Queen St helped, but it was the 1991 relocation to 438 Queen St that really made Real Groovy rock.
This appropriately worn, jaded-looking space had a history going back to the 1920s as Dixieland, a jazz cabaret which opened in 1922 and stayed until late 1925 when it moved to Pt. Chevalier. From the late 1920s a car dealership operated here under a variety of names through to at least the 1950s, although perhaps not continuously as, after a fire, The New Dixieland Cabaret opened in the space in 1939 only to close in 1943. In the 1970s, a camping goods retailer set up shop, and it was a market for a brief spell in the 80s. But before Real Groovy, the neglected venue sat vacant for years.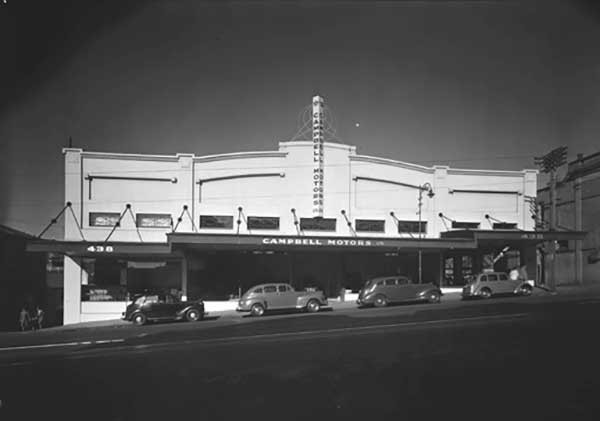 The huge half acre space really made Real Groovy seem like it was more than just another trader in second-hand goods, and helped turn it into a genuine cultural institution. Hart, in a 2014 NZ Herald story, said: "I had this dream to create the best record store in the country, if not the world. That's always been what this is about."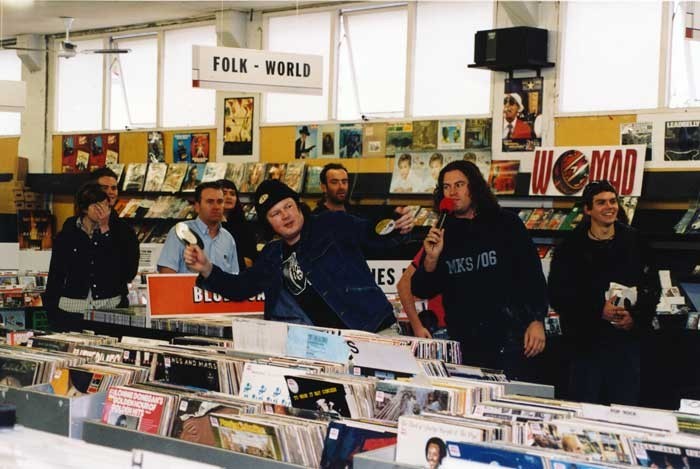 Certainly, with the huge space, Real Groovy was for years in expansionist mode – so much so that it set about starting its own magazine, Real Groove, in 1992, and had dibs in a music distribution company that leased space in the same building.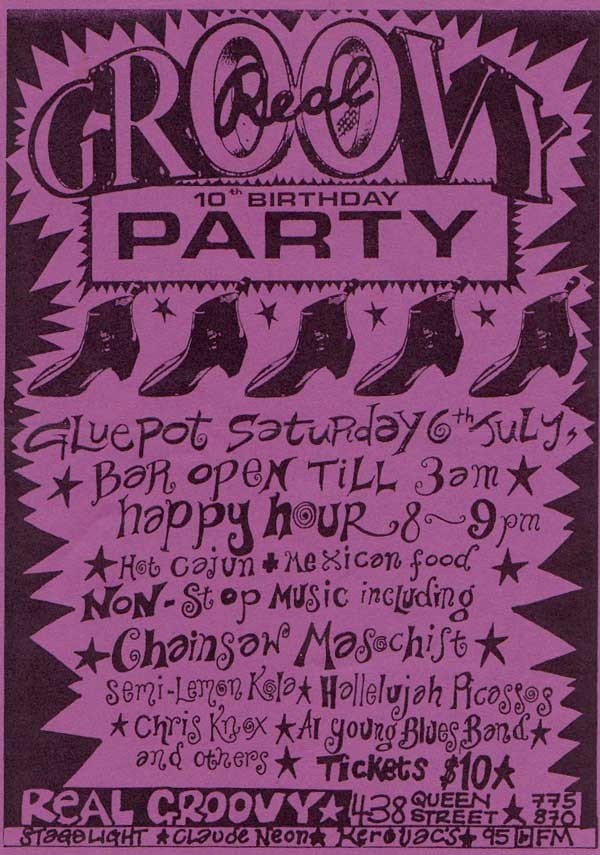 Some might also credit the shop's unmistakable neon iconography for its prominence. Designed by Paul Hartigan, the $20,000 Real Groovy sign blazed day and night outside the business for many years, but now has found perhaps a safer place inside the venue to show off its true colours.
Whilst the store at times took flack for some of its staff attitudes, the store also employed a more than a few experts who added depth and knowledge to the customer service, with names like Michael Munro, Stinky Jim, Kirk Gee, Grant McAllum, Brett Haddock and Kerry Buchanan being part of a long list, with both Kirk and Kerry being acquired with the late 1980s purchase of Auckland second-hand pioneer Rock 'N' Roll Records.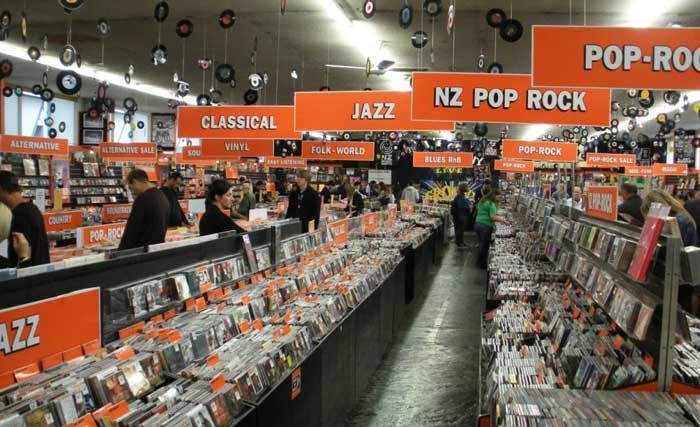 Coming from a career in teaching and then moving into the commercial world selling and supporting business systems software, Marty O'Donnell bought a half-share in Real Groovy in 1996, and spearheaded the launch of Real Groovy online in 2001.
Real Groovy Wellington opened in 1999 in upper Cuba Street, and in 2004 through the acquisition of Echo Records the two South Island stores in Christchurch and Dunedin opened.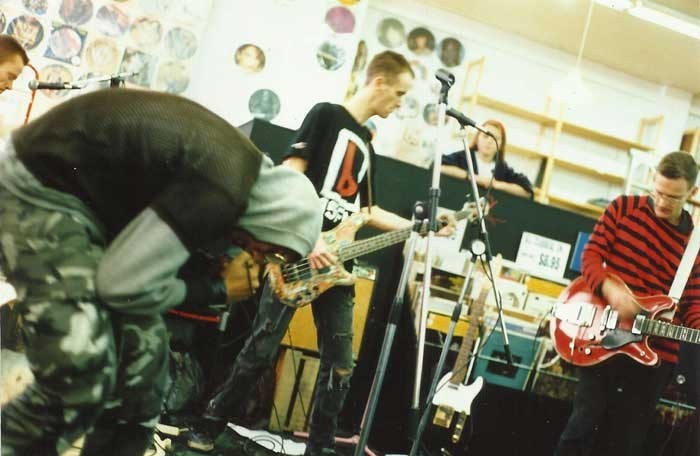 Real Groovy seemed untouchable, but in 2008, after close to 20 years of dominating the secondhand market, the wheels came off, and the business threatened to roll into liquidation. The exact reasons were never revealed, but it was clear that the nature of the market had changed irrevocably since the glory days of compact discs, and the uptake of (mostly illegal) MP3s was gutting traditional revenue streams. The only surprising thing, according to many observers on social media, was why it had taken so long, when large record emporiums around the world had been crashing spectacularly, one after the other, since the turn of the century.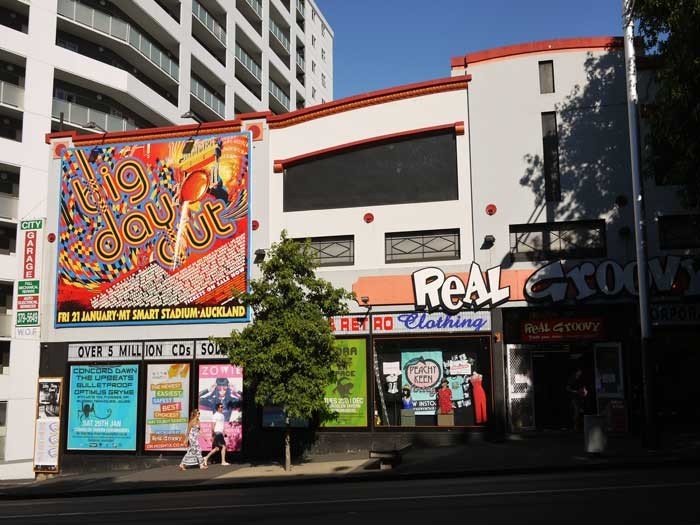 When the receivers came in, Chris and Marty watched their empire crumble. Their store in Dunedin was closed by the receivers while the Christchurch and Wellington stores were purchased from the receivers by independent third parties and continued to operate independently under the Real Groovy brand, the Christchurch store re-emerging eventually as Wellington's Rough Peel Music after the 2011 Christchurch quake saw that store damaged.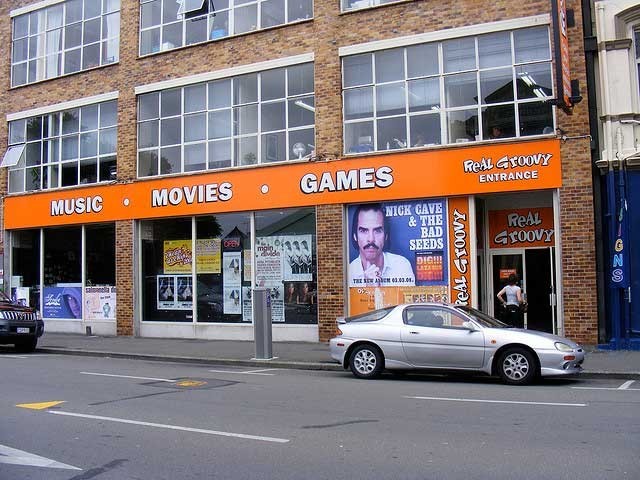 All Real Groovy vouchers and credit notes, no matter where they were issued (including Dunedin) were honoured.
To their credit, the Queen St store was saved and lived to trade another day. Certainly, the CD section doesn't throb with customers the way it did at their peak in the 1990s – young visitors tend to head straight for the hugely expanded vinyl section or the large selection of ephemera, from clothes to books, turntables and headphones to ridiculous but entertaining novelties. Meanwhile, older music fans like myself move like ghosts past mountains of $2 CDs, hoping to find some very specific rare masterpiece to pounce on. Hunting, and gathering, 21st century-style: there's no place for that online.
The salvation of Real Groovy is found in its vinyl section. Long before the huge vinyl revival of the past five years, Real Groovy was bringing in huge shipments of secondhand vinyl from the US, which encouraged DJs and collectors in for extended crate-digging sessions. But their racks now also reflect the increasing popularity of new vinyl releases, and reissues in 180gm virgin vinyl and solid cardboard covers – something we never saw in New Zealand during the heyday of vinyl in the 1960s and 1970s.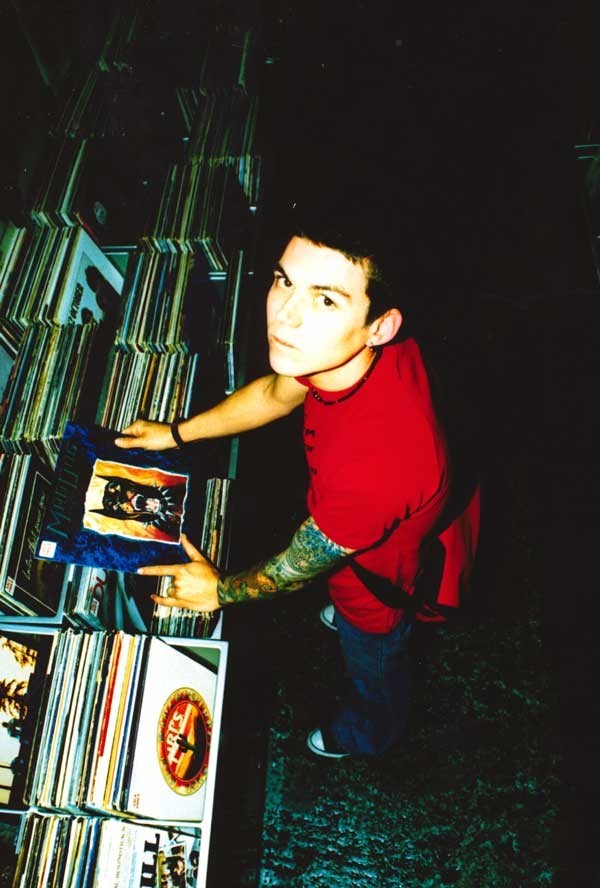 On the back of the vinyl revival, Real Groovy has been an active participant in the international Record Store Day and attendant celebrations, which grew to include regular live gigs and even special vinyl issues of legendary unreleased tapes by music legends like Toy Love on their own Real Groovy label.
These releases are often accompanied by live shows from the bands.
The store's standing is also partly down to its regular in-store gigs, and its many famous and acclaimed musician visitors, both local and international. One of its most vocal supporters was the late Dylan Taite, who regularly took used the shop as a backdrop for his television interviews.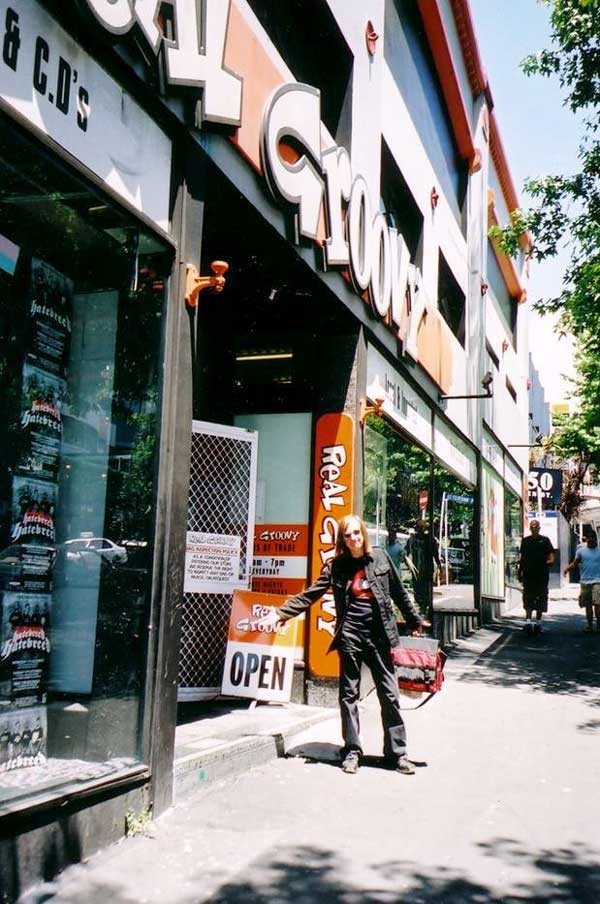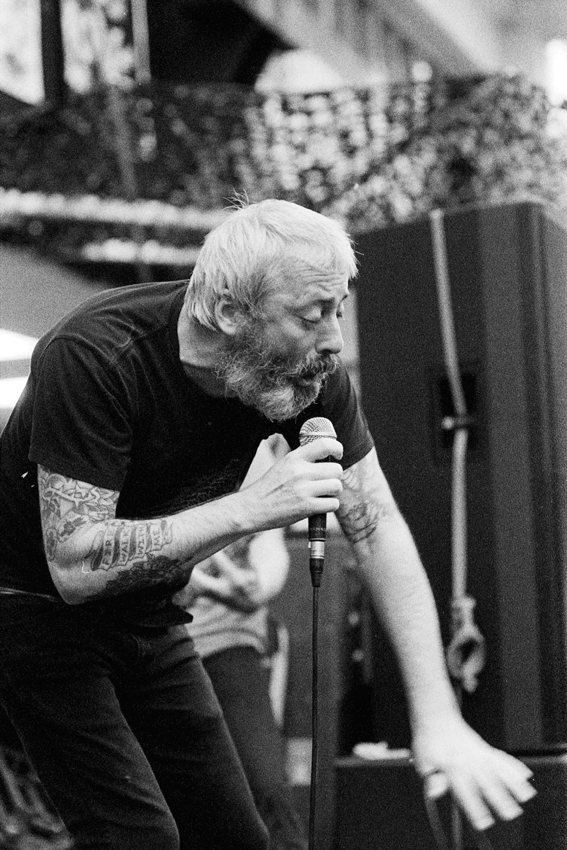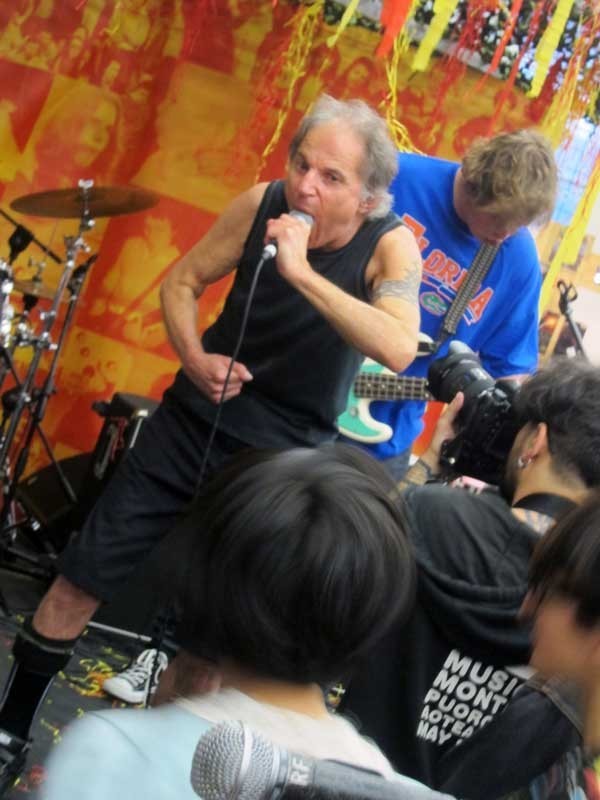 Real Groovy's latest challenge is a big one. In January 2015, it was announced that the building in which Real Groovy operates is to be demolished to make way for an apartment complex. Pundits were quick to once again announce the impending demise of the business. Management was upbeat, however, about finding other suitable premises not too far from the current site, one newspaper columnist even suggesting that Real Groovy could move into the Civic Administration Building recently vacated by the Auckland "Supercity" Council.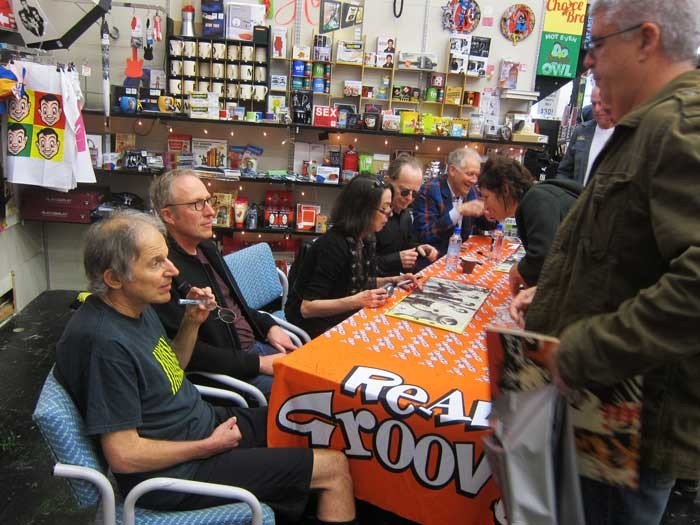 It was hoped that there would be enough room in the new premises for some semblance of its current sprawl to remain. One of the great things about Real Groovy is the ability to lose yourself somewhere in that half-acre.
In early December 2015 Chris Hart announced a change in ownership, with the departure of Marty O'Donnell, and the address of the store's new home: almost directly across the road in the old multi-story Salvation Army premises.
"The store remains vibrant, well supported and continues to be a place of discovery and meeting place for all ages," said the departing Marty O'Donnell, who has also been quoted as saying: "This is an opportunity to reshape the business – to carry the same range of music, movies, books, pop-culture merchandise and other weird stuff, and to continue to grow the range of vinyl and turntables."
In January 2019 Real Groovy moved again, to an address up the hill and closer to K Rd at 520 Queen Street. But the premises were small, and the foot traffic declined because of the long walk. So in early 2023 Real Groovy moved down the street again, above an inner-city supermarket at 19 Victoria Street, near the corner of Victoria and Queen. A new decorative feature was the installation of Hart's large collection of vintage neon signs.

–