Photography and pop music are natural bedfellows: show-offs need an audience, and the camera lens loves a show-off. Image is crucial; in any era, the musicians' outfits set the scene. When the first modern cabarets opened in the 1920s, New Zealand's early jazz musicians were playing dance music. They provided a service, just like the caterers, the ticket-takers, the coat-check staff. Until the 1960s musicians were rarely interviewed or featured in daily newspapers. But they were photographed: for publicity, and to prove to themselves that they looked the part.
As popular culture evolved through the 20th century, so too did the photographs showing the musicians at work. They moved from formal portraits, shot in a studio, to a more verité approach, with SLR cameras and fast film enabling the use of available light to capture action shots of musicians at work.
Since the days when musicians at work were mainly captured by professional portrait photographers, or amateurs with Box Brownies, or newspaper photographers, music photography has now become a genre in itself. There are many highly skilled practitioners dedicated to working in the pit or the studio, providing the ephemeral art form of music with lasting images.
--
Ted Marchant and his Kit Kat Dance Band, Wellington, 1927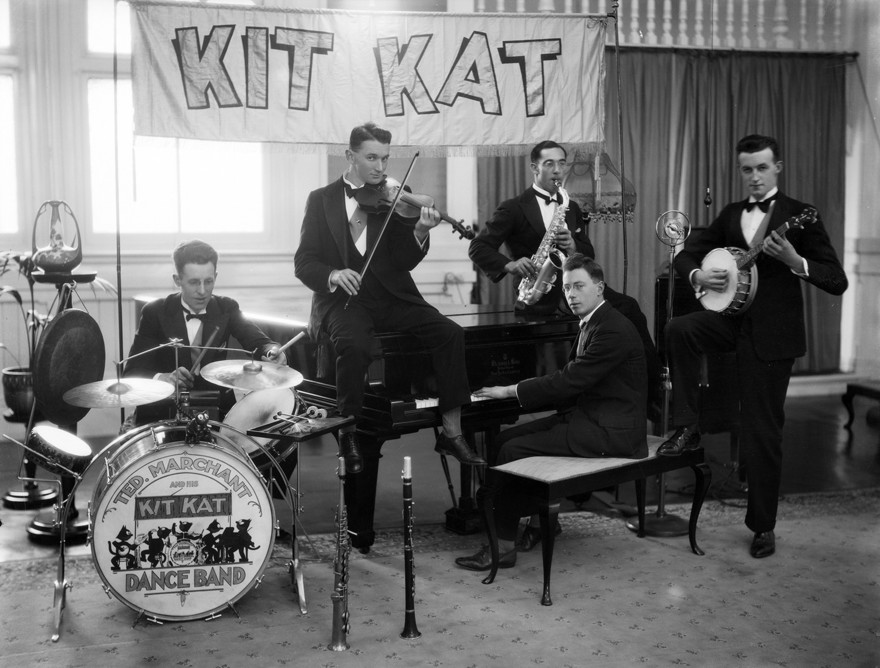 Formal photographs taken early in the 20th century sometimes look forbidding and odd, as if they show waiters trapped in a music instrument store. In the Spring of 1927, Ted Marchant's Kit Kat Dance Band was in residence playing for dances at the Evans Bay Yacht Club in Wellington. The jazz age was in full swing in the capital, and the Kit Kats had plenty of competition from other bands backing the exuberant new dance styles. For those yet to catch up with jazz, many venues offered old-time dancing. – S P Andrew, Alexander Turnbull Library, Wellington, F-18413-1/1
Ron Hayward, Te Kuiti, 1950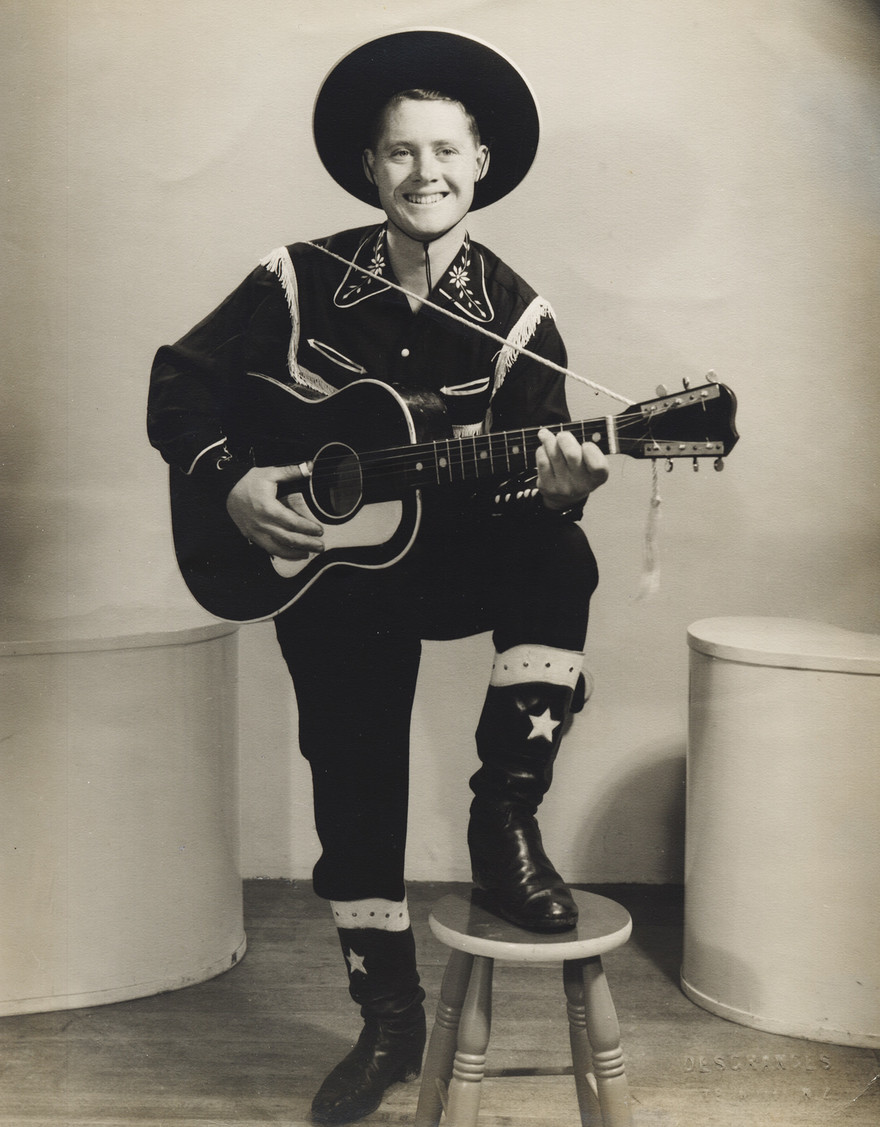 The musical acts who seemed to take their image especially seriously were New Zealand's early country and western musicians. Inspired by Gene Autry films as much as Nelson's pioneering Tex Morton, "hillbilly" singers didn't just adopt Stetson hats. They needed waistcoats, fringes, stitching, appliqué and, of course, appropriate boots. Here, standing proudly in 1950 with his £10 guitar and man-in-black getup, is 18-year-old Ron Hayward, from Stratford, Taranaki. He was so keen to perform that, a few hours after getting married, he was performing live-to-air on a Whanganui radio station. In 1960 Hayward recorded an EP for Kiwi Records. – Desgranges Studios, Te Kuiti/Ron Hayward collection
Tai Paul and His Pohutu Boys, c. 1953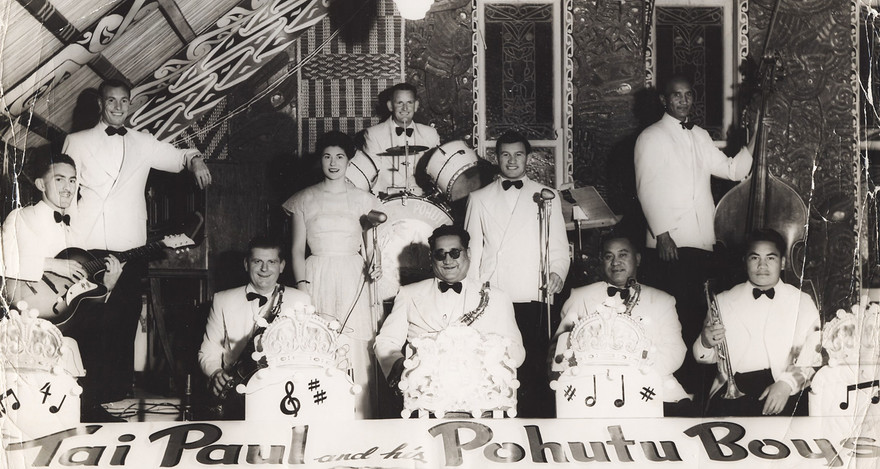 Tai Paul and His Pohutu Boys are shown on stage at the meeting house of Tama-Te-Kapua, at Ohinemutu, near Rotorua. Judging by the coronation crowns on their music stands, the year is likely to be 1953. "Tai at the Tama" was the top drawcard in Rotorua throughout the 1950s, and the formal portrait shows why. Standing in front of kowhaiwhai designs and carvings, the band is resplendent in white tuxedo jackets and black bowties; the two vocalists have the allure of film stars. In front of them sits their leader, Taiatini Paul, wearing dark glasses since he was blinded by a Second World War injury. In the 1960s his son, the velvet-voiced Rimini D Paul, would become one of the leading singers of the Māori showband era. – John Scott Photography, Rotorua/Chris Bourke collection
Johnny Devlin at the Jive Centre, Auckland, c. 1958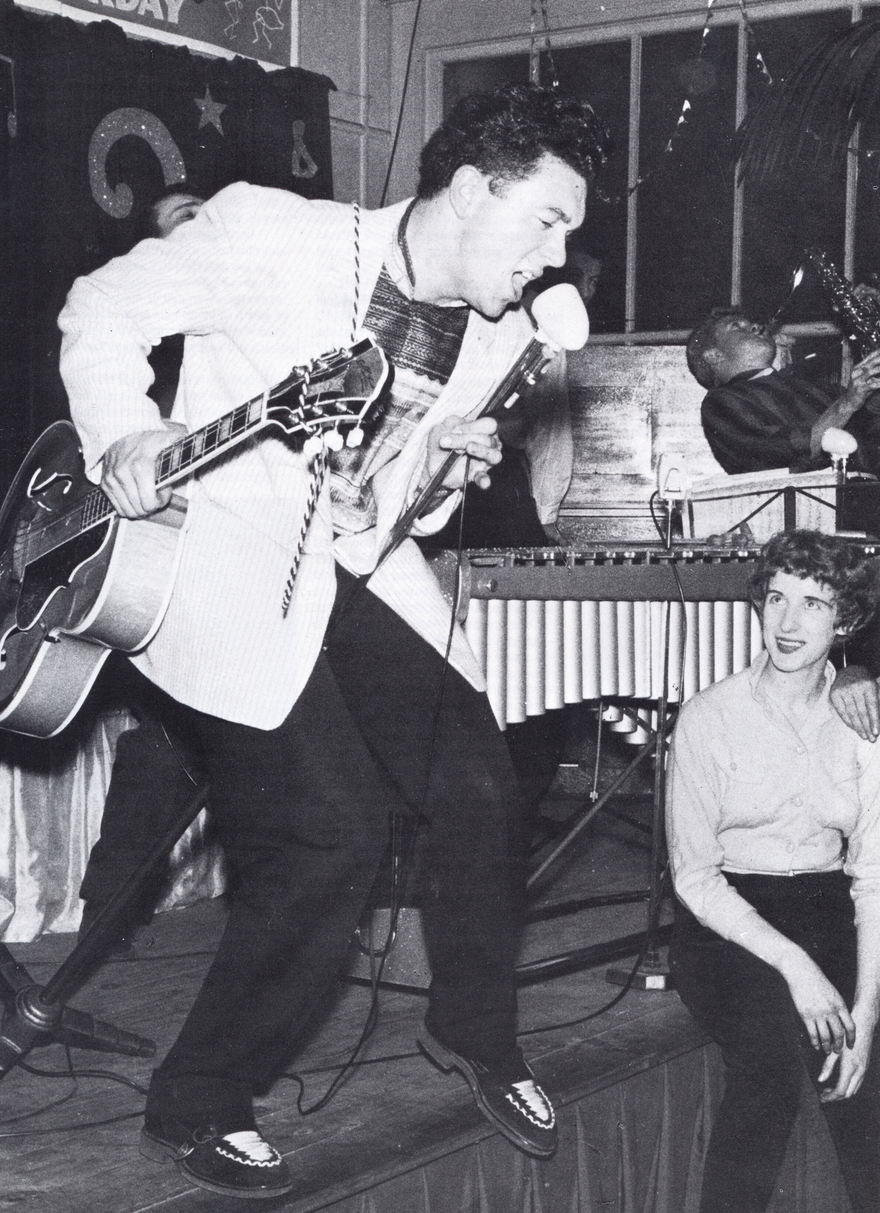 Used prominently in John Dix's history Stranded in Paradise, this image shows the proto-New Zealand rock star, in excelsis. Taken by an unknown newspaper photographer, it captures the rock'n'roll moment with as much skill and momentum as any photo of any aspirant greaser back in Tennessee. Johnny leans over the lip of the stage at the Jive Centre; in full flight alongside him is his saxophonist. Looking up at him in awe, in pegged pants and a cardy, is a fan demonstrating the excitement generated by the boy from Gonville, Whanganui. – AudioCulture collection
Dinah Lee rehearsing, New Plymouth, 1964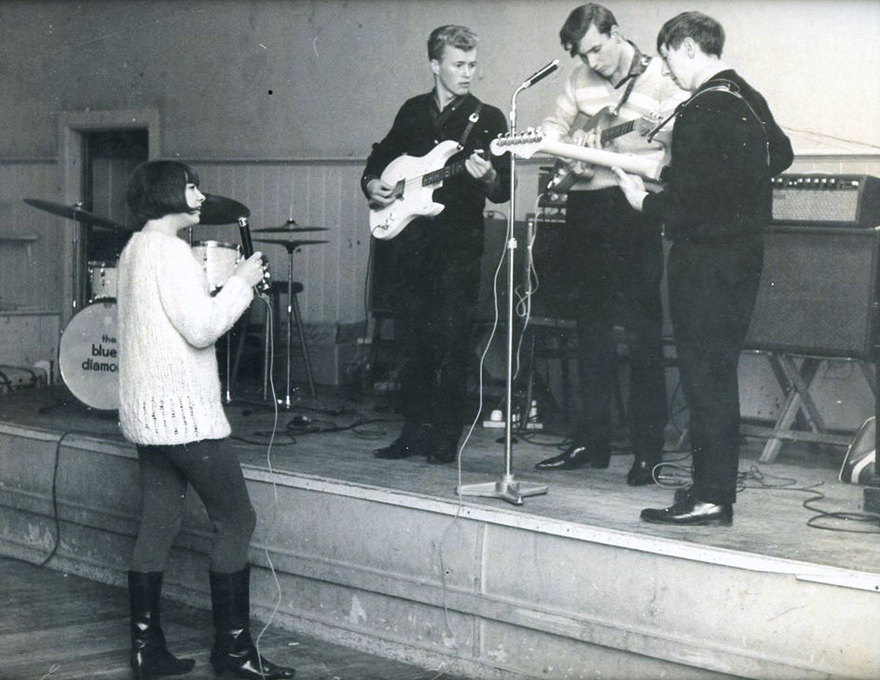 When this photo of Dinah Lee with the Blue Diamonds appeared in the New Plymouth Daily News it caused Midge Marsden, on the right, to get sacked for going awol from his office job. His boss did us all a favour, with Marsden soon joining The Breakaways and becoming one of our longest serving R&B musicians. At the time of this photo, Dinah Lee was enjoying her biggest hit, 'Do the Blue Beat', and touring the country, occasionally backed by local bands. Also in the Blue Diamonds were bassist Bruce Lynch (standing beside Dinah, with a long career ahead of him), and Murray Coplestone. The drummer must still be at his day job. – photographer unknown/AudioCulture collection
The Chicks at home, c. 1967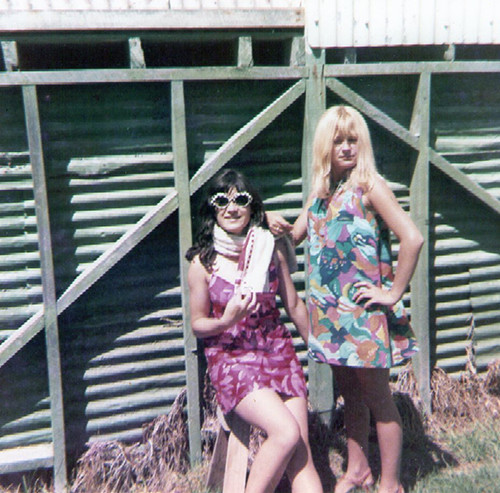 Taken with a Kodak Instamatic, this off-kilter image fits with the "snapshot aesthetic" approach that art photographers adopted in the 1960s. Here are New Zealand's teenage pop stars The Chicks as girls-next-door, proudly displaying their psychedelic minis alongside the most vernacular of settings: the handmade corrugated iron fence. It's at once a family photo and a fan's memento. – Judy Donaldson collection
Peter Sinclair takes a break, c. 1967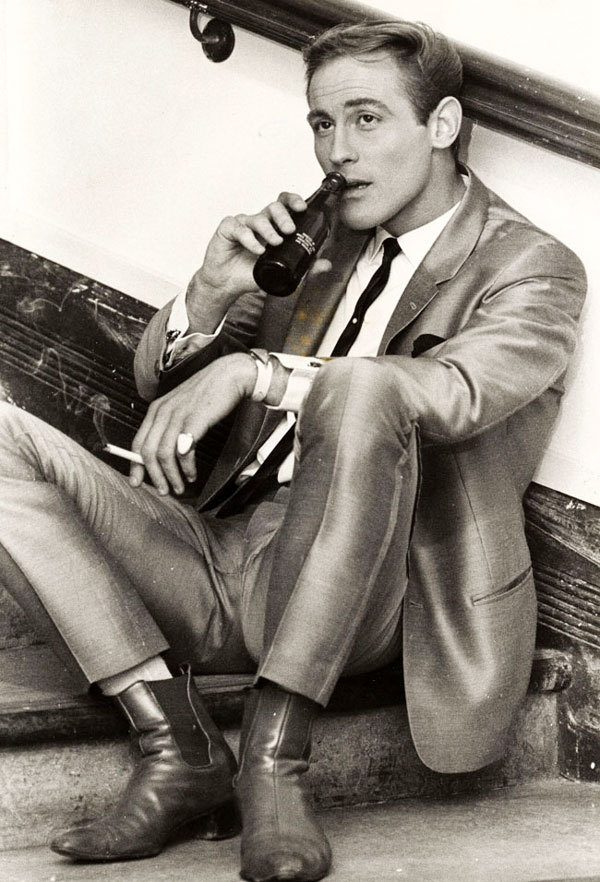 New Zealand's motor-mouthed scene setter, exhausted, enjoys a durry and a soft drink while filming C'mon at NZBC's Shortland Street studio. Check out the showbiz threads: the narrow-lapelled silk suit, the thin tie, cuff links, signet ring, and high ankle boots; the hair, usually immaculate, tousled just so. When you're the hippest visitor to the nation's living rooms, you have to look the part. – photographer unknown/Murray Cammick collection
The Embers, Auckland, mid-1960s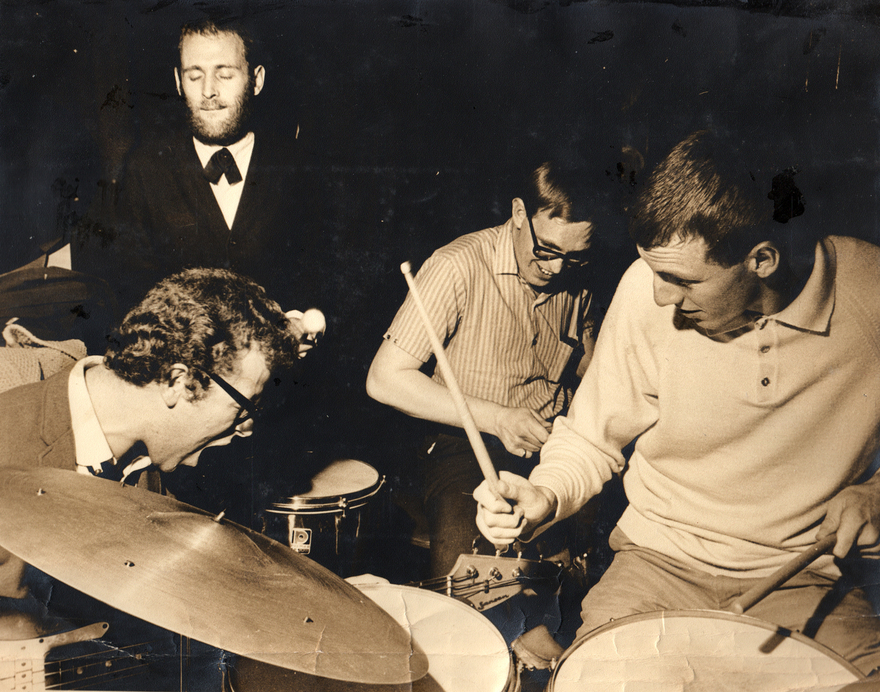 The energy, the ecstasy: throwing themselves into their groove is the rhythm section of the Embers, bassist Yuk Harrison (left) and Frank Gibson Jr (far right). Assisting them are guest drummers Roger Sellers (back left) and Alan Nash. The sheer momentum exhibited makes you wonder: who's driving whom? – photographer unknown/Frank Gibson Jr collection
The Underdogs, c. 1968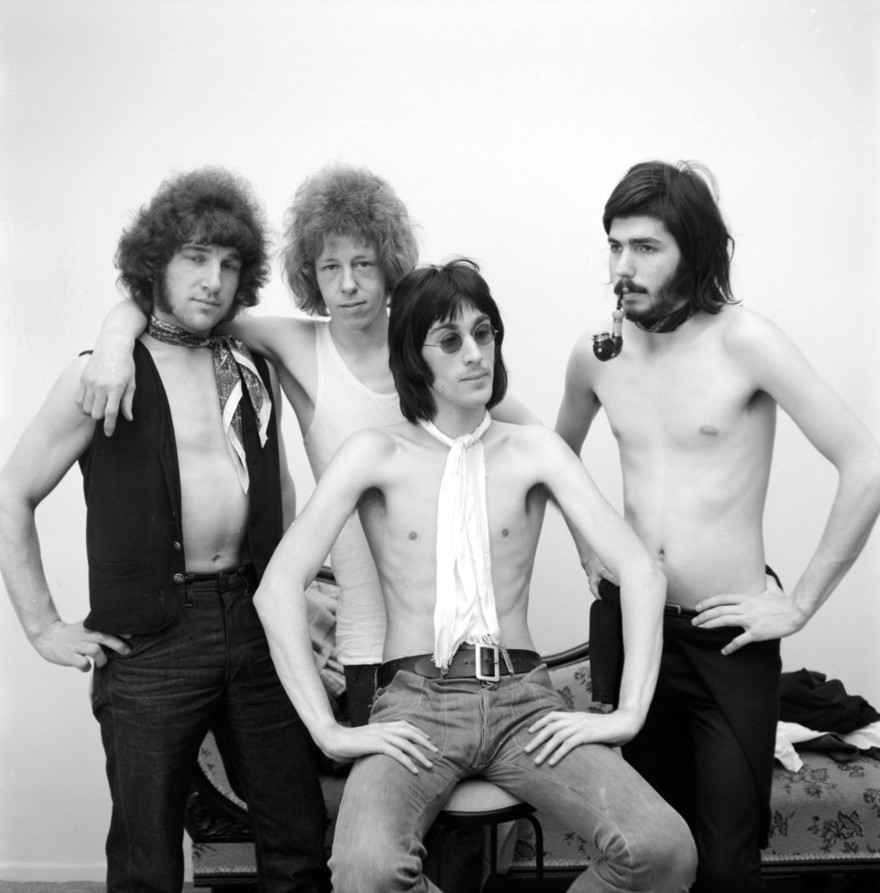 Society photographer John Rykenberg didn't just capture the chicken-in-a-basket set: sometimes performers came to his studio for formal portraits. That was never going to happen when committed pranksters The Underdogs called by. Showing some skin (and bones) are, from left: Doug Thomas, Harvey Mann, Murray Grindlay, and Lou Rawnsley. – John Rykenberg/Sir George Grey Special Collections, Auckland Libraries, 1269-Y808-7
Dalvanius, 1976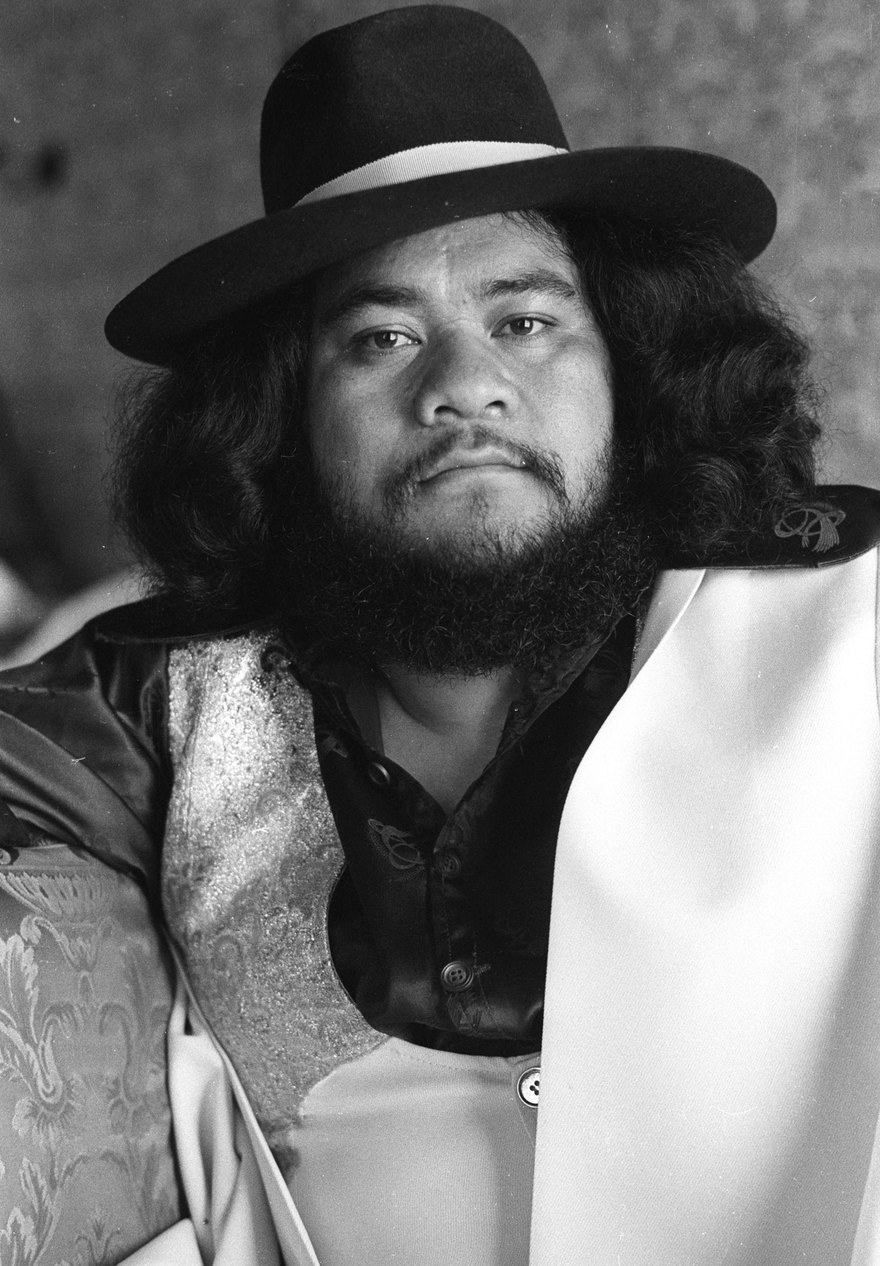 Dalvanius Maui Prime, photographed in full Philly splendour by Murray Cammick in 1975. A year away from founding Rip It Up, Cammick caught Dalvanius and the Fascinations at the "seedy Great Northern Hotel" in downtown Auckland, "strutting their stuff, disco style like a downunder Labelle". At the time of this photograph, Dalvanius was backed by Collision: funkmasters from Tokoroa, stage savvy from residencies at Wellington's Lion Tavern and Uncle Albert's nightclub. They had the sound, and Dalvanius had the Superfly look. This portrait shows he also had the determination which, in a few years, would take the Pātea Māori Club to the world. – photo by Murray Cammick
The Clean, 1981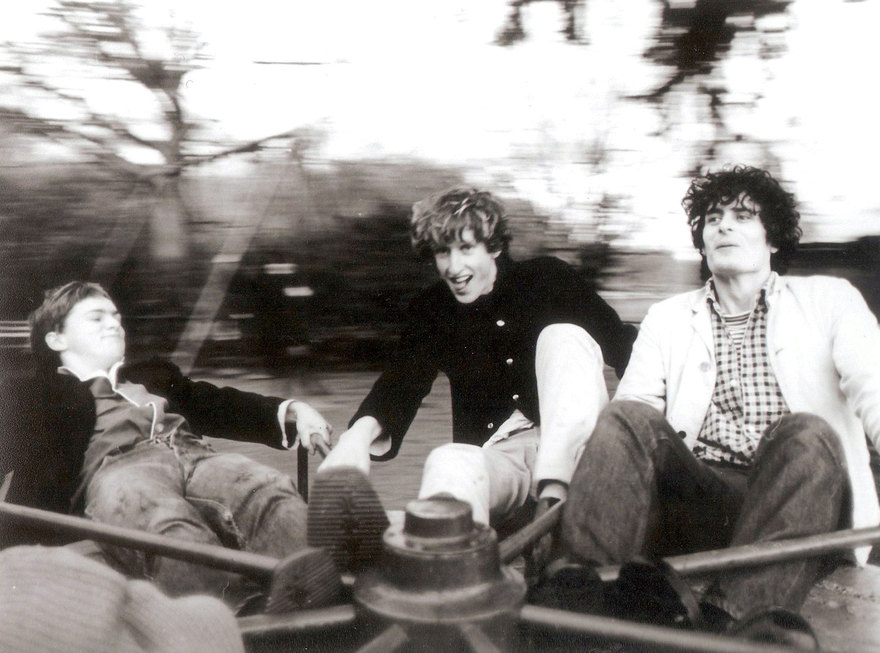 The earliest photographs of Dunedin bands on the Flying Nun label show share a domestic verité: kitchen sinks, dark flats, op shop clothing. It's a stance far removed from the star-making machinery experienced by their Auckland contemporaries. Despite the cloudy skies suggested by the B&W film, many of the familiar images are casual and lighthearted: this one by Craig McNab, and the series by the prolific Carol Tippet (in particular her much-used shot of The Clean in – where else? – a bathtub). These publicity photographs were used in a wide variety of media and, while stubbornly uncroppable and grainy, proved unforgettable. They created as much as captured the desired image. – photo by Craig McNab
Peter Warren at Aotea Square, 1984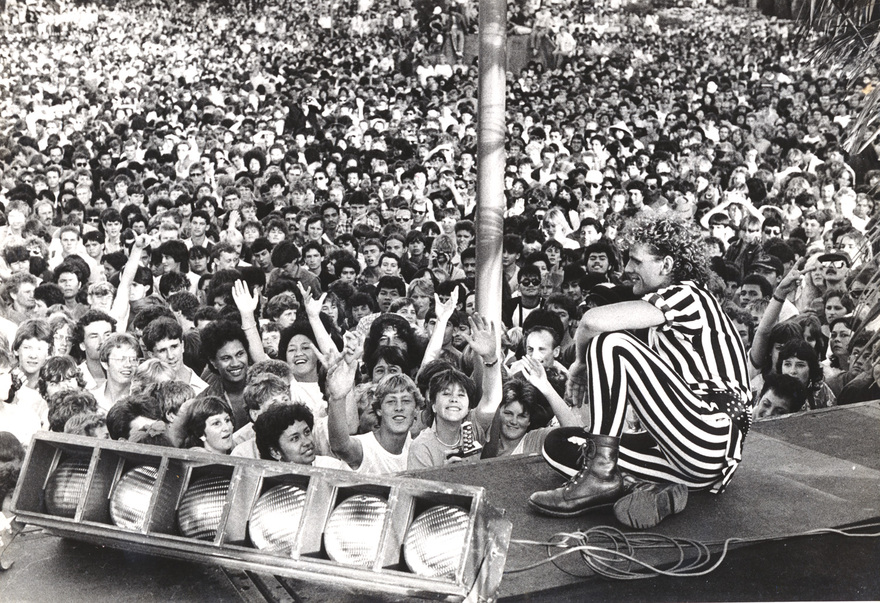 The calm before the storm. Peter Warren, the drummer of DD Smash, talks to the peaceful crowd at the Aotea Square concert that turned into a night of broken glass, turned-over cars, and busted heads. Bryan Staff's photograph – printed the full width of a Rip It Up page – was all the evidence needed to show how the atmosphere quickly changed. Besides the clarity of so many happy faces, the photo shows Warren's savvy costume: the bold monochrome patterns printed well in ink-thirsty newspapers of the day. – photo by Bryan Staff
The Screaming Meemees, North Shore Netball Club, 27 March 1981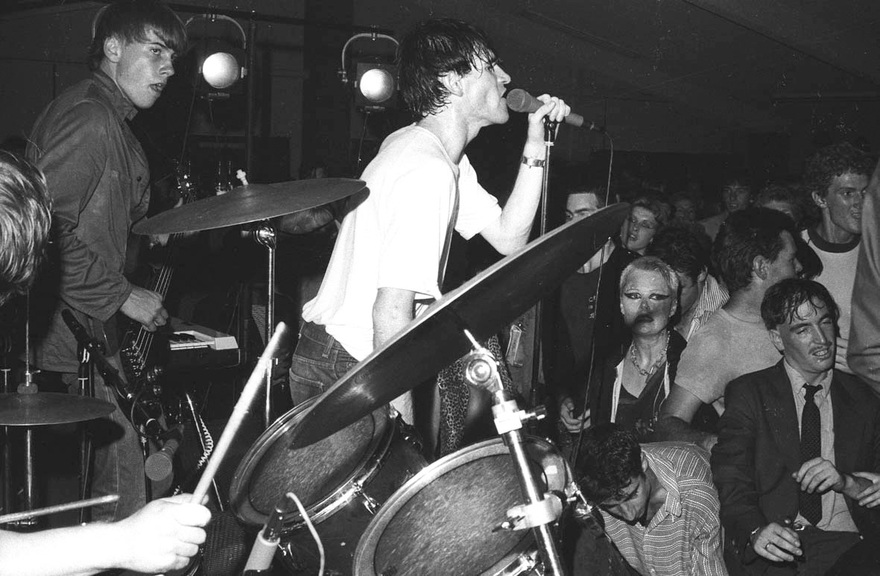 Rip It Up was so crammed for space in its free, newsprint years that editor Murray Cammick usually had to print his own photographs the size of a matchbox. In recent years, this photograph – one of his favourites – has received more respectful treatment. The commitment of Tony Drumm at the microphone is shared by the Meemees' most passionate audience: their peers from Auckland's northern suburbs. With a crammed dancefloor and the band at full throttle, the photo captures the energy and diversity of the "North Shore Invasion" scene. – photo by Murray Cammick
Andrew Fagan on Queen Street, August 1984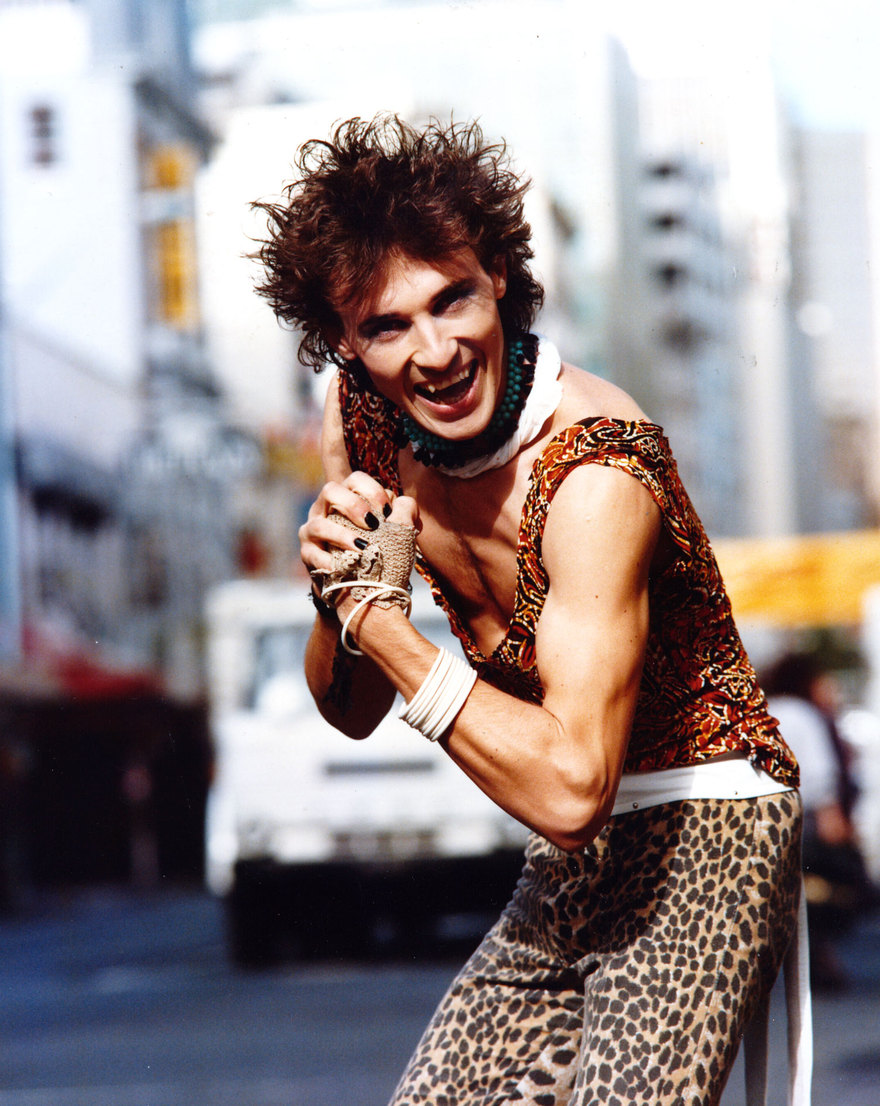 This Kerry Brown photograph was taken at the height of Mockermania, with Andrew Fagan exhibiting characteristic flamboyance. It shows the energy and good humour of the Mockers' lead singer, says Murray Cammick, who chose it for a Rip It Up cover. "A good rock'n'roll cover, although we were walking a thin line between The Mockers' teen appeal and Rip It Up's regular alcohol advertising." – photo by Kerry Brown
Beastwars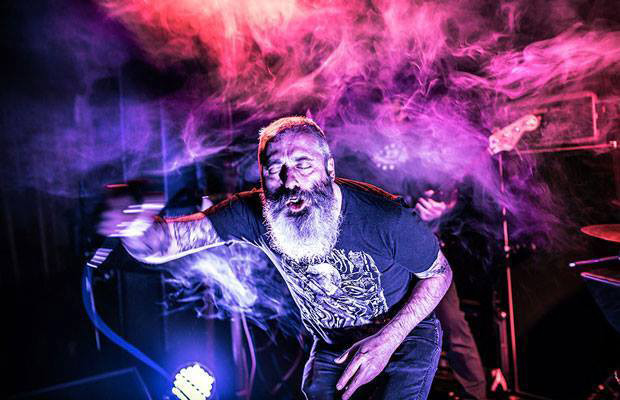 Beastwars is a band that always gives good photo: they project on film with just as much dynamism as on stage. Here, lead singer Matt Hyde looks like he's emerging triumphant from an erupting volcano; actually he's in Port Chalmers, on stage at Chicks Hotel in 2014. The energy comes not just from the dry ice and colours: Hyde's stance and expression grab your attention. You wonder what the hell just happened. – photo by Dani Michelucci
Kody Nielson of the Mint Chicks, 2005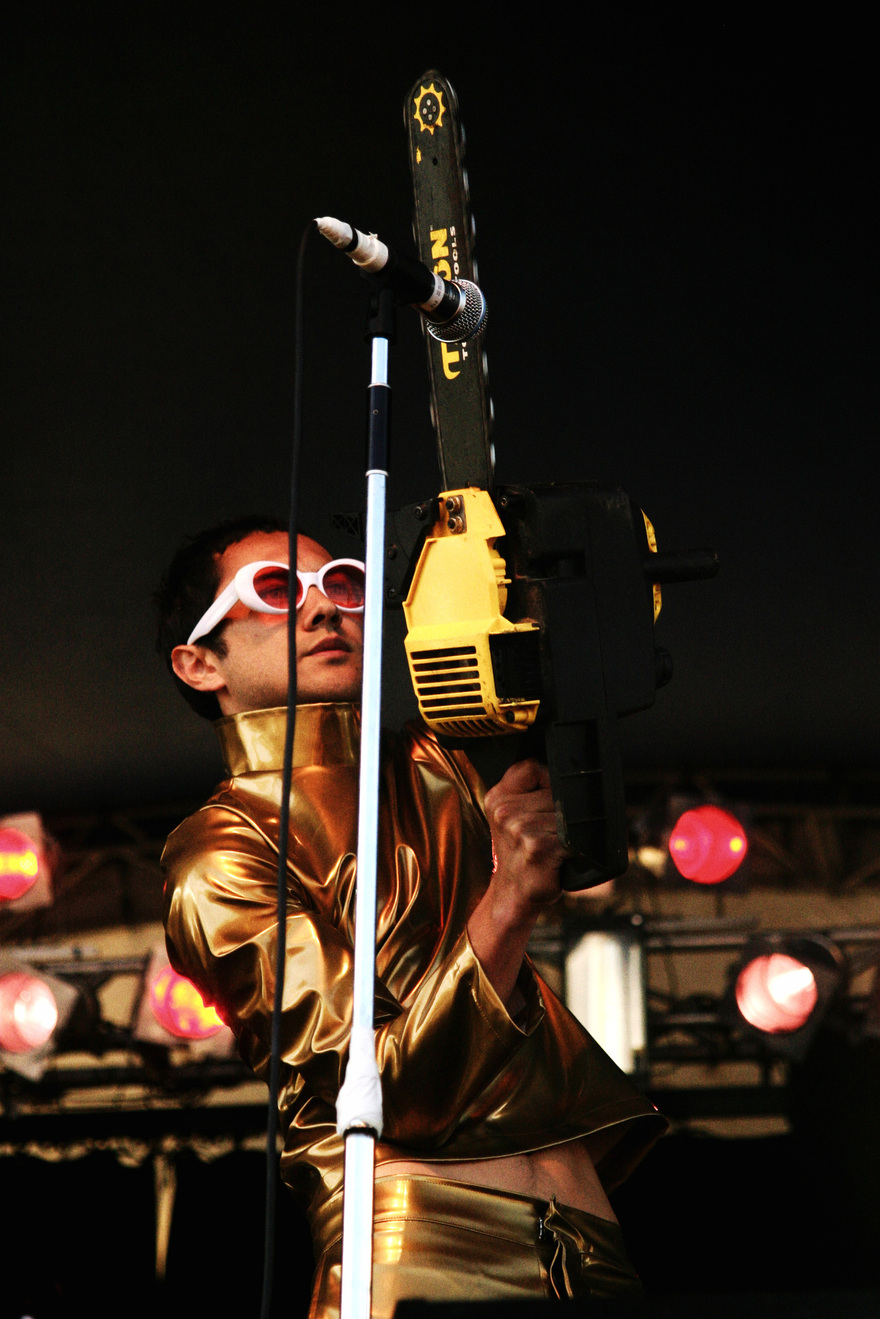 Live photos are the specialty of Ian Jorgensen, which is as it should be for the founder of the Camp a Low Hum festivals. Jorgensen's awareness of how shows – and tours – are put together is apparent from his photographs. Here Kody Nielson's use of a provocative prop, startling lamé jacket and sunglasses make for a striking, theatrical image. Jorgensen's body of work is collected in A Movement, a 10-volume set of A5 books containing 1000 images from 2000 to 2015. – photo by Ian Jorgensen
Ruth Carr of Minuit, mid-2000s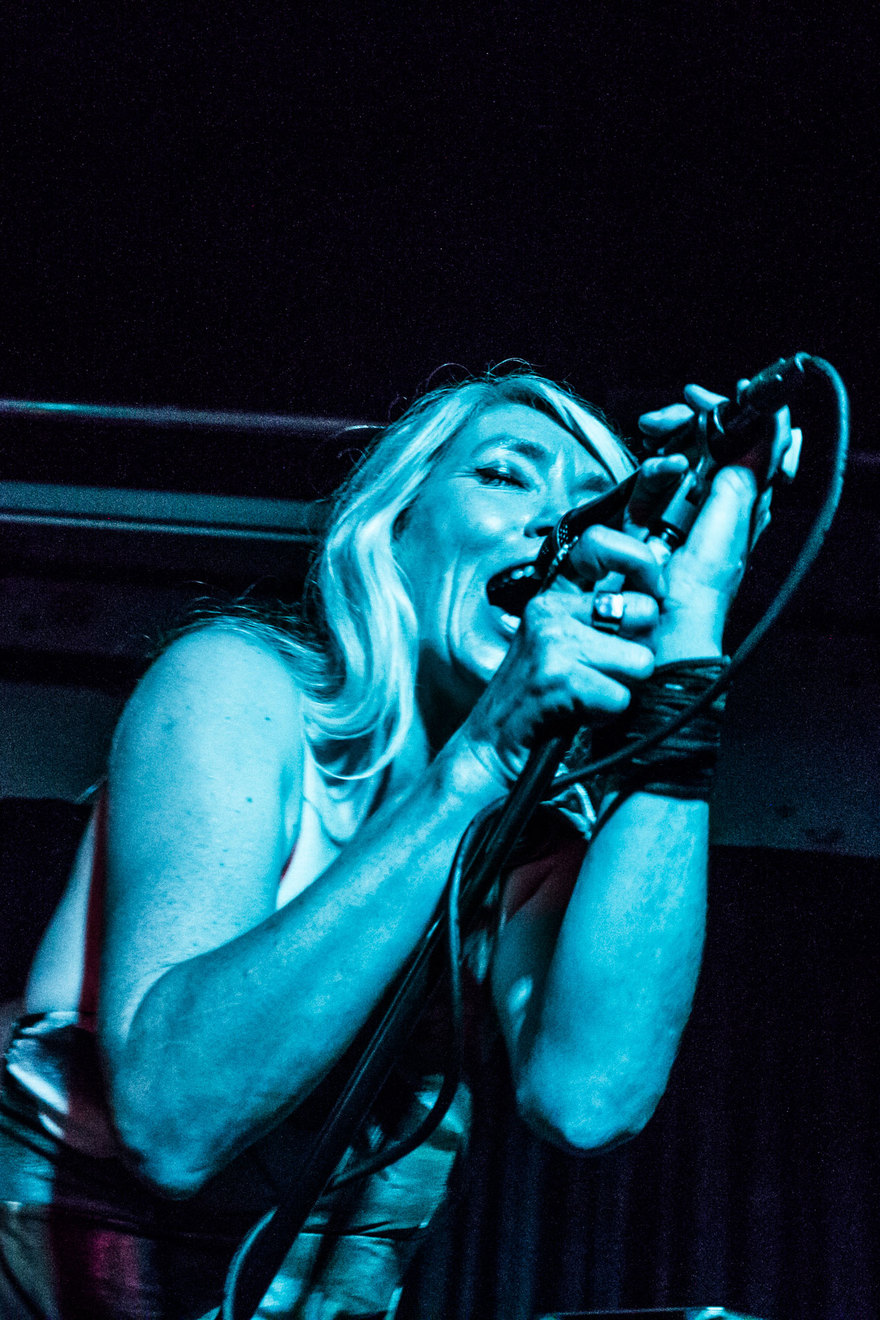 Georgia Schofield is another recent photographer who knows the importance of drama and high-definition colour. This shot of Minuit singer Ruth Carr is uncluttered and in your face; we are in the pit, compelled by her immersion in the performance, which is highlighted by the melodramatic turquoise light. – photo by Georgia Schofield
Andrew Wilson of Die! Die! Die!, 2000s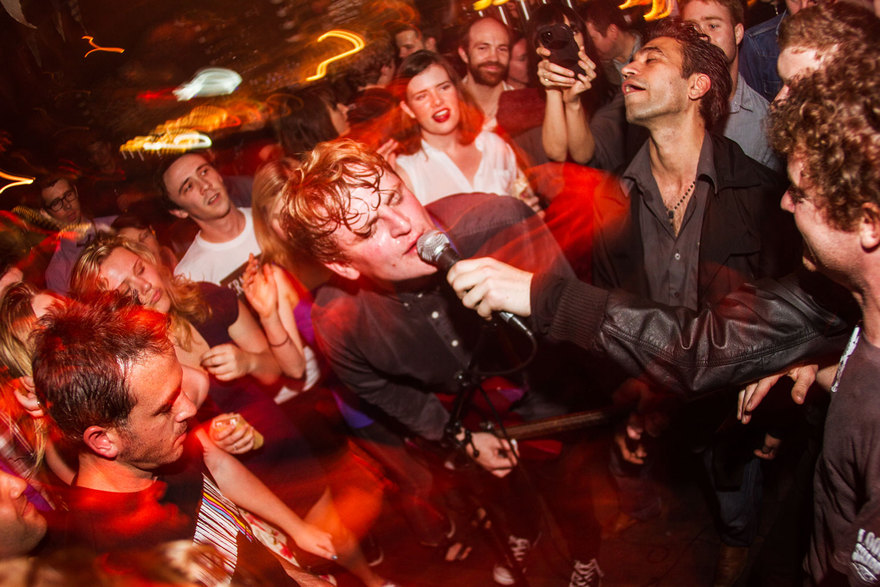 Georgia Schofield takes us right into the mosh pit with this intense image of Andrew Wilson, vocalist of Die! Die! Die! But it's as much about the audience as the singer. All are entranced, but reacting in their own way: ecstatic, absorbed, fascinated. – photo by Georgia Schofield
Nadia Reid, 2017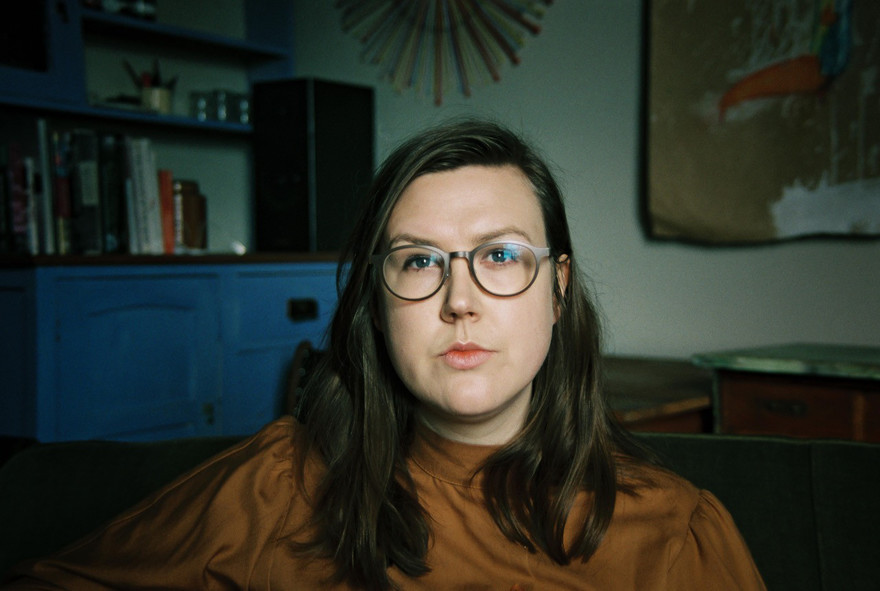 Multi-tasking photographer Ebony Lamb's background as a songwriter and singer (in Eb & Sparrow) results in her portraits of musicians and writers having a unique intimacy. This cover shot of Nadia Reid's 2017 album Preservation was taken in Port Chalmers, Dunedin. It's a personal favourite, says Lamb. The session came from an invitation by Reid "to really make a reflection of her place, in this change of time she was experiencing, the tones, the colour the music and our natural closeness really helped both of us get into 'that' space artificially. I was sleeping in that room every night, and we'd share meals and walks and talks and took piles of photographs. Bliss." – photo by Ebony Lamb
--