The explosion of retro-influenced rock'n'roll groups from the North Shore around 2004-2010 was remarkable given the sheer youthfulness of the bands and the seriousness of their aims. Bands like The Checks and The Electric Confectionaires seemed to be fully realised musical outfits at the tender age of 16. However to get a full sense of the scene, we need to start with an earlier alumnus of Takapuna Grammar.
The Veils
Finn Andrews knew from a young age that a life in music was possible, given that his father, Barry Andrews, had been a member in UK post-punk/new wave bands, XTC and Shriekback (plus he'd played with David Bowie and Iggy Pop). The family moved from London to Devonport when Finn Andrews was a child and he initially found it stultifying.
"The bulk of my adolescent memories on the North Shore consist of me trying to avoid getting beat up for wearing eyeliner at school, and making stuff with my closest friends as a sort of collective plan of escape. Devonport was pretty affluent even then, but I grew up in a council house with a single mother who tried very hard to help me fit in, even though generally speaking I didn't. Sophia [Burns] and I had a close group of friends and we stuck together. The first songs I ever wrote were really just trying to describe how I felt about them. They're still my best friends today."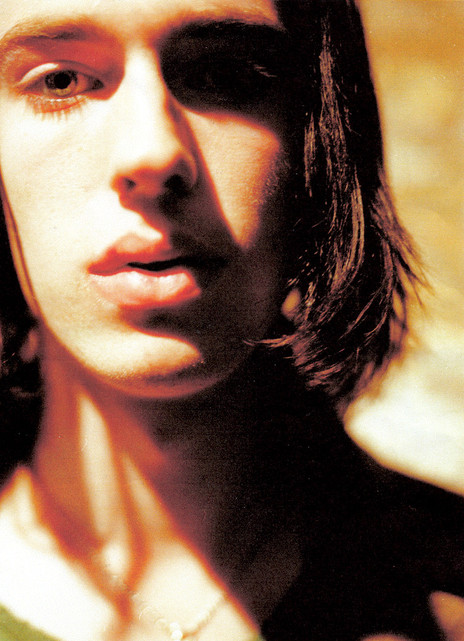 Andrews did discover that Devonport had some cultural life, with a weekly Devonport Folk Club held in a disused military bunker on Mt Victoria (a tradition that continues to this day).
"I was 13 and the folk club was one of the few places around that you could see musicians from all over the world play on a regular basis. Everyone there was incredibly nurturing of us weird kids and our weird little songs. Playing there and at the Auckland Folk Festival regularly was something to get good for. We entered The Rockquest when I was 14 which was a disaster; we went on stage with our guitars all out of tune and just totally fell apart. I nearly packed in music entirely after that, but then Rikki Morris offered for us to use his studio at The Depot for free to record some demos, which is what I sent off to London and got us our record deal. So somehow that all seemed to work out. Without Rikki I'm not sure I'd have had the confidence to carry on."
Morris's studio had opened in 1999 within a community gallery (The Depot) which had been set up by Linda Blincko and Robyn Gibson and it would become a hub for the short-lived music scene.
While in London, The Veils recorded singles with Bernard Butler (Suede) and went on to release their debut album, The Runaway Found (2004), through legendary indie label Rough Trade (receiving a 7.1 on Pitchfork). Yet the path to success had been gruelling. The band had originally signed to Blanco Y Negro (a subsidiary of Warner, run by Rough Trade's Geoff Travis) so it took a long battle to free them from this deal and, within two months of the album being released, the first line-up of the band imploded. Mid-2004 saw Andrews back in New Zealand creating the genesis of a new line-up with his school friends from Takapuna Grammar – Sophia Burns (bass) and Liam Gerrard (keyboards). In the meantime, the next generation of musicians at his old school were beginning to follow his lead.
The Checks
Ed Knowles was only in third form (Year 9), when Finn Andrews was completing his final year. Nonetheless, Knowles believes that the success of The Veils provided a benchmark for what was possible.
"We were definitely aware of Finn. By the time The Checks began in fifth form he was already long gone to London. I'm not sure that he inspired our musical plans – we wanted to blow pubs apart with fast strange music whereas he, in our minds, was something far more beautiful and stirring. We loved The Strokes and beer, that was our scene. Having said that, I'm sure he's responsible for the fact that our delusions of grandeur never felt like delusions. We had seen it happen."
After an initial foray under the name "Frank" the final line-up of The Checks came together with Knowles joined by Sven Pettersen (guitar), Karel Chabera (bass), Jacob Moore (drums) and Callum Martin (guitar). They were shockingly powerful as a live act, like a band that had been playing together for years. The buzz around them grew quickly after a second place at Rockquest and some early demos recorded with Rikki Morris became student radio hits.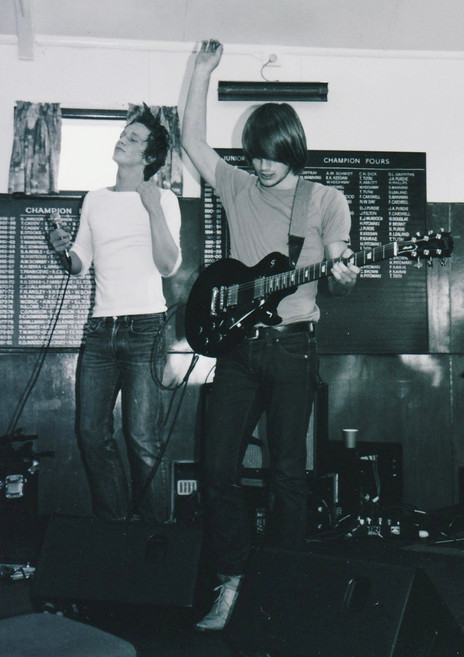 When they started, The Checks were still underage so it helped that Devonport venue The Masonic Tavern was putting on all-ages gigs. Bar manager Boyd Thwaites suspended alcohol sales in the band area during the afternoon, allowing for underage audience members to attend shows (The Checks also played licensed shows across the city, but often had to be accompanied by their parents). Knowles believes the Masonic was crucial in the development of The Checks.
"The Masonic feels like a dream now. It was a key factor simply due to its proximity to where we lived. We didn't have to go to town to play and in some ways that created a cultural island. We lived, wrote, recorded, partied and played gigs cut off from everyone else. Not that the culture was all that different to bands/kids in town, it really wasn't, we all listened to the same records and read the same magazines, but all the bands in that 'North Shore' scene had something uniquely throwaway or loose about them, we didn't care as much about what was considered to be cool or correct … Was it beach towel blues? Yeah it probably was, but it was also packed to rafters every gig, raided by police on several occasions, kids on the roof, kids in the sea. It was a real good time and that's all any of us wanted."
Young shore musicians could get inspired by attending gigs in their home neighbourhood without ID issues. And once they'd got their own bands together, they found a ready audience by playing support slots with The Checks. The floodgates were about to open.
White Birds and Lemons
Amongst the other young musicians who hung out around the Takapuna Grammar music room with The Checks were the core members of White Birds and Lemons: Rob Dickens (drums), Dom Dipple (bass), and Matt Wilson (guitar). The trio met Rangitoto College student Scott Franz at a party and soon recognised a kindred spirit – he'd been playing with friends, but wanted to go in a different direction. (His friends went on to form Midnight Youth.)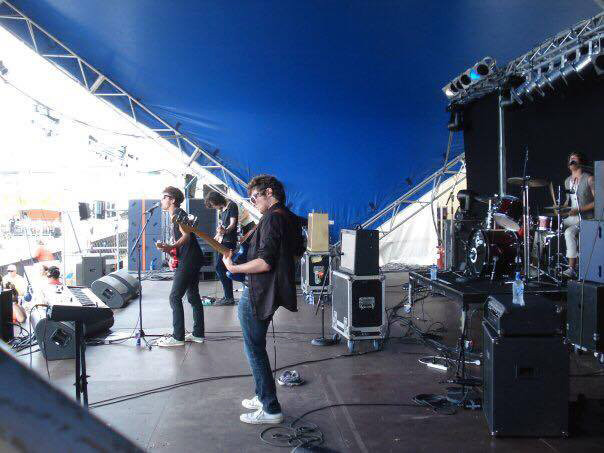 White Birds and Lemons shared the retro-cool vibe of The Checks, but Franz's plaintive singing gave their songs a melancholic edge (reminiscent of The Veils). Drummer Rob Dickens had been helping his friends' band as a roadie since he was 15 and the progression to joining his own band felt like a natural next step.
"Our first gig was supporting The Checks at late great local The Masonic Tavern. They were already bFM favourites, so we were kind of straight in it in the deep end. Off the back of that – plus contacts that we'd amassed by proxy – we just started booking gigs. We wanted to get to headlining shows as soon as possible. The idea was that if our name appeared at the top of posters at decent venues then that would create intrigue and interest from fans then industry people would soon follow. The strategy worked pretty well, although we never reached the same success as our peers in New Zealand. It was a bloody exciting time and looking back we were very lucky. There was just something about that time and that group of people, all pretty squarely based out of a shared love of music and the support of Takapuna Grammar."
Rikki Morris was the perfect supporter for the fledgling scene, full of earnest enthusiasm for the bands and willing to put in ridiculous hours to get the best out of their sessions (often doing 16-hour days to get a final mix to his standard). These demos gained them a deal with Liberation and they recorded an EP with Kody Neilson (The Mint Chicks) – Who Says You're Free? (2007) – and used it to garner a management/booking contract in Melbourne. The band had some early success completing a 22-date sold-out tour by Lisa Mitchell (an alt-folk singer, who came third in Australian Idol). However, drummer Rob Dickens recalls their fortunes dipping rapidly after that.
"We stopped in Sydney on the way driving to the first show in Brisbane and we woke to find our van's engine had seized up; a total write-off. We managed to borrow a van for the first two legs of the tour then bought another van to finish it, going majorly into debt. The tour boosted our profile but we were bare bones for months trying to get back on track. Then we got another huge national tour offer supporting another big Triple-J band, Bluejuice, and we couldn't say no. We were up all night putting the finishing touches on our first Aus EP and drove straight out from Melbourne on the way up to the Gold Coast. No more than five hours in and suddenly the van lost power and rolled to a stop. We pop the hood and green liquid is shooting everywhere and smoke billows out. In our delirium from recording all night we'd left the oil cap off and the whole engine was shot. Stranded on a dustbowl highway with smoke drifting over the hill from a nearby bushfire, it was a bleak scene.
"We hadn't even played one show and after assessing the cost we had to retreat back to Melbourne and call the whole thing off. We couldn't believe it. Baked beans on toast remained the diet for the foreseeable future. About six months later we'd managed to replace the engine and had begun practising for the next tour when the dagger struck. All our gear was in the van in a 'secure' garage at our guitarist's apartment, when junkies broke in and stole $15k worth of it right out of the back. We threw a huge fundraising party and some great bands graciously played for free to get enough back to replace key items and keep practising, but by that point it felt like something in the universe didn't want us to succeed."
Dickens had started his own solo project (Taxidermy Hall) which was getting some interest, so he wasn't too heartbroken when White Birds and Lemons came to an end. While the band had been away, Franz's former Rangitoto College musician friends found success as Midnight Youth (their 2009 debut, The Brave Don't Run, sold platinum) and funnily enough their second album (World Comes Calling, 2011) was boosted to the Top Five by lead single 'Who Said You're Free?' (a remarkably similar title to the White Birds and Lemons EP)
The most enduring document of White Birds and Lemons at the height of their powers are the sections of the documentary, Guitars From the Leafy Suburbs, shot while they were first recording demos with Rikki Morris at The Depot.
Guitars From The Leafy Suburbs
Julian McCarthy, a young filmmaker, noticed the burgeoning scene in Devonport and began trying to capture it on film in early 2006. His documentary, Guitars From The Leafy Suburbs, gives a wonderful window into the scene over the subsequent two years and captures The Checks in the lead-up to their move to London (having already appeared on the NME New Music Tour and using their buzz in the UK to sign to the Full Time Hobby label).
McCarthy was enthralled to find himself right at the centre of the action. "Supported by Linda Blincko, young bands used The Depot's music studio to practise at all hours of the day and night. Rikki was a mentor for these bands, because of both his experience in the New Zealand music industry, and his ear for a good sound! He encouraged and steered them, while recording their music in the studio. At the same time, the fan base for these bands was growing by the day. As a documentary maker, this was a vibrant and compelling story: to witness eager young bands developing, performing and recording under the tutelage of an accomplished musician who had paid his dues in the precarious business that is the New Zealand music industry."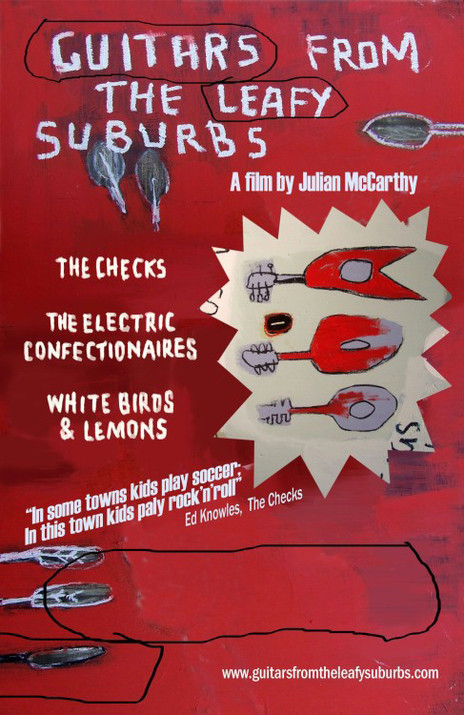 The documentary also captures another young group – The Electric Confectionaires – playing at the Devonstock Festival, an event in Devonport started in 2007 by 16-year-old Takapuna Grammar student, Sam Harper. No surprise to find that the Electric Confectionaires also followed the well-worn path to Rikki Morris's studio door.
The Electric Confectionaires
The Electric Confectionaires formed around the songwriting of Jaisi Sheehan. He decided to form a band rather than going solo by a conversation with Kimbra (Johnson), a student at nearby Hillcrest College, who had found success a solo pop act but found it a sometimes lonely experience. Instead, Sheehan recruited other fellow Takapuna Grammar students, including talented keyboardist Haddon Smith.
"Taka Grammar had a pretty strong music department when we were there," says Smith. "Jaisi, Hamish, Rob and myself were in the school big band and choir together, along with some of the Checks guys. There was lots of encouragement from the staff at the school to develop our skills, which was great. Seeing the Checks take off prompted us to start the band and it also gave us a scene to slot into, as lots of local kids were in the habit of going out to gigs."
The Electric Confectionaires separated themselves from the pack by injecting some elements of other musical styles (reggae, funk) into their rock, which Smith puts down to Sheehan's prolific songwriting.
"Jaisi was constantly writing and recording in his home studio. He'd get obsessed with a certain style of music and record a bunch of songs, before moving on to another style. I was always blown away by the quality of his demos. They had this cartoonish, tongue-in-cheek thing about them; something that got a little lost when the band played them. The ECs repertoire was really just a selection of his demos that worked in a band setting."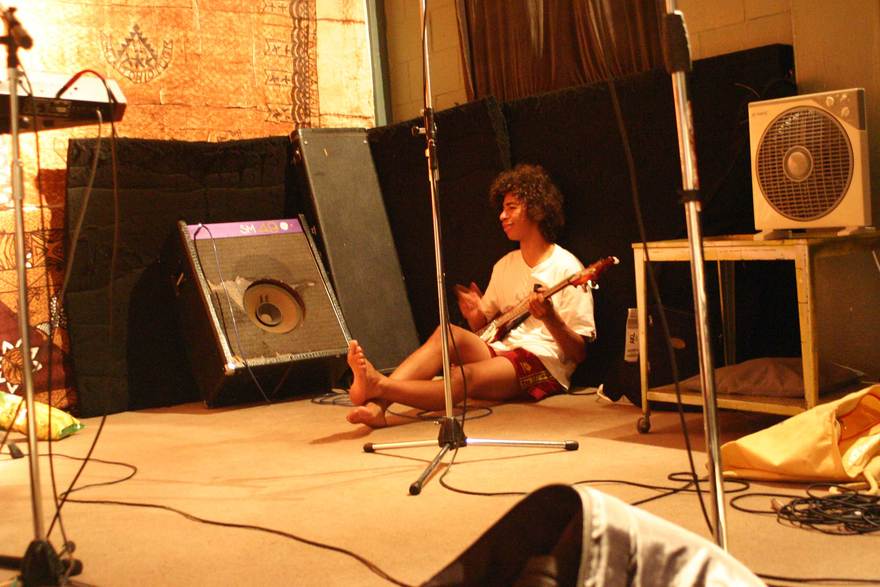 The Electric Confectionaires were courted by major labels while still in high school, even before they won Rockquest in 2005. Sweet Tooth (2007) eventually came out on Sony, though it was a hard grind to completion. The songs had already been put down as demos and near-final versions done at The Bus, before they were recorded a third time with Murray Grindlay producing. The band had originally been a fun high school project and the energy of the group dissipated over the years that followed, ending with a final gig at the Coro Music Festival on 3 January 2010. Sheehan went on to form The Psychs, while Smith became an in-demand session/live musician, working with Dave Dobbyn and Gin Wigmore.
The Coshercot Honeys/Brain Slaves
The Coshercot Honeys were also started by Takapuna Grammar students – singer Sasha Carlson and drummer Rob Champion both attended the school, though Carlson later switched to Selwyn College and around this time he met guitarist Jordan Morris who lived nearby and had friends in common. The band was completed with the addition of two of Morris's friends, Jack Smylie (keyboards) and Elliott Sergeant (guitar). Nonetheless, Morris recalls that they retained a strong connection to the Shore scene.
"We had a studio in Rob's basement in Devonport so spent a lot of time over there – some of our first gigs were at the Masonic Tavern ... We all met in high school and we were inspired by whatever we were listening to, watching, experiencing in the moment. In the early days that was the Doors, The Beatles, more contemporary stuff like the Strokes, and the retro scene in Auckland."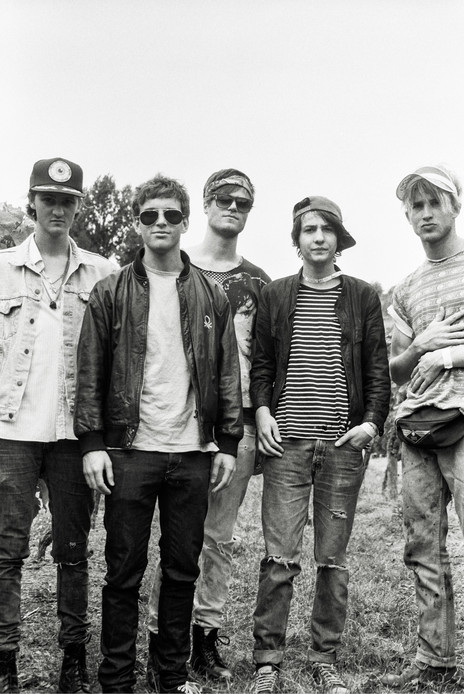 The launched themselves with a masterful first single, 'We're All Lions' (recorded with Dave Parker at Little Monster Studios). Yet the band took a left turn by re-naming themselves Brain Slaves and adopting a dance-y, indie vibe to their music. It may have seemed from the outside as a conscious move away from their compatriots but Morris sees it as more of a natural progression.
"I suppose as we got older we experimented and branched out. There was definitely the influence of what was happening in London at the time – nu-rave, and the Krautrock vibe that some bands were working with and we were getting that through MySpace, NME and i-D. If we'd stayed together we would have no doubt continued to change our sound – we were always about trying to push it further. The name change wasn't consciously a move away from one thing towards the next, and definitely not an attempt to distance ourselves from the Shore. It just occurred around the same time as we were writing a bunch of new material."
Along with White Birds and Lemons, Brain Slaves moved to Australia and tried to get a foothold in the scene in Sydney. Yet getting re-established in a new city was grueling and the band broke up in 2010 (the same year as both the Electric Confectionaires and White Birds and Lemons). Carlson moved to London and started a new group, Splashh (initially with Jacob Moore from The Checks on drums). Their debut album, Comfort (2013) was called "an unexpectedly dark success" by NME – but Carlson left behind the UK buzz and moved to New York the following year, where the group continues to be active.
The Earlybirds
When they first started, The Earlybirds played loose, energetic garage rock. Guitarist Mike Cannon recalls that their initial goal was simply to slot themselves into the Devonport scene.
"We were at the tail end of that scene. We were all a few years younger than those guys and going to school around Albany instead of Takapuna Grammar. We got connected because we would always hang out in Devonport and watch bands at The Masonic. One Saturday, we watched The Electric Confectionaires, The White Birds and Lemons and The Coshercot Honeys. We were so amped about the music and the vibe there that Sean [Patterson, drummer] and myself immediately started asking if anyone knew any singers, we met our first singer Jackson [Fitzgerald] there. We started to spend our whole time practising and writing garage/indie pop at The Depot Artspace. Then we started playing gigs with those bands including the first Devonstock which was captured in Guitars From The Leafy Suburbs. We didn't really start playing with The Checks until a couple years later when Filip [Kostovich] joined and we were developed. They were a big influence on us musically and as a role models."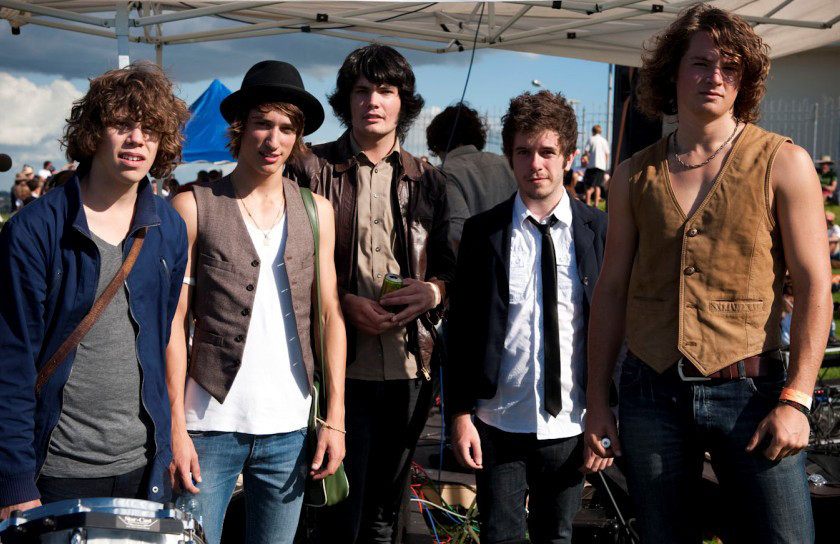 Cannon recalls that the following three years saw the group gradually move in a new direction, especially after their involvement with Stebbing studios led to Kostovich joining the band.
"By the time we recorded the first album at York Street and connected with our manager James Southgate, our original rock'n'roll/bluesy sound had vanished. We had evolved our writing and were searching for a sound that was more unique and in line with the modern influences. When we recorded we were still relatively clueless about exactly how we wanted everything to be, how the drums should sound etc. Working with Greg Haver [known for his work producing Manic Street Preachers] helped make it more refined, polished and I guess commercial for radio."
Manager James Southgate was previously managing director at Warner (known for signing the feelers and later becoming their manager). He helped the Earlybirds gain a deal with Warner and the resulting album, Favourite Fears (2010), reached No.7 on the charts. The next obvious step was to take on Australia.
"We moved to Sydney, Australia and played nearly 100 shows all over the country," says Cannon. "Initially we wanted to release the album there, but we were exposed to a lot of new emerging artists at the time such as Tame Impala and Chet Faker. We didn't feel that our album felt relevant in the Australian market, nor was it representing our evolving taste in music and culture. I started to write and record new music but unfortunately for the band we couldn't hold it together and after nearly a year living there we went our different ways. Sean and I formed a new band afterwards called Lightning On Me, and released two singles. Kane is now playing solo acoustic sounds living in Hamburg, Germany."
The Changing Scene
The Checks achieved their dream of recording and releasing an album in the UK, but it wasn't the breakthrough success they had hoped. Instead, they remained a central hub of the Auckland music scene and each of their three albums charted in the NZ Top 40. Many of the bands that formed in their wake benefited by playing support for The Checks, before the band finally broke up in 2012 (with Pettersen and Knowles taking the psychedelic approach of latter-day Checks into their new group, Racing). By this stage, the Shore scene had morphed into something quite different.
Rikki Morris closed his studio, The Bus, in 2006 though the Depot continued to act as a studio (Depot Sounds) and rehearsal space. The Masonic Tavern gradually reduced the amount of gigs it held, though bands still performed there sporadically until 2012. There'd been talk for years that the bar was going to be sold to developers and it was finally demolished in 2014.
These changes didn't stop new acts emerging from the Shore but it became increasingly hard to tag them together as coming from the same scene. For example, Gin Wigmore's career path was remarkably similar – she went to Takapuna Grammar and recorded early demos with Rikki Morris at The Bus, one of which won the International Songwriting Competition in 2004.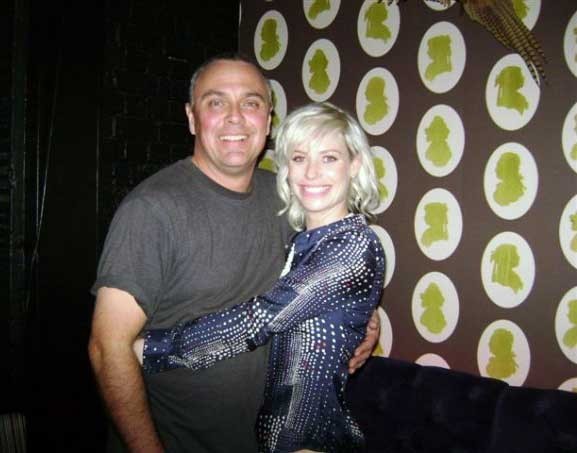 Her first EP was bluesy pop, but she did come closer to The Checks et al with her 1960s-rock influenced first album, Holy Smoke (2007). Her eventual success was stunning – three No.1 albums in New Zealand and a healthy, self-sustaining career in the USA.
The Naked and Famous were another group that practised at The Depot; they played Devonstock III in 2009 alongside The Checks (the majority of the original members of Naked and Famous attended Rangitoto College).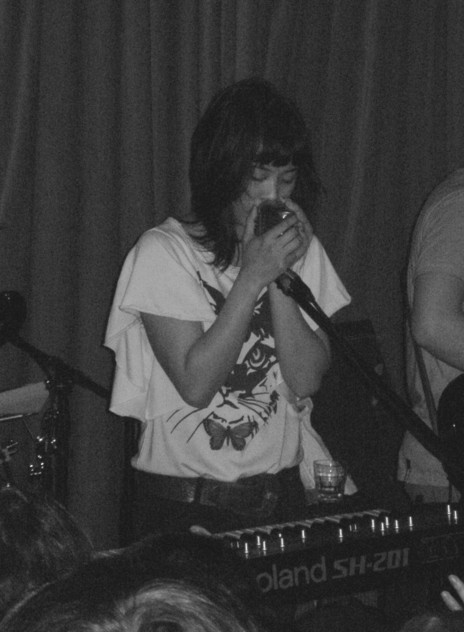 The next Devonstock festival included an even bigger star on the rise when a young Lorde (Ella Yelich-O'Connor) appeared as part of the duo, Ella and Louis. Lorde was raised in Devonport and attended Takapuna Grammar, so she grew up in a suburb rife with bands (even if they'd all left high school by the time she attended).
In the years after Lorde was first signed to Universal in 2008 (at age 12), her manager Scott MacLachlan took her around to multiple studios to see if he could find her a songwriter/producer to work with. It's no surprise that she recorded some early demos with Rikki Morris (in the lounge of his house in 2010) and the following year she took part in recording sessions with her high school band, And They Were Masked, at The Depot.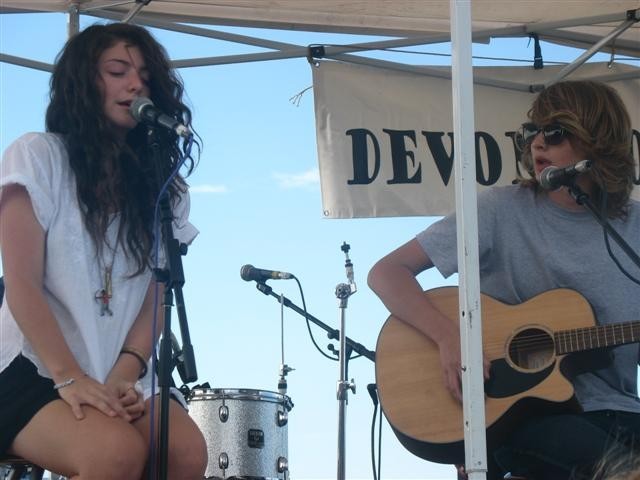 Yet it seems fitting to end with the band that started it all, The Veils. They're now five albums deep into their career, with an extensive worldwide fan base – most notably in the Netherlands where both Nux Vomica (2006) and Total Depravity (2016) both reached the Top 40. When he returns to New Zealand for shows, Andrews still stays at his mother's house in Devonport (near Calliope Road which inspired the Veils song, 'Calliope'), but these days his home is in London. An outcast boy from the Shore who made good on his childhood dreams, he spends much of his time touring across Europe and North America.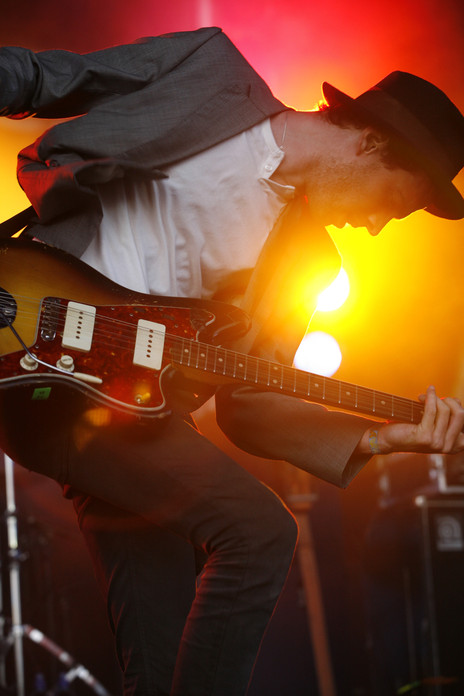 YouTube playlist
Links
Channel Mag- The Devonport Music Factory
Stuff.co.nz - The Veils' Finn Andrews on Being Home For The Summer