Luke Rowell grew up in Lower Hutt, just northeast of Wellington. Born in 1983, the youngest of three siblings, he was introduced to home computers, programming and synthesised music at an early age. His father, a former civil engineer, ran a glazing company. Every now and then, he'd take a product from a business as payment. "When I was six, he came home with a Commodore 64 home computer," Rowell recalls.
With both parents working, he was left to his own devices as a kid. Rowell taught himself how to program basic 8-bit sprite animations on the family computer. At the same time, he became obsessed with his parent's record collection.
In particular, two American albums stood out, Switched-On Bach by the composer Wendy Carlos and More Hot Butter by the instrumental synth-pop band Hot Butter. Both records were created with Moog Modular synthesisers, some of the most futuristic electronic music instruments to emerge in the second half of the 20th century. If those records perked his interest, what sealed the deal was a detailed 1980s synthesiser book he found at the Lower Hutt library.
Viewed through the lens of history, Rowell grew up in a family with interests that met at the intersection of art and technology. "My mum worked as an educator at the local hospital, but she was interested in a lot of interpretive dance stuff and community theatre," Rowell says. "My uncle is a professor of engineering at MIT in Boston, so there was this sort of nerdy strain of science and physics in the family. Dad would start drawing diagrams and explain momentum and simple harmonic motion at the dinner table. That sort of technological thing was exciting."
Teenage Years
Following in the footsteps of his music-obsessed older brother Tom, Rowell started playing the guitar at age eight. "I got a hyper-accelerated music education through him," Rowell says, mentioning hearing Joy Division and Nirvana at an early age. As he recalls, the Hutt Valley had some good record stores. By his early teens, Rowell had stumbled into a scene: people who were listening to 90s bands like Pop Will Eat Itself, Fugazi, Fudge Tunnel, Wire and Slayer. "We had this strong community of cassette dubbing and swapping CDs," he remembers.
When he was 13, Rowell started taking guitar lessons from a guitar teacher named Greg Jackson. Jackson was a gearhead with a four-track recorder and an early interest in MIDI and shareware music software. "He'd record all these little intro things for his church," Rowell recalls. "His wife worked nights as a nurse, and we had to wait until she was out of the house before we could practise songs like 'Stairway To Heaven' by Led Zeppelin because it was 'the devil's music'." Jackson got Rowell into the mode of thinking about music gear, introduced him to some software, and taught him the basics of computer music. "I put the guitar down after that because I didn't need it anymore," he says.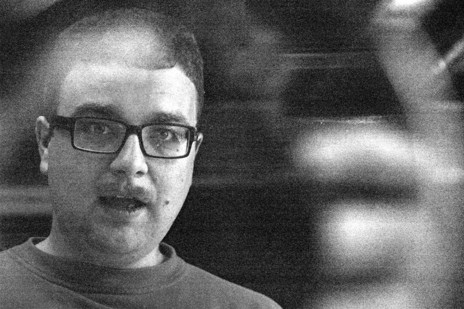 Rowell's brother Tom was playing in a hardcore punk band called Diecast. "Julien Dyne [who plays in the Ladi6 band ] was the drummer, and Ryan O'Leary, who went on to play in [metal band] Backyard Burial was a member as well," says Rowell. He would jam with his brother, play around on old reel-to-reel recorders from the Salvation Army thrift store and tag along to all-ages punk rock shows held in community halls in central Wellington.
His brother was dating Wellington visual artist Kerry Ann Lee, a very proactive member of the capital's DIY underground. "Her musical interests were super formative for me," Rowell remembers. "I think her taste was slightly more fun and more camp than what my brother was listening to. She was always behind the scenes, driven and very diligent at organising shows, promoting shows, selling zines, and getting people into the right things."
"It was a steady diet of B-movies, Godzilla, weirdo underground, early internet and mutant punk culture," Lee reflects. "I remember he'd be up late in his little computer room downstairs at his family house in Lower Hutt, basking in the warmth of overheated computers and that 56K dial-up modem sound constantly connecting and reconnecting."
Through the information superhighway, Rowell veered into a world of bulletin boards, freeware software and early online video games. The internet and music-making became his escape from the realities of life – school during the weekdays and helping his dad with glazing work on the weekends. "I had this Walkman, and I used to spend a lot of time listening to music while working," Rowell recalls. "The next phase was moving to [a program called] Jeskola Buzz and buying a CD burner."
Jeskola Buzz was slightly more sophisticated, and it allowed Rowell to craft VGM (video game music) influenced synth-pop instrumentals. Due to the limitations of his equipment, Rowell couldn't add audio tracks (vocals, guitars, etc), which gave him what he calls a "born-digital, rendered from software synthesisers" sound. While surfing the net, he came across an early free music sharing website called MP3.com and started painstakingly uploading his songs on it. "It seemed like a good idea at the time," Rowell reflects. "I never considered anything else, which seems kind of strange. I guess I never thought that I would have a market outside of the internet."
Red Letter Distro and the CD-R years
In 2001, Kerry Ann Lee set up a DIY zine mail order service, Red Letter Distro. It had – and still has – a fabulous catalogue of homespun zines, comics and artist publications. After Rowell purchased a CD burner, he started making CD-Rs of his music and packaging them with xeroxed collage artwork covers made out of offcuts from science magazines, manuals and sci-fi books. "I started promoting and distributing his CD-Rs through my catalogue," says Lee. "I loved that he made all the collaged artwork too. There's a strong sense of referencing, but his style and humour came through. It was really fun sharing his music with friends overseas this way."
Rowell adopted the stage name Disasteradio. Between 2001 and 2005, Red Letter Distro distributed and released four CD albums for him: Disasteradio, System That Never Fails, DSIR: Dance Self​-​Instruction Record and Western Digital. "Lower Hutt library had this book called Made in Japan: Transistor Radios of the 1950s and 1960s," he recalls. "It's a coffee-table book of various transistor radios. In the middle spread, there are two pages of this radio from the 50s called Disasteradio. It's a crystal-set radio which was marketed as an atomic age safety thing. The packaging was what got me. It has a giant nuclear bomb on it."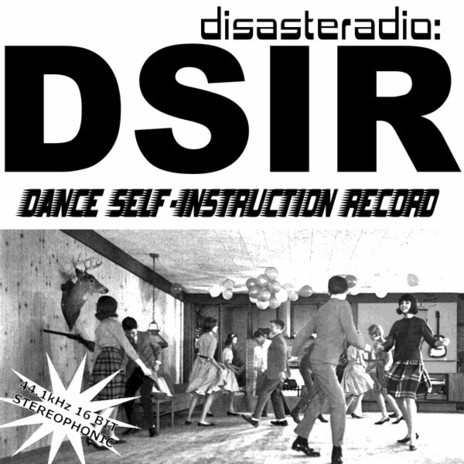 In 2002, Lee organised a concert to promote Red Letter Distro and had the visiting American synth-punk musician Atom & His Package headline it. She asked Rowell to open. He got his hands on a Commodore SX-64, the portable briefcase version of a Commodore 64 home computer, and built an audio output on the back of it. "My performance was free noise over Commodore 64 loops and other random stuff."
These days, Rowell is an animated entertainer who adds live vocals over the top of his computer music, but at the time things were different. "I was incredibly nervous for the first two or three years," he admits.
The second gig Rowell played was an all-ages punk show at Thistle Hall on Cuba Street, Wellington. One of the attendees was Ian Jorgensen, aka Blink, best known for his A Low Hum tours and Camp A Low Hum festival. Jorgensen was working as a photographer, but he was fascinated by the emerging local music scene of the early 2000s. "He left a huge impact on me," Jorgensen enthuses. Although he was a fan of 70s/80s electronic artists such as Kraftwerk and Jean Michel Jarre, Jorgensen was primarily a "guitar guy" at the time. Seeing Rowell combine punk song structures with instrumental synth-pop blew him away.
"I can't even describe how much Luke [Rowell] stood out from the music scene at the time because nothing else has been so different since," says Jorgensen. "Still to this day, the sight of Luke [Rowell] performing live is unique, transport that back twenty years and insert yourself into a room full of hardcore post-Fugazi scrappers, and you might get a sense of just how much of a revelation and breath of fresh air he was." Jorgensen was at the beginning stages of organising his first A Low Hum tours, and he knew he had to have Rowell involved.
A Low Hum
Between 2003 and 2006, as part of Jorgensen's A Low Hum tours, Rowell played just under 100 shows around New Zealand as Disasteradio. Many of them were alongside acts such as The Fanatics, Cortina, The Coolies and Golden Axe. "It's pretty funny how, even from the second show, I met someone who could take me on somewhere between eighteen to twenty tours. I was pretty fortunate in that respect," Rowell reflects. Quickly, Jorgensen went from booking Rowell for shows to working closely with him. Ostensibly, he was his manager, but the reality was closer to a 90s buddy comedy.
"I just remember him being the musical diversity that made sense of everything I did," says Jorgensen. "I was trying desperately to showcase a variety of music on my tours and collections. He was that diversity. There were not many electronic artists locally who were producing pop of anywhere near the quality that Luke [Rowell] was."
In 2004, Rowell released his first underground radio hit single, 'Hotline', a slice of vocoded machine funk that topped the student radio (then bNet) charts in Wellington, Dunedin and Auckland. "That whole song is all just sampled snippets; every word is a sample, being played back with a virtual sampler," Rowell explains. "I still wasn't working with audio tracks."
Off the back of 'Hotline', Rowell was offered an album deal with Capital Recordings, the now-defunct label of music retailer Brent Gleave and journalist and DJ Jason Harding, aka Clinton Smiley. Due to label issues, however, the album release never eventuated. "I had a whole series of albums but should have come out somewhere else, but didn't," says Rowell.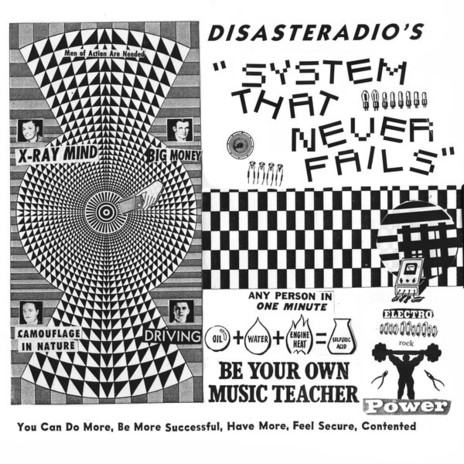 That year, the New Zealand music video director and animator Simon Ward picked up a copy of Rowell's System That Never Fails CD-R from a small boutique shop down Wellington's Left Bank Lane. "Lorene, who ran the shop, suggested I buy the CD-R, thinking it would be right up my alley," Ward recalls. "I'd always been a fan of synth and particularly Commodore 64 music so that album fits right in."
Rowell remembers Ward sending him random emails. In 2005, they decided to work together on a music video for Rowell's Disasteradio song 'Light Cycle'. "It was going to be a live-action version of the old Paperboy computer game with some computer graphics thrown in, but I was off out of town for work a lot so it didn't get finished," Ward admits.
By 2006, Jorgensen was organising monthly national tours for emerging bands of the era. Alongside each tour, he'd publish a DIY magazine, generally featuring CD EPs, albums and compilations of local music. That year, Jorgensen included Synthtease, the album Rowell originally recorded for Capital Recordings with the fourth issue of the third season of A Low Hum magazines.
Grant Smithies on 'Synthtease':
"Some tracks tingle gently like a battery on your tongue, while others are as frantic as a fire alarm."
At the time, Nelson music journalist Grant Smithies observed the following about Synthtease in a Wellington music feature for the Sunday Star-Times. "Rowell makes techno-pop. It sounds icy, synthetic, saturated with colour. Some tracks tingle gently like a battery on your tongue, while others are as frantic as a fire alarm. The closest reference points are Kraftwerk, Devo, Wendy Carlos, 80s new wave, electro and acid house, and the infernal bleeping of early computer games." To support the release of Synthtease, Rowell toured the country with Kill Surf City and Voom. That same year, he released a short run cassette tape compilation titled Datasette through Whanganui's cult Stink Magnetic record label. To celebrate Datasette, Stink Magnetic organised a release party at Lazerforce in Wellington.
"Around 2006-2007, I started writing songs with vocals, getting on top of the vocoder thing and loosening up a bit more," Rowell remembers. "I went on tour with The Mint Chicks in 2007, and I learned a lot from seeing them bring it in every night. At soundcheck, Kody Nielson would be scoping out the venue to see what he could climb or hang off during the show. I was like, man, he really gives a shit, and he knows what he is doing." During that run, particularly at shows in the South Island, Rowell started to find his feet as a performer.
Visions
By 2007, Jorgensen's A Low Hum brand was acting as a de facto record label for the indie music scene Rowell was ensconced in. That year, he released what Rowell and many others consider to be the breakout Disasteradio album, Visions. As Jorgensen puts it, "Visions got a bunch of great feedback at the time. Scott Kara from the New Zealand Herald even declared it to be more interesting than Daft Punk. The CD sold well for an underground act in the throes of a dying media – spurned a ton of underground hits and overnight, suddenly it seemed everyone was now singing along to every song."
Just as Jorgensen observed, Visions reviewed well in Vice NZ, the Dominion Post, New Zealand Musician, Under The Radar, and student magazine Critic. It was also voted the best New Zealand album of the year by Real Groove magazine. The Kara quote isn't an exaggeration either. "Visions is more interesting and less irritating than the farts and bleeps Daft Punk have come up with. If anything, Disasteradio's sound may date, but this is his sixth album, and it's sounding better than ever."
Auckland cartoonist, writer and musician Chris Cudby, who records as Power Nap, was hanging out with Rowell a lot at the time. As he puts it, "Visions seemed like a pivot point in Luke's musical career, like an amplification of his artistic ambitions so far, where he waved goodbye to youthful 8-bit dreams and started to think big for Disasteradio."
In tandem with the release of Visions, Rowell and Ward completed their first Disasteradio music video together, a dystopian futuristic visual for the song 'Awesome Feeling'. Over two consecutive weekends, they filmed and edited the video at Ward's flat, nicknamed Skyranch, a warehouse space located above a panel-beating shop on Wellington's Majoribanks Street. Helping out was Don Brooker, a makeup artist and special-effects guy who went on to do the vampire prosthetics for Jemaine Clement and Taika Waititi's What We Do In The Shadows film.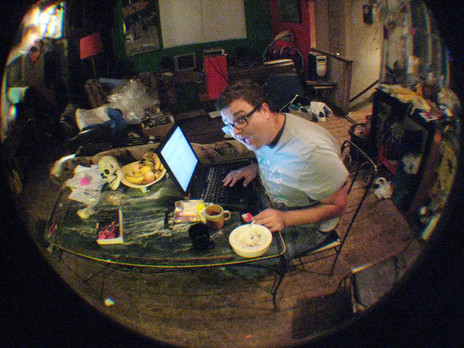 Ward remembers them completing the video at 5am Monday at the end of the second weekend. He had two hours of sleep then headed to his first day working on James Cameron's sci-fi epic Avatar. "It was a painful blur of a day, but the video was a success," Ward writes. "I realised we were very in sync with ideas and things flowed naturally when we worked together." Quickly, the two settled into a collaboration style that continues across multiple projects to this day.
In a testament to 'Awesome Feeling's impact, Real Groove magazine borrowed the title for a series of yearly new local music compilation cover CDs they released in the late 2000s and early 2010s.
That year, Rowell toured New Zealand several times alongside acts like My Disco, Frase & Bri, So So Modern and The Mint Chicks. He performed at Jorgensen's inaugural Camp A Low Hum Festival and opened for Supergroove at some of their early reunion shows in Auckland.
--