Enterprise might begin with conviction, but it requires practicality, dogged determination and the art of gentle persuasion to turn an idea into reality. In Christchurch, Neill Pickard was the man for the job.
His idea for a tertiary music school for jazz sprang from a moment of musical duress. He had been asked to stand in for jazz guitarist Bob Heinz with the Christchurch Symphony when the orchestra was backing the formerly in-favour Rolf Harris in concert in the 1970s. Heinz was double-booked, so the musical director asked pianist Doug "the Maestro" Caldwell for a recommendation.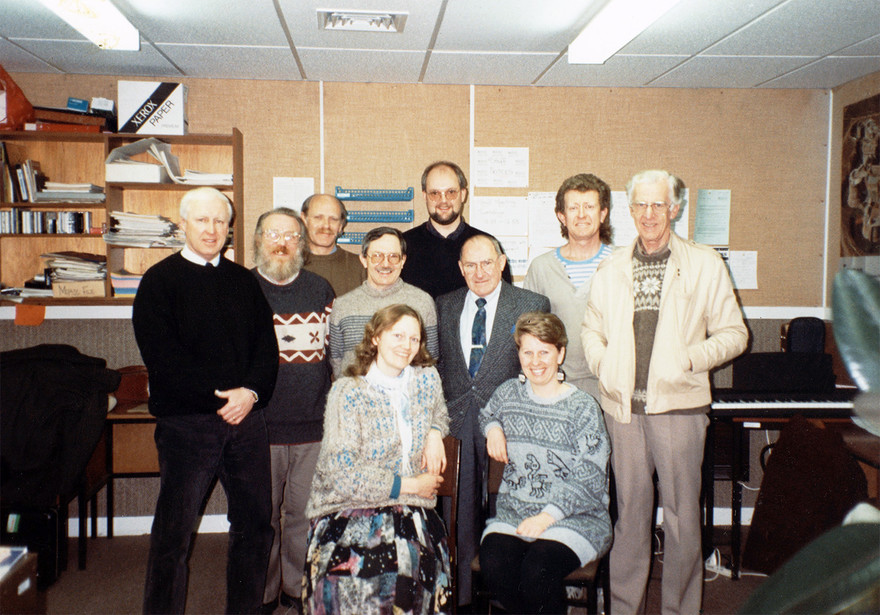 "Doug said, 'Ask Neill'. They got hold of me and I thought, 'Crumbs, playing my Strat with the Christchurch Symphony Orchestra!', so I said I'd do it," Neill says. "I sort of sweated blood and got a bit of a hard time from the conductor, because I really wasn't up to scratch, but we got through it."
The ordeal had him wondering about the pool of musical talent available in the city for such circumstances.
"I thought surely there must be more people around than just little old me and Bob Heinz who could've done the job. That was sort of the seed of providing a pool of people who could do this work that I couldn't do if I didn't feel adequate. I'd thoroughly enjoyed it, but it was fearful stuff."
In A Passion for Jazz: The Christchurch Scene Then and Now (Jo Jules, CPIT, 2009), Neill said: "The lack of formal, vocationally rich training in the city for young people to learn the standard jazz repertoire and to become literate and certificated musicians moved me to initiate proceedings."
Pickard felt there was gap in the the city's tertiary music education offerings, and that gap was jazz.
Neill had taught at Christchurch Boys' High School in the 1970s, during which time he wrote and produced his two-hour Sweet William or Born to be Bard jazz-rock musical, based on the life of Shakespeare. It was premiered at Boys' High and then taken up successively by Christchurch high schools as their major production over the next couple of decades, right through until the 1990s.
In 1979, he moved on to take up tutoring at the city's polytechnic. Now renamed the Ara Institute of Canterbury, at the time it was still known by its tongue-twister title, the Christchurch Polytechnic Institute of Technology or CPIT for short.
He was there to teach French, English as a Second Language (ESOL), Japanese, and secretarial English, and branched out during his time there with responsibilities in Māori Studies, Broadcasting Studies, Staff Education, and administering the South Island Tutor Training Unit for southern polytechnics.
Music will always rise to the surface and in his other role of overseeing the Executant Music Portfolio, he felt there was a specific gap in the city's tertiary music education offerings, and that gap was jazz. The existing portfolio was hopeful in its intent of advancing performing musicians – like the premise of the then-rudimentary jazz programme at Wellington Conservatorium started by Colin Hemmingson and Paul Dyne – but it was limited through lack of a specific jazz focus, outline and curriculum. Neill began formulating ideas for what would become the Jazz Diploma programme.
Initially, when he was trying to get the programme off the ground, Neill found there were certain barriers. He had wanted to include dance and drama but decided those strands were lacking in vocational potential and therefore discounted them.
"But the vocational potential of musicians was considerable," Neill says. "I wanted to aim my students towards teaching in the secondary system as well as being professional musicians, so I highlighted this factor, which probably helped get it noted.
"It wasn't till 1990 that $100m was released by the Government for new programmes in the polytechnic sector and Neill's acting CEO, Graham Logan, said, 'If you want to have a go at your course you can run it for a year as a tester'."
His first step was to call on a group of key Christchurch-based musicians to form the brains trust. Together they would nut out the scope of the course and become the core tutors.
"I got all the guys together. There was Doug Caldwell (piano), Bob Heinz (guitar), Tom Rainey (bass, keyboards), Ted Meager (drums), Ian Edwards (woodwind), Murray Warner (piano), Gerald Marston (brass), and Malcolm McNeill (jazz vocals). Stu Buchanan (saxophone) was involved as well, although he was an 'anti-academic': 'What do you want to do this for? We learn at the school of hard knocks', he told me."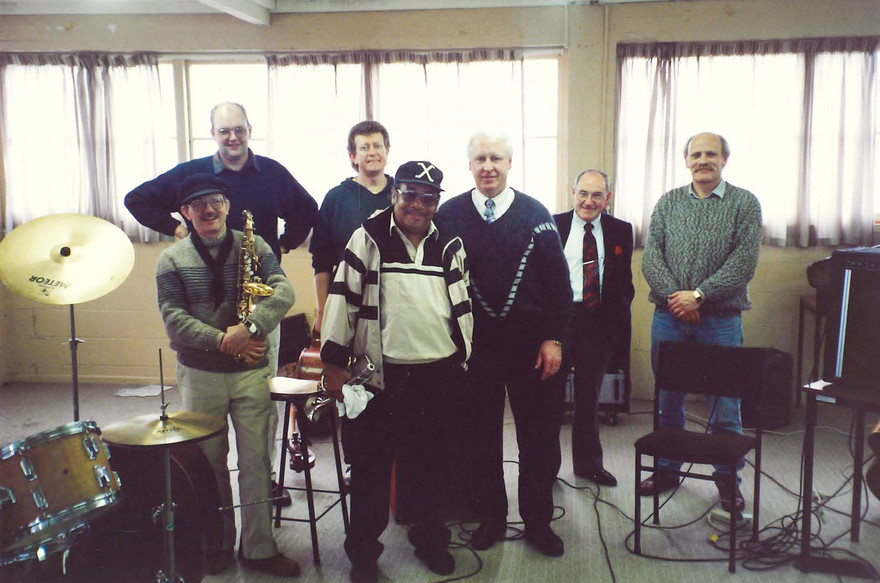 Neill took on the inaugural administration role as well as tutoring jazz history and vocals.
The lack of female presence was not deliberate, but more a consequence of the musicians Neill knew and others the rest of them worked with or recommended.
"Doug had done all the arrangements for my Sweet William musical, and Stu had played in the pit orchestra with me. They knew all the other guys. Malcolm McNeill had been around since I was at university, and I thought he'd be logical as the jazz vocal coach.
"They were really keen. So we got together on several occasions and wrote a broad outline. We were allowed 36 students, whom we'd audition. My concept was six disciplines: guitar, bass, drums, horns, saxophones and vocal, and I wanted six of each. I have to admit the others were not very keen on having vocalists.
"We did our first auditions at the end of 1990 and in 1991 our 36 students all turned up. It was quite funny, because the bulk of them were people who'd been out of school a year or two, or maybe three or four, but found the opportunity to study their instrument in the Jazz School very attractive."
Christchurch has had a long and vibrant musical life, in all genres.
It would be erroneous in the extreme to think that there was a musical vacuum in Christchurch before the school was founded. As has been documented at length in many media, the city has had a long and vibrant musical life, in all genres, with the jazz scene being active since the 1920s.
That the city is one of the furthermost outliers from the centre of action in New York or New Orleans or Chicago is indisputable, but radio, cinema and records sharpened ears, minds and musical hearts to what was happening in jazz worldwide, and those with passion and skills had been following the lead for decades.
There's a long and respected list of hip jazz maestros from Canterbury, top-flight musicians and vocalists, some still working and others who have stepped off the mortal coil and onto the celestial stage. The latter have left behind samples of their work in recordings and arrangements, in books, on film, or simply in the vivid memories of bandmates and audiences.
They made their mark in concert, in arrangements, in dance bands and in live radio bands through the war years and beyond onto television. Doug Caldwell, Doug Kelly, Stu Buchanan, Nick Nicholson and The Neketini Brass, Coral Cummins, Zarlene Todd, Martin Winiata, Brian Marston, Harry Voice, Mark Kahi, Tommy Kahi, Malcolm McNeill, Lyn Christie and Gerald Marston, to list just a few, are names to conjure with, and each has made a considerable contribution to New Zealand music.
From the start they added to their repertoires songs and music from the 20th century's decades of jazz, including the golden era of song in the early and middle years. What they couldn't get on record or on sheet music they picked up from the radio, cinema soundtracks, or from other musos, and went on to populate big bands and cabaret orchestras countrywide, sharing the music around.
Jazz and US pop culture got a live boost with the so-called American invasion of the Second World War, when US troops were in New Zealand for rest and recreation from fighting in the Pacific, or for onshore training camps. They injected every locale with their joie de vivre, attracting top US performers such as Artie Shaw and his big band, forming their own dance bands or heading out on the town in search of good times, warm bodies and venues where the bands played top of the current pops on the air and on screen.
The post-war decades turned everything upside down music-wise, and by the time the CPIT Jazz School became a reality in 1991, Christchurch was probably known primarily as a city of rock, punk, and pop, with folk music out on the fringe and jazz somewhat sidelined to select clubs, dine-and-dance establishments and at music festivals around the country.
This shifted again when Jodi Wright founded the New Zealand International Jazz & Blues Festival in Christchurch in the mid-1990s, and jazz in the city came swinging back into the mainstream. The rotating international line-up plus dedicated performance venues for these acts and local performers worked as a neat symbiosis for the jazz school. Students could experience renowned performers in concert or listen to them up close in master classes and in-house performances in the school's auditorium, the Doug Caldwell Concert Room.
Many luminaries have touched the school through the years, too. One jazz school trio was working through their sets at a central city hotel one night. When they finished, a man who had been sitting in the bar lounge by himself, listening quietly, stepped up to the bandstand and presented them with a sketch of the band. It was none other than singing great Tony Bennett, who is also an accomplished artist, in town to perform.
Bill Clinton spotted jazz school musicians playing, borrowed a sax, and played a few tunes with them.
Another time, US President Bill Clinton's cavalcade was driving back from a sightseeing trip up on the Port Hills during his APEC attendance in Auckland and whistle-stop visits to Christchurch and Queenstown in 1999. Some musicians and tutors knew they would be taking the Madras Street one-way route back into town, right past the school, so they took their instruments out onto the pavement. Sax-playing Bill spotted them, had his driver to pull up, then leapt out, borrowed a sax, and played a few tunes with them.
The Christchurch earthquakes of 2010-11 caused a mighty upheaval, but CPIT Jazz sourced alternative lecture rooms and undamaged performance and rehearsal spaces while the central building was undergoing repairs.
Thirty years strong in 2021, Ara Music Arts is well-oiled, and the Jazz Diploma has developed into a fully university-accredited degree as Bachelor of Music Arts. The music industry and wider community are richer for the musicians, vocalists, recording artists and engineers generated; the graduates who recycle into the jazz school as tutors; the schoolteachers, the local performers and the artists who take our music out onto the world stage.
Neill Pickard retired in 2003 as Head of Jazz within CPIT's Faculty of Humanities but continued lecturing stages I and II Jazz History in the BMA degree course, his "Rags to Swing" jazz-history course for Stage I University of Canterbury students, and night classes in jazz history and appreciation. Until retirement in 2018 he was still teaching French, ESOL and core music at Burnside High School.
His influence, musical knowledge and foundation role in the jazz school's creation are far-reaching. In 2017, several of those whom the school has fostered since 1991 – and who have gone on to serious music careers – feted Neill at the school's 25th Anniversary Gala Concert in the Isaac Theatre Royal with a jazz-funk song in his honour.
Written by Gerard Masters and viewable on YouTube and Facebook, "Nothin's Too Hard For Neill Pickard" features Gerard on piano and vocals, Gwyn Reynolds on saxophone, Cam Pearce on trumpet, Scott Taitoko on trombone, Darren Pickering on keyboards, Andy Genge on guitar, Brett Hirst on bass, and Dan Kennedy on drums.
Regarded with fondness and admiration by those who have the pleasure to know him, Neill Pickard QSM, Lecturer Emeritus, can be rightfully proud of his contribution to New Zealand music as his legacy in action.